On the evening of April 8, Can Tho Central General Hospital said that doctors of the Department of Neurology had successfully performed emergency surgery to get a knife point into the spine of a THTH patient (SN 1991; residing in Soc Trang province).
The knife stabbed straight into the young man's spine
According to family members, the patient was stabbed in the left back and was quickly taken to the local hospital for initial emergency and transferred to Can Tho Central General Hospital.
The emergency department doctors quickly performed tests, ultrasound, chest computed tomography and conducted surgical consultation with the wound detection treatment plan, taking emergency foreign bodies.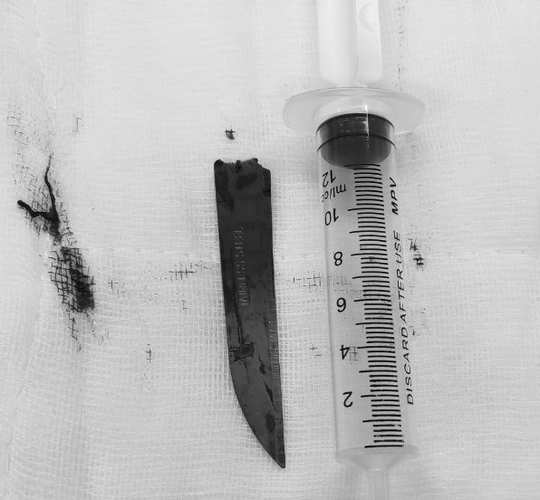 The knife after surgery is removed from the spine of a young man
The surgical team separated the left side of the spine and found that the knife pierced from the left side of the thoracic spine 5 to the inside, touching the thoracic plate 7 causing the outer wall to crack. After 90 minutes of surgery, doctors have pulled out the bent knife tip (5x2cm long), cleaned the wound path, stopped bleeding, cleaned and sutured the wound.
Currently, the patient is awake, has no fever, signs of stable survival, the wound is dry, and there is no numbness in the limbs.
According to BS.CKII Tran Van Minh, Deputy Head of the Department of Neurology, fortunately, in this case, the tip of the knife has not caused spinal cord injury, if the spinal cord is damaged, the patient will have sensory disorders, movement disorders, paralysis. Incomplete medullary with complications of cerebrospinal fluid leakage, infection, abscess, meningitis.
If the knife goes deeper, it will touch and damage the surrounding organs, depending on the location of the damage: spinal artery, pleural, aorta, carotid artery, liver, kidney, intestine …