Singer Bui Lan Huong recreates the moment of going barefoot and singing of singer Khanh Ly, photo at the movie premiere on the evening of June 7 – Photo: Provided by the film crew
Praise the role Khanh Ly, Dao Anh
Producer Hoang Quan (film) World forest) share with Youth Online after watching Me and Trinh: "The film has done something that very few filmmakers dare to do: bring the portrait of the most talented musician of Vietnamese new music to the big screen. That's the best thing for Trinh's music-loving audience.
The film is attractive and full of music, the frame is carefully cared for. The restoration of the setting and the costumes, the selection of songs are all very attractive.
As a music lover and lover of poetry, I was touched by the film. Me and Trinh It is precisely for audiences who love nostalgia and have a romantic soul, to feel the special love letters of musician Trinh Cong Son".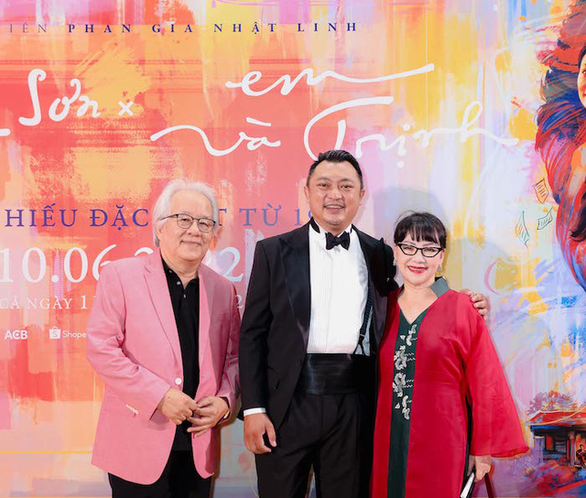 Ms. Trinh Vinh Trinh and Mr. Nguyen Trung Truc, representatives of musician Trinh Cong Son's family, took pictures with director Phan Gia Nhat Linh during the premiere – Photo: Provided by the film crew
The roles that received the most compliments from the filmmakers were Khanh Ly (played by Bui Lan Huong) and Dao Anh (Hoang Ha). Director Charlie Nguyen wrote about the role of Khanh Ly: "This is a character that makes me passionate in Me and Trinh. It's been a long time since I've had this feeling from a movie."
Director Vo Thanh Hoa praised Bui Lan Huong's acting "so real and strangely calm, this performance is like the voice of singer Khanh Ly".
Director Bao Nhan wrote: "Dao Anh is the bright face of the film. Acting smart and natural. Every scene you appear in is as bright as the sun. Cinema needs these faces and performances.
I also like Le Mai (Khanh Ly's real name). I act like an actor with a lot of experience in acting. Except for the voice, which is already my signature that is hard to change, everything else I do well. You have eyes that seem to contain a whole bucket of emotions inside. I'm the only singer acting in a movie where the audience doesn't panic. I am serious and have a clear mind for my role!".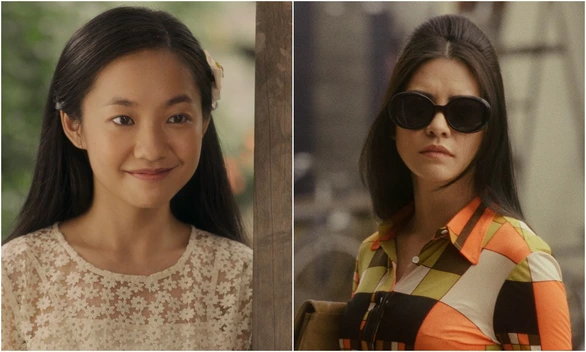 Dao Anh (Hoang Ha) and Khanh Ly (Bui Lan Huong) are two roles praised by the filmmakers – Photo: Provided by the film crew
Producer Hoang Quan has the same opinion: "The acting of Dao Anh and Khanh Ly was brilliant. As for the minus point, for me, actors Tran Luc as the middle-aged Trinh Cong Son and Avin Lu as the young Trinh Cong Son both lacked something of a musician's authenticity."
For audiences who already love Trinh's music, love the musician, especially have been in contact with musicians, the two films will make them nostalgic and nostalgic.
Is Trinh Cong Son good enough?
Besides the compliments, there are also some unsatisfied comments about the movie version Me and Trinh. Director Nam Cito wrote on his personal Facebook:
"The film abuses slomo too much, the color of the film is not beautiful, many scenes are flat and blurred. The movie has some details that are not logical or built enough (perhaps due to being cut a lot), but in return, it also installs a lot of interesting things that perhaps for some reason can not be "said out loud", besides There are also a few funny comedy scenes, so even though the film is long, it is still quite interesting.
The ending is a bit abrupt, like the ending of the movie is too long, it's over, or it's because the build wants to hide the "last muse", so the feeling is not complete.
Amazing Film page gives 7.5/10 points for Me and Trinhwith a lot of plus points, this page gives minus points like: "The first half of the movie is very well done, really engaging… The second half of the time, everything is spread evenly, making the emotions bewildered. Because of the way to build a polylinear narrative, there are many issues surrounding Trinh Cong Son's life, except for love stories, composition, war, revolution, Tuyet Tinh Coc association, family".
Similarly, giving praise for the role of young Trinh, but businessman Ly Qui Trung also wrote: "In contrast, with the role of Trinh Cong Son when he was more mature, actor Tran Luc could not do it, especially in the second half. Minutes needs to show a thoughtful Trinh Cong Son with a long life experience with a complex but secretive and intense interior, especially his facial expression, figure and eyes at the last moment of the series. movies. I don't see Trinh Cong Son anymore…".
Hue voice "fake"
On social networks and in newspapers, a controversial topic is Hue's voice in the movie Me and Trinh and movies Trinh Cong Son. Since one of the main scenes is in Hue, Trinh Cong Son as well as some of the characters are Hue people, the director asked the actors – especially Avin Lu and Tran Luc – to practice speaking with the Hue accent.
However, both actors said it was not correct, creating a feeling of awkwardness. Audience Huong Lan commented: "Hue's voice is a difficult voice to mix, just pressing in the wrong place will turn into an ungainly noise."
Audience Duy Ngoc further analyzed: "Hue's voice in this film is too fake. It's wrong to portray Uncle Trinh as weak and weak, with his whispering voice, it's wrong, he can't bring out his artistry."
Because the voice is an important part of the role, some viewers believe that Hue's voice is not yet ready to break their emotions when they listen to the narrative words of Trinh Cong Son's character. Besides, there is also an opinion that if the actor speaks with a standard Hue accent, the film's dialogue will puzzle many audiences.
Some criticisms aimed at war images, documents and storylines about the times in the film, saying it was a bit heavy and out of place compared to the film's flow.
.