Director of Student Political Affairs Department (Ministry of Education and Training) Bui Van Linh awarded certificate of merit from the Minister of Education and Training; Deputy Director of Ninh Binh Department of Education and Training Bui Thi Khuyen presents flowers to Nguyen Thi Thu October 10 – Photo: HUU TRUONG
"After the contest I received lessons that I have never thought of. Those lessons make me feel more careful in my words, my attitude …", Thu Hang shared sincerely when the reporter Recall the noises you received right after the final Road to the summit of Olympia 2020 end.
The champion who wanted to study in multimedia shared more: "I feel that when things happened, my relatives and teachers were even sadder than me. From the week, month, you have mixed opinions, there are people who do not support me. I am used to things like Therefore, I respect the diversity of people's thoughts. me ".
* Currently, Hang likes to make clips, vlogs and is interested in the multimedia industry. Hang will definitely pursue this industry when studying abroad?
– I'm considering computer technology, biology, or multimedia. Multimedia is part of my hobby. I have my own YouTube channel so I want to learn more. If I study multimedia industry after going to work, maybe I want to work at VTV. However, this is not certain.
* Teacher said that Hang invested in "training" for Duong to Olympia since grade 7 with the help of her parents. Specifically, how did parents help with exam preparation?
– Right from grade 6 and 7, I watched this program and recorded the questions and answers in my notebook. My parents are also very attentive Who is a millionaire, Road to Olympia and write down questions to quiz me. Parents study so much that watching the news may also come up with questions to quiz me.
* What sacrifices did Hang have when investing in this contest?
– First time. I had to quit the national team competition because it coincided with the final of the show. I also rarely have time to interact with friends.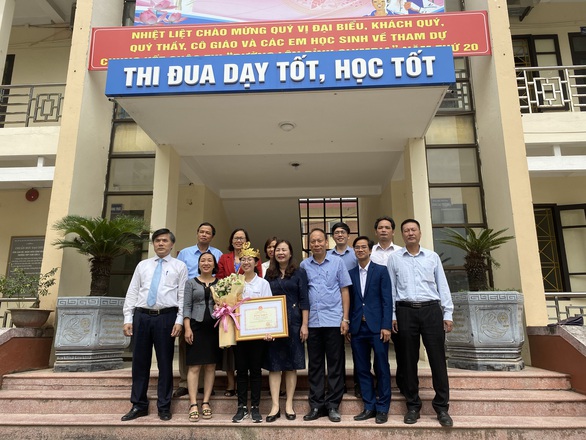 Olympia 2020 champion Nguyen Thi Thu Hang received a certificate of merit from the Minister of Education and Training at Kim Son A High School (Ninh Binh) October 10 – Photo: NGOC DIEP
* Many people do not appreciate Road to Olympia because they think the show is primarily a memory challenge. What do you think about this?
– I think every job needs to have a memory. Even normal study, can not remember the basic knowledge to apply the formula. If you look closely at the program, people will find memorization is just the first step. Go to the obstacle course, players must match the keywords of the event. In the Acceleration section, candidates must have an overview of their answers. The program's 30-point computation is also very difficult.
* She is liked by many people because of her confident demeanor. How do you build your confidence?
– I think I live in a friendly environment with family, school, teachers and friends. I myself have nothing to be sad about. I live a very active life, looking at life with very bright tones.
End Road to Olympia I met a number of conflicting opinions. But I look at the problem very positively. Someone has a sincere comment, I should accept. As for the comments that are imposing and not true, you need to have your own opinion.
I also learn from my friends a lot. I learn how to communicate because I know how communication contributes to my success in the future. I can also learn from my friends' mistakes. I like Jack Ma's quote: "Learn from other people's failures".
* Hang's view of the individual person?
– I want to develop in the direction of respecting the difference, the specialness of each individual. I see when an individual has a different opinion, maybe people may not succeed right away, but maybe their different thinking will open up many directions in the future. I like people who dare to pursue their dreams, do things that leave their mark.
After my coronation, I thought instead of writing long thank you words like everyone else do, why don't I make a video clip with both pictures and sound.
* It is known that when the house was repaired, it took the champion 7 trips to move all the books home?
– About 10 days before I went to Olympia, my house was repaired. At that time, I moved from my grandmother's house. Since my grandfather's life, our family has had its own bookcase. When I was a little sick, my mother said I stayed in hospital more than I stayed at home. Because I stayed at home a lot, I made friends with books.
* Thank you Thu Hang, I wish you will conquer new heights!

.