Sharing information at the press conference to introduce information about the online program of the 17th National Heart Congress, on the afternoon of October 14, Assoc.Prof. Dr. Pham Manh Hung, Vice President of Vietnam Society of Cardiology, Institute Head of the Vietnam Heart Institute, said that if people with a history of cardiovascular disease have more Covid-19 their medical conditions will be much more serious than normal people.
The reason according to cardiologists is that when the SARS-CoV-2 virus enters the body, it will trigger latent heart disease and cause a severe inflammatory response in the blood vessels and myocardium leading to heart attack and disorder rhythm, acute coronary syndrome, acute heart failure. In addition, the heart function has weakened, the patient is already short of breath, tired of existing cardiovascular disease, now even more difficult because Covid-19 causes acute pneumonia syndrome, making them unable to resist. fighting the disease. If infected with SARS-CoV-2 virus, their disease progresses, recovery is also difficult compared to normal people. "Therefore, people with cardiovascular disease need to pay special attention to improving their health and protecting their heart. When having health problems, they need to immediately visit medical facilities or contact their doctors. "- Recommended Associate Professor Hung.
According to Assoc. Meanwhile, preliminary statistics in many medical facilities in Vietnam also recorded the status of patients who came to see and emergency cardiovascular diseases decreased by 30-50%. It is clear that the Covid-19 epidemic has affected people's psychology in medical examination and treatment.
Each year, up to 17.5 million people die from diseases related to heart disease – Photo: Đ. Phong
Currently, cardiovascular disease has been a burden on society with the highest rates of death and disability. In addition, the cost of care and treatment for cardiovascular disease is also a significant burden with hundreds of billions of dollars each year.
WHO estimates that up to 17.5 million people die each year from cardiovascular-related diseases. Even, the number of patients with the disease accumulated more and more. According to research by the Vietnam Heart Association, Vietnam currently has about 25% of the population suffering from cardiovascular disease and hypertension. In particular, in recent years, high blood pressure has been rejuvenated for many subjects still in working age.
Associate Professor Pham Manh Hung said that in the past, the proportion of patients with hypertension was mainly aged 60-70 years old. However, today, people under 40 years old account for 20% of the total cases of hypertension. In particular, cardiovascular disease and cardiovascular events are increasingly detected in the age group 25-40. The most common reasons for increased cardiovascular disease among young people are alcohol abuse; smoking (both active and passive); sedentary; being overweight, having a history of diseases like diabetes, high blood pressure; staying up late, stress in your life, being under psychological pressure. The concern is that there are still many people who are indifferent and subjective to their own heart health.
Connecting more than 10,000 physicians specialized in cardiology
Associate Professor, Dr. Nguyen Ngoc Quang, Vice President and General Secretary of the Vietnam Heart Association, said that before the impact of the Covid-19 epidemic, for the first time, the 17th National Heart Congress will be held on duty. route in 2 days October 16 and 17 at bridge points in Hanoi and Ho Chi Minh City With the theme "Cardiology in a new era – Turning challenges into opportunities", this congress is expected to connect more than 10,000 domestic and international delegates in 4 major domestic divisions, 5 associations. and international hospital.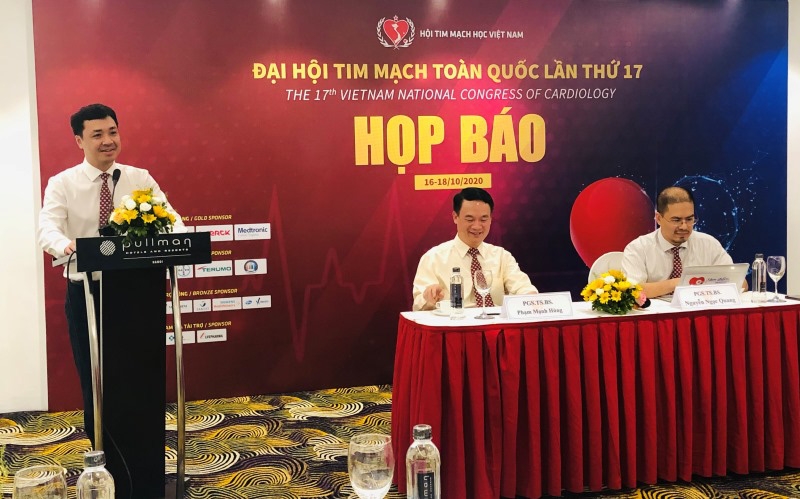 The first National Heart Congress was held online
Through 108 reporters who are professors, doctors, and leading doctors in the field of cardiology worldwide, the Heart Association will bring 10 channels of continuous streaming seminars with more than 12 training sessions. Continuing with 91 sessions of scientific reporting. This is an opportunity to exchange, update and train the latest professional knowledge on the diagnosis, treatment and prevention of cardiovascular diseases to improve the capacity of the above doctors, technicians and nurses. all the country.