Love is the wedding of Phat Ho X2X – a wedding song that is being loved by young people
Videos of these 3 songs have reached 9 million views, respectively; 6.8 million and 10 million and thousands of comments. Remix version of Love is marriage made by Dai Meo is also leading the popular music category on TikTok with more than 163,000 videos used, as of September 23.
One of the most successful names in recent times thanks to wedding music is Nal, a male singer born in 1997 from Dong Thap. Before debut Love each other till the end, Nal once released a song with a similar theme, Then come, which currently has more than 71 million views on YouTube.
Wedding music is not a new trend. In the past, there have been many songs with the same theme that created a buzz with vibrant melodies, cheerful content and familiar Western folk music.
In the context of the epidemic, many viewers said that wedding music can help ease the mood and bring optimism and positivity to listeners.
But on the other hand, the dominance of this "genre" also partly shows the current quiet period of Vietnamese music, when few quality music products have been released during the past 3 months.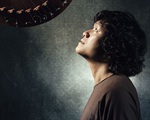 Ngo Hong Quang's musical field trip
.