The capital Hanoi reaches a very high risk threshold at 8.4. Illustration.
According to information from the National Center for Meteorological and Hydrological Forecast, on March 23, the maximum ultraviolet (UV) index in the northern provinces and cities reached the threshold of high risk of harm at 6.3 – 6.8; Hanoi capital alone reaches a very high risk threshold of 8.4. The central provinces and cities the level of harm risk is at the average level. For the southern provinces and cities, the UV index is forecast at a high to very high threshold. Specifically, in Ca Mau city (Ca Mau), the highest index of ultraviolet light in the 12-hour frame was 9.5; Ho Chi Minh City and Can Tho city is 10.4.
On the scale of the UV index, 3-5 is average, 6-7 is high, 8-10 is very high, above 10.5 is exceptionally high, very dangerous. Ultraviolet rays can penetrate clouds and other glass windows, if the skin is exposed to direct sunlight for 25 minutes when the UV index is at a very high threshold, it will cause burns. At the extremely high threshold, ultraviolet rays pose the risk of damaging the skin, causing eye burns if exposed to direct sunlight for about 15 minutes without protection.
In the next 3 days (from March 24 to 26), the North will continue to be forecasted at a popular high level of UV damage from 6.0-8.0. The Central and the South are projected to reach a very high risk, commonly 10.0. Ho Chi Minh City, Can Tho continue to be sunny and dry with the highest common temperature in the day 29-35 degrees Celsius, in some places with hot weather, particularly in the Southeast from March 24-26, there is hot, hot weather. humidity in the air is below 55%.
People should avoid sun exposure for more than 15 minutes at 12 noon; At the same time should apply precautions such as wearing protective clothing, using a wide-brimmed hat to cover the face, neck and ears, wearing sunglasses to protect the eyes, using sunscreen, pay special attention to time frame of highest harmful ultraviolet radiation.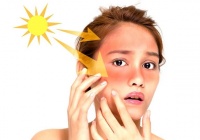 Detected Vitamin B3 protects skin cells from the effects of ultraviolet rays
(VietQ.vn) – According to research shows, a form of vitamin B3 can protect skin cells from the effects of exposure to ultraviolet (UV) rays: the main risk factor for non-melanoma skin cancer .
Mai Phuong
.