Logo of telecom company AT&T – Photo: AFP
Under the deal, a new company worth about $150 billion will be created, separate from AT&T.
This new company will own popular channels such as CNN, HBO, TNT, TBS, Animal Planet, Food Network and Warner Bros franchises.
According to the station CNN, the new company will also combine two content repositories including the HBO Max movie streaming platform and Discovery+, Discovery's streaming service.
Under the terms announced, AT&T will receive $43 billion in cash and debt. Shareholders of this telecom giant also control 71% of the new company's shares, while Discovery will keep 29%.
According to the Fox News, the boards of directors of both AT&T and Discovery have approved the merger, and are now awaiting a nod from Discovery shareholders. If approved as well as after passing other legal procedures, the transaction is expected to close and take effect in mid-2022.
Shares of Discovery were nearly 9% higher in pre-deal trading, while AT&T's share price was up more than 3%.
AT&T said Discovery president and CEO David Zaslav will run the new company, and the name of the company will be announced in the coming days.
Radio CNBC quoted Mr. Zaslav as optimistic that the merger will open up new values, and affirmed the company's sole mission is "to create the best things together and have a lot of fun at work".
During a press conference on May 17, Mr. Zaslav affirmed that this project will make a difference compared to the world's leading streaming services today such as Disney + and Netflix. He also said he plans to keep the station CNN with the intention of "taking advantage of everything we have in news, combining it with CNN and become the world leader in news."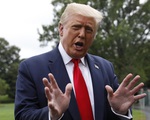 'Acquiring' TikTok in the US, Oracle added more wings
.