Most high school students today are always faced with a tight schedule of many regular classes, tutoring to prepare for exams and even attractive extracurricular programs in front of the principal's door. Fort. Therefore, a reasonable means of transportation will become the key to help young people connect safe and convenient journeys, alleviating the constant worries of parents.
Appearing in the Vietnamese market since the early 2000s, electric motorcycles with youthful design, reasonable prices and preeminent smart features are increasingly favored by students. In the series of electric motorcycle models on the market today, it is not too difficult to recognize the dominance of two electric motorcycle products from VinFast, Ludo and Impes, when they always have the upper hand in the two-car market segment. cakes for high school students across the country. Safe, durable operation and integrated with modern technology, Ludo & Impes has completely conquered Vietnamese parents and students since its presence in the market since 2018.
Personalized design – durable operation
Being in the segment of two-wheelers for students, it is easy to understand why Ludo and Impes both have a sporty and personality style that easily conquers young people at first sight. The car has a compact, convenient body, supporting for moving in complex traffic areas, many alleys. Students can safely go to school all day when the duo only needs 3-4 hours to fully charge, while other cars need an average of 8 hours.
In addition, with a wide range of branded and high-quality accessories from the world's leading brands such as Bosch engines, Lithium batteries, the solid chassis system has been rigorously tested according to high quality standards. VinFast also makes students and parents completely secure with the quality and durable performance of this car.
Another plus point that cannot be ignored is the water resistance of the battery and the car engine, both of these models are IP57 and IP67 waterproof, making the car capable of being submerged in 0.5 meters of water for 30 minutes. . With this feature, parents and students can be completely assured during long journeys with sudden summer rain. Mother Nguyen Huong Giang (Nam Tu Liem, Hanoi) who once bought a VinFast Ludo car for her child shared: "Since switching to my son to use Ludo electric motorbike, I feel secure. When it rains, I don't worry about the car slipping, causing my child to fall or stall in the middle of the road."
Smart technology – superior safety
One of the top criteria that parents care about when choosing a vehicle for their children is safety features. That is also the reason why VinFast Impes and VinFast Ludo are highly appreciated.
Specifically, these two electric motorbike models of VinFast are equipped with an intelligent navigation system capable of connecting to phones, with many useful features such as anti-theft, cruise monitoring, vehicle positioning. As a result, parents can easily capture all of their children's journeys during the day through the modern features of the mobile app. Travel history, list of destinations, distance traveled or current location are all easily displayed through the smart app that VinFast has researched and developed for its car models. Not only that, the smart positioning feature of VinFast electric motorbikes also helps parents and students easily store and find their beloved car if unfortunately stolen by crooks.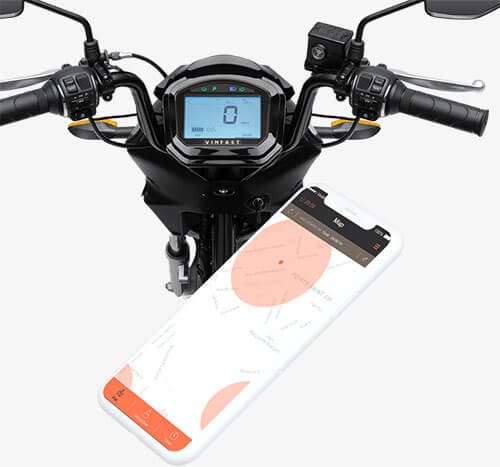 Parents can easily capture all their children's journeys thanks to modern features on VinFast electric motorbikes.
Besides the quality of the car, VinFast's green energy ecosystem is also a notable plus. With a system of battery exchange stations across the country, and a system of charging stations in the process of being completed with more than 40,000 charging sockets in 2021, it will make every journey even simpler and more enjoyable. The flexible battery rental policy with a fee of only VND 149,000 per month with a total distance not exceeding 300 km is also a great solution for parents to reduce initial investment costs and balance financial resources. right before the children's new school year.
"Golden" opportunity to buy a good car in June
Towards the goal of giving every young Vietnamese person the opportunity to use high-quality and environmentally friendly green vehicles, VinFast continues to be the bridge with a huge incentive program exclusively for Ludo and Ludo electric motorbikes. Impes. Specifically, when buying VinFast Ludo and Impes, worth VND 12.9 million and VND 14.9 million, respectively, the family will receive a free charger and battery worth VND 9.7 million! This is a great deal that parents cannot ignore to give their children a meaningful gift for the long journey ahead, to give them wings to be more stable, strong, experienced and mature.
.