Represent Vietnam Suzuki said that this business always considers after-sales service a top priority. That is also the reason why Suzuki adjusted the parts prices, aiming to become the brand that provides the most affordable parts among Japanese brands in Vietnam. At the same time, it changes maintenance cycles to provide suitable maintenance time to reduce cost burden on customers.
In addition, Suzuki also enhances service training to improve the skills of mechanics and technicians so that customers can always use the vehicle comfortably, while increasing the number of spare parts warehouses and spare parts to try to remove. leave the vehicle waiting for repair and cannot be used.
The new Suzuki XL7 is a 7-seater SUV favored by Vietnamese customers.
According to the representative of Vietnam Suzuki, in September this company sold 1,778 vehicles, recording a growth rate of 128% over the same period in 2019 (1,384 vehicles). In order to continue supporting the demand for car buying and stimulating consumer demand, Suzuki will launch the incentive program in October, depending on the car model, customers receive support in terms of interest rates, registration fees, insurance or fees. other.
In addition to the stimulus policy, the company also continuously brings in new models launched in the world. Specifically like Ertiga Sport 7-seat MPV 2020 towards Vietnamese family segment, trendy design, reasonable price and low cost of use. Or car flow The completely new Suzuki XL7 won the "Car of the Year 2020" award in Indonesia, strong appearance, 6 unique colors, imported complete unit, spacious interior with a sporty driving feel. In addition, the newly launched Ciaz class B sedan also received attention through its elegant design, spacious interior, complete imported with Japanese quality.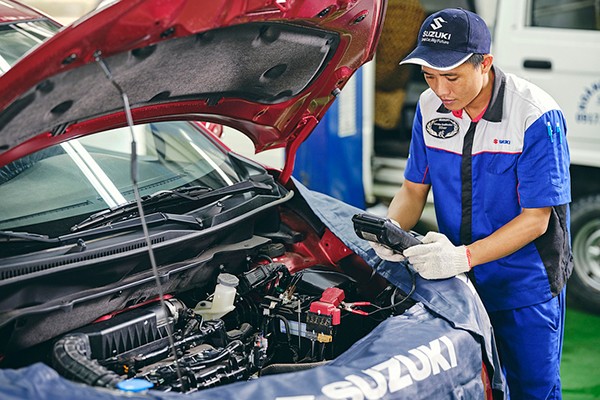 According to Vietnam Suzuki, in September this company sold 1,778 vehicles, recording a growth of 128% over the same period in 2019 (1,384 vehicles).
Vietnam Suzuki also focuses on improving after-sales service. Accordingly, from April, vehicle maintenance frequency will be reduced by 33%, customers only need to maintain the car at 7,500 km or 6 months, the first 3 maintenance free time, reduce the total maintenance cost for 3 years. up to 50%.
The company ensures to have enough spare parts to provide customers with two warehouses in the South (Ho Chi Minh City, Dong Nai) and one warehouse in the North (Hanoi) with more than 500,000 spare parts. Besides, Long Binh warehouse in Dong Nai is about to be expanded to increase the number of spare parts. Parts ordering agents in Ho Chi Minh City and Hanoi can receive goods within the same day. To improve the quality of after-sales service, Vietnam Suzuki will deploy 23 training courses for various maintenance skills within 3 months from October across the country.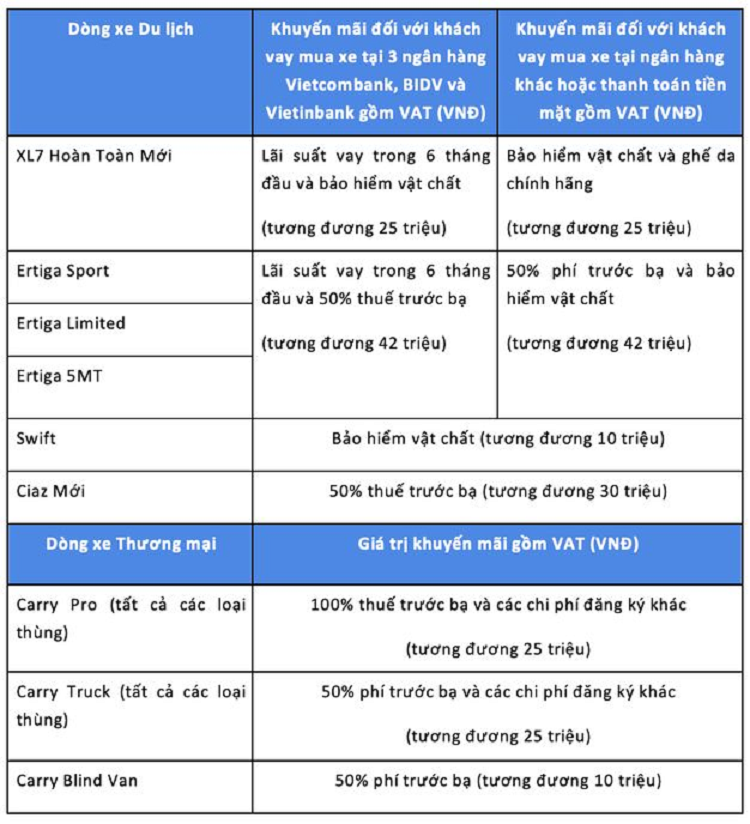 Details of the promotion program in October 2020.
.