Minister of Health Nguyen Thanh Long had a working session with Ms. Rana Flowers, United Nations Children's Fund Representative (UNICEF) in Vietnam about UNICEF's increased communication with COVAX to provide supplies. Covid-19 vaccine return to Vietnam as soon as possible.
According to Minister Nguyen Thanh Long, Vietnam is facing the 4th wave of Covid-19 epidemic with the Delta variant of SARS-CoV-2 capable of spreading quickly and widely. The Vietnamese government is drastically directing epidemic prevention and control measures to soon stabilize the situation.
The Ministry of Health discussed with UNICEF about the supply of Covid-19 vaccine to Vietnam
One of the priorities in Vietnam's Covid-19 prevention is to have a Covid-19 vaccine early and make vaccination coverage wider for the people. Therefore, in parallel with efforts to find, negotiate and exchange with partners, manufacturers of Covid-19 vaccines to bring vaccines to Vietnam, the Ministry of Health and related ministries and branches also focus on developing vaccines in the country to gradually ensure vaccine autonomy. At the same time, Vietnam also participates in COVAX's global vaccine supply mechanism.
"Although the Ministry of Health has been trying to access vaccine sources to ensure that 70% of the population is vaccinated by the end of the year to create herd immunity, up to this point, vaccine sources Covid-19 returned to Vietnam very slowly," said Mr. Long.
The Minister of Health also thanked COVAX and UNICEF for accompanying Vietnam in the fight against the Covid-19 epidemic, and wished UNICEF to strengthen promotion and exchange with COVAX for vaccine sources. Covid-19 returned to Vietnam fastest and most.
At the meeting, the Chief Representative of UNICEF in Vietnam completely agreed with the Minister on the complexity and rapid spread of the 4th Covid-19 epidemic in Vietnam. Ms. Rana Flowers was pleased to say that the results of a survey conducted by UNICEF and its partners showed that 67% of Vietnamese respondents said they were ready to receive a Covid-19 vaccine, which is quite high.
UNICEF representative said that a shipment of 1,910 large capacity refrigerators will be delivered to Vietnam in late July 2021. This is the first batch of equipment in the cold chain support package through the Australian Government's support budget. At the same time, UNICEF has ordered 5 specialized refrigerated trucks to transport vaccines and this shipment will also return to Vietnam in August and September. In addition, UNICEF will soon deliver 5 million needles and syringes to Vietnam by air.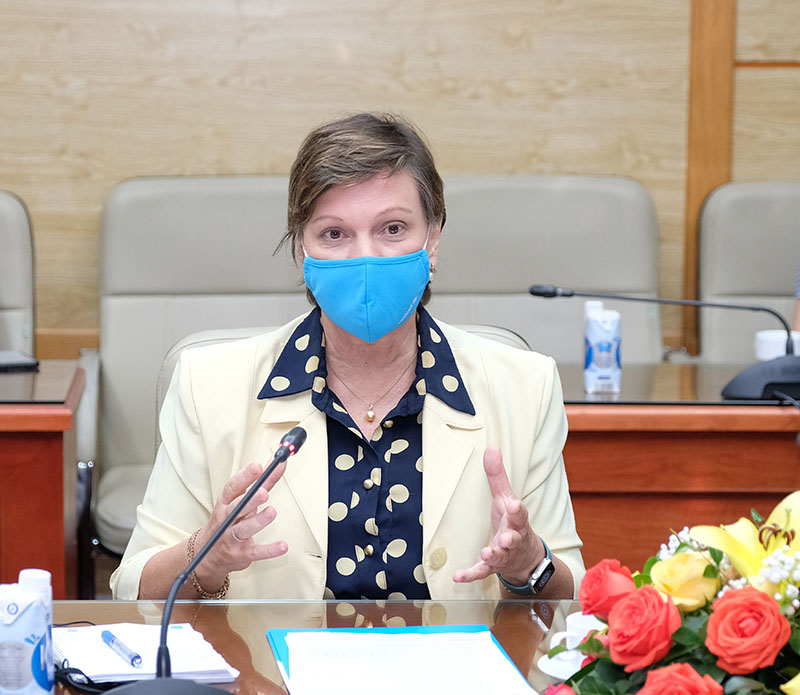 Ms. Rana Flowers, UNICEF Representative in Viet Nam – Photo: Tran Minh
Regarding the shipment of Covid-19 vaccines through the COVAX Mechanism to Vietnam, Ms. Rana Flowers said that the batches of vaccines that are about to be shipped to other countries are supplied by a manufacturing facility under consideration. approved for inclusion on the World Health Organization's emergency use list. Immediately after being approved, these vaccines will be delivered to countries including Vietnam, expected in July.
Ms. Rana Flowers welcomed Vietnam's initiative in establishing the Covid-19 Vaccine Fund as well as the efforts of the Government and the Ministry of Health in disease prevention. At the same time, as the head of UNICEF in Vietnam, she expressed concern about the issue of isolation for children.
In this regard, Minister Nguyen Thanh Long shared that one of Vietnam's successful lessons in epidemic prevention is concentrated isolation. "For this outbreak, the Delta virus has a fast-spreading nature, all family members (including the elderly with chronic diseases) can be infected if there is a source of infection in the family. Therefore, we chose to isolate in isolation to prevent the chain of infection in the community and protect the health of the community," the Minister said.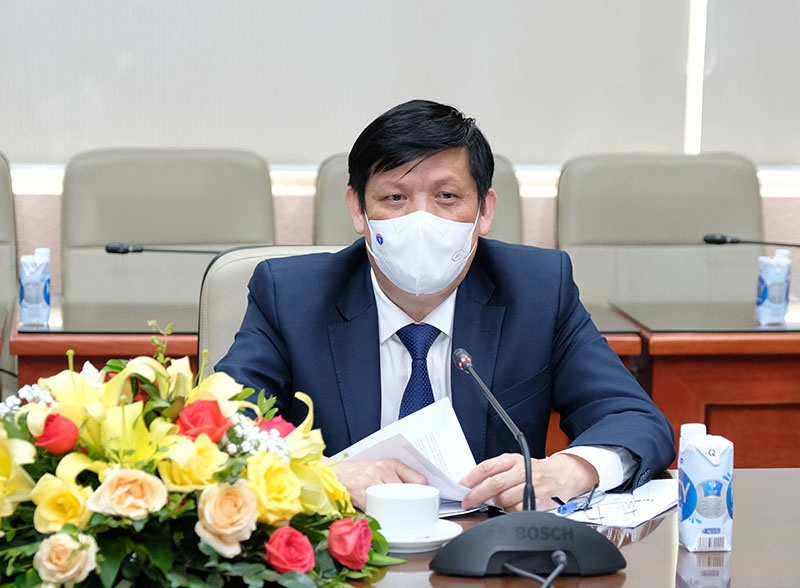 Minister of Health Nguyen Thanh Long wishes to access Pfizer's Covid-19 vaccine so that it can be administered to Vietnamese children
The Minister of Health also added that children are always a priority object in Vietnam, all issues of care, isolation costs … are sponsored by the state. Recently, authorities have adjusted isolation regulations, whereby children under 5 years old are isolated at home. For children over 5 years old, they will be isolated with a family member or guardian.
"We will adjust the regulation on isolation for children in line with epidemic prevention practices, while respecting children's rights under international conventions. Besides, we also want to have access to vaccines. request Covid-19 from Pfizer so that Vietnamese children from 12-18 years old can be vaccinated," said the Minister of Health.
At the end of the working session, once again, Minister Nguyen Thanh Long expressed his wish that UNICEF would strengthen its promotion so that COVAX could soon supply more Covid-19 vaccines to Vietnam in July, August and September 2021. We are committed to the Vietnamese people to use the Covid-19 vaccine in a fair and effective way," said the Minister of Health.