Hospital for Tropical Diseases Central has just said 2 female patients Covid-19 (BN2582 and 2586) in Hai Phong transferred from Hai Phong to this hospital for treatment at noon on March 26 had pneumonia.
Two Covid-19 patients in Hai Phong are being treated at the National Hospital for Tropical Diseases 2
According to the treating doctor to this point, the health of 2 patients is stable, one patient has a mild cough change. Both showed signs of pneumonia with inflammatory features caused by the SARS-CoV-2 virus. "The silent course of the virus and lung damage on CT lung scan and chest X-ray are also quite consistent with the damage caused by the SARS-CoV-2 virus. We estimate that the patients may have been infected. SARS-CoV-2 virus at least 1 week ago "- a doctor shared.
Before that, on the morning of March 26, after consulting with the Central Hospital for Tropical Diseases, the health sector of Hai Phong agreed to transfer BN2582 and BN2586 to the National Hospital for Tropical Diseases 2 (Dong Anh, Hanoi). ) Treatment for rapid progression of lung damage.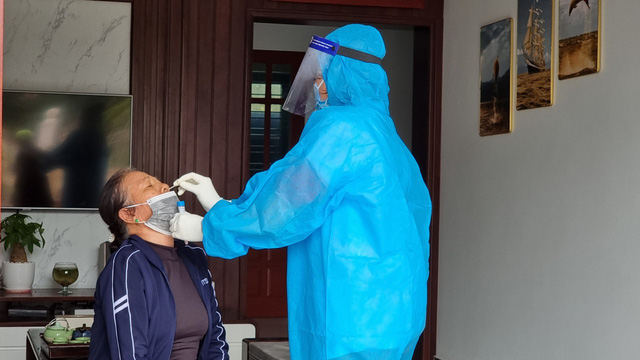 Medical staff take samples to test cases related to the case – Photo: Minh Ly
Regarding these 2 Covid-19 cases, the People's Committee of Hai Phong City has just sent a document to Hai Phong City Police to investigate and handle 2 cases showing signs of violation of regulations on disease prevention. Covid-19; strictly deal with the above two citizens according to the law provisions and related cases (if any); report to the City People's Committee on implementation results.
Accordingly, on March 26, the Department of Health reported 2 cases of positive for SARS-CoV-2 entering Hai Phong illegally, BN2582 (NTT, female, SN 1996, registered in Cam. Sơn, Cẩm Phả, Quảng Ninh) and patient 2586 (Đ.TTP, female, SN 1995, registered permanent residence in Viet Tien, Dai Hop, Kien Thuy, Hai Phong).
According to the epidemiology. Before returning from Cambodia to Vietnam, on February 28, BN2586 had a cough and fever. At the same time, BN2582 along with BN2586 also appeared coughing. Because there are no jobs, BN2586, BN2582 catches a fishing boat and runs for 4 hours to Phu Quoc, Vietnam. On that train there were 8 women, 2 men and 2 Cambodian ship owners.
After taking flight VJ458 from Phu Quoc to Noi Bai, these two girls were picked up by their private car to Kien Thuy, Hai Phong. Before finding out that they got sick, the two went to many places and met many people.