Singer Tung Duong and director Hong Vy – Photo: Tran Mac
Singer Tung Duongg just released MV Hope on the evening of June 8 with many reflections on life and death, drawn after 2 years of the COVID-19 epidemic that took the lives of countless people.
"The song of musician Le Vu Viet Thinh is like a sharing and consolation for those who were unlucky to have survived the pandemic. After that event, what was mentioned in addition to the loss was how humanity sympathized with each other to overcome.
We can't wallow in negative thoughts forever, like squirming around in the dark nights," Tung Duong shared.
And that's why, despite talking about death and destruction, Tung Duong's latest music product still contains a human desire to live and be loved.
MV 'Hope' – Source: Tung Duong
Hope belongs to the dream pop genre with soaring, magical sounds, interspersed with high and low mutated melodies, as if sketching the ups and downs of human life between life and death.
The MV was filmed entirely in the studio and used special effects technology to create chaotic images of the post-apocalyptic Earth. Along with that are the verses that leave many thoughts such as:
"Someday, continue writing dreams
May the sacred caress and protect
Let my soul have a refuge
In the middle of dawn to welcome the sun".
MV Hope opened up a dark space with a little light from the sky. After the storm, everything gradually brightened up and the darkness was gradually pushed back. The image has complemented the important message of the whole product, that after the dark there is always dawn.
Audience Thuy Minh Tran expressed her feelings about the above metaphor: "Perhaps after many struggles and struggles of thousands of endless nights, dawn will always come the way it should be. Because the darkest time is the moment right before dawn.
May we all keep a pure hope for tomorrow, when "The bright sunlight soothes the late wounds"We always need hope like the old navigators needed the stars."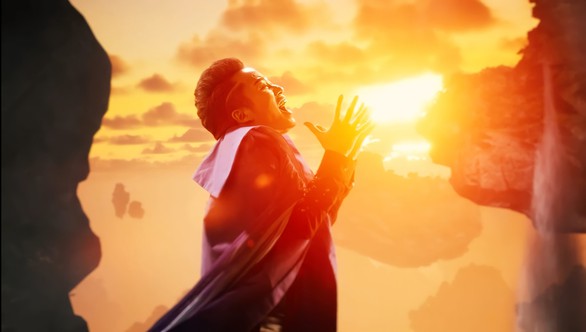 Tung Duong's image at the end of the MV – Photo: Provided by the character
Tung Duong said that he joined the MV director beside Hong Vy not to show his talent. Via Hopeis still a mischievous Tung Duong, but perhaps he has filtered out a "crazy" part to make his music "breathe" easier for the masses.
He admits to himself: "20 years ago, Tung Duong of Daystar rendezvous I only sing contemporary music, but now I have changed. Singing many genres of music is not necessarily good for the artist, but I am more up to date and less extreme.
If we are too extreme, we will go against the majority, or shrink our own space. If I don't listen, I will also fall behind one day not far.
An MV with many stories of tears or love, perhaps it is not suitable for Tung Duong's style. But certainly in the future Duong will be younger. Sing many ballads and songs composed by young musicians".
After HopeTung Duong plans to mark his 20-year singing journey with the biggest live show ever compared to his previous concerts.
.