My Tam to Quang Nam, Thuy Tien to Hue and Quang Tri to help people are beautiful actions – Photo: FB CHARACTERS
Along the direction of flooding people in Central Vietnam, artists are taking practical action. That is cThe evil artists Thuy Tien, My Tam, Ly Hai – Minh Ha, Tran Thanh, My Le, Hoa Minzy, Ky Duyen – Minh Trieu, Tien Luat – Ho Viet Trung and the artist team …
On the evening of October 13, singer Thuy Tien flew from Ho Chi Minh City to Hue to quickly provide relief. In three days, the singer announced to raise 30 billion.
She coordinated with friends and local people to urgently buy supplies including: instant noodles, bread, milk, water, wind oil, life jackets, fever medicine BVS, diarrhea medicine … and cash to people repair their houses, cover their lives after the floods.
In a few days, Thuy Tien went to heavily flooded localities in Hue and Quang Tri. She will move gradually into the interior. On Facebook, the singer urged people to go to the highways, big roads or announce the address for her and the group to come in to give gifts.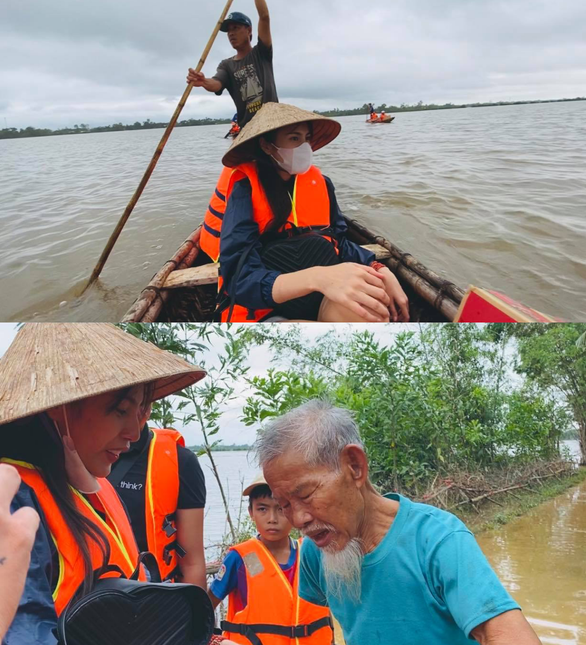 Thuy Tien entered the flooded area to give relief gifts to the people – Photo: FB CHARACTERS
Thuy Tien said this was just the first round of the relief trip. In the following waves, she will study the needs of the people and base on the floods to buy suitable supplies. The singer is concerned about how to use the 30 billion VND effectively, not to disappoint the contributors.
On the morning of October 16, singer My Tam posted photos of the relief trip at Dai Lanh commune, Dai Loc district, Quang Nam province. In the afternoon, her group continued to the second location. My Tam shared that it still rains heavily, hoping everything goes well.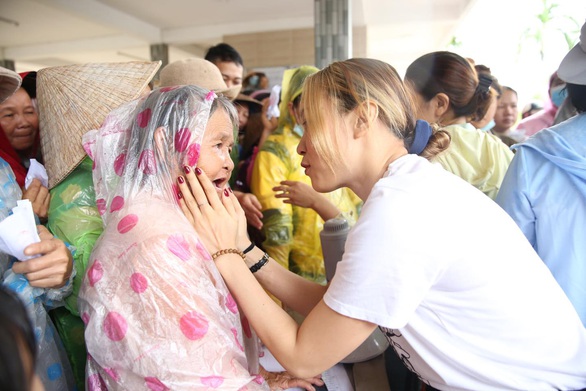 My Tam is friendly to people when going to aid in Quang Nam – Photo: FB CHARACTERS
The singer's revelation was surprising because My Tam did not call for donations. She quietly went to the Central region and went directly to the rescue. This action of My Tam made her praised and encouraged by netizens. Many fans hope My Tam stay healthy and safe on the way of relief.
On the afternoon of October 16, Tran Thanh announced that he had called for 3 billion 200 million dong to donate to the Central region. On October 19, he will close the donation and transfer the money to Central Vietnam. Tran Thanh said he cherished every penny contributed by the people and "will not eat a penny".
If people still contribute money after October 19, Tran Thanh will use that money to help lonely old artists such as actors Mac Can and Hoang Lan.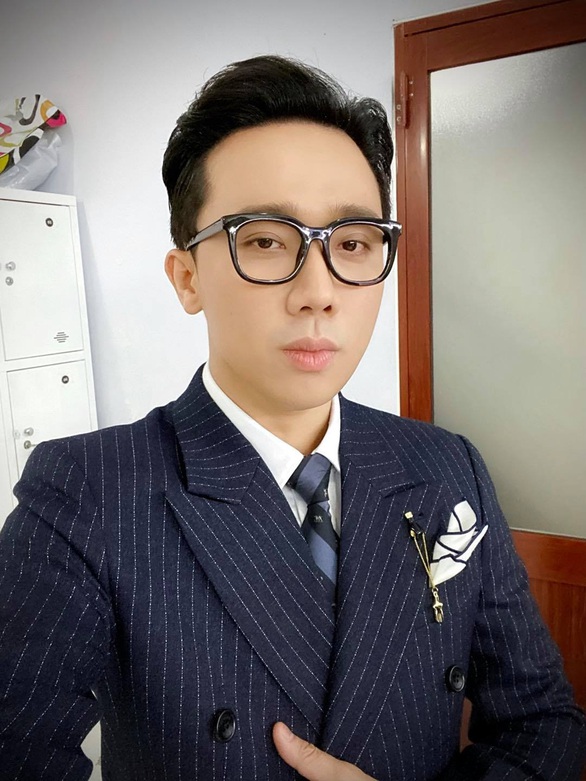 Tran Thanh raised 3.2 billion VND after a day of calling – Photo: FB NHAN NHAT
On the afternoon of October 15, the friendly match "Together for the Central" between the Ho Chi Minh City artist team and the friends at Phu Nhuan Stadium (Ho Chi Minh City) attracted nearly 1,000 spectators and raised 550 million VND. The match organizers include midfielder Tran Huu Dong Trieu, singer Ho Viet Trung, actor Tien Luat, Tan "Trieu".
The match brought together artists: Tien Luat, Lam Vu, Trung Dw, Huynh Phuong, Quach Ngoc Tuyen, Titi, Chu Bin, Chau Khai Phong … Players Tien Linh, Tan Tai, Dong Trieu also participated in the competition. match. Goalkeeper Bui Tien Dung, player Sam Ngoc Duc and Vo Huy Toan contribute money.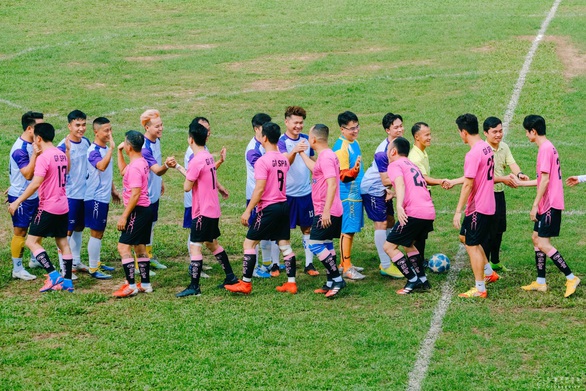 The friendly match "Together for the Central" in the afternoon of October 15 had a score of 5-5 – Photo: NVCC
As the first artists calling for support in the Central region, Ly Hai – Minh Ha said she received 4 billion VND on October 15. Next week, the couple will go to the Central region with Thich Minh Phuoc to give gifts. The delegation is expected to go to Hue, Quang Tri, Quang Binh, Quang Nam, Thanh Hoa.
"Like every year, Mr. Phuoc will go to villages and remote areas. This must be said to be very dangerous because after the flood, there will be a lot of landslides" – Minh Ha shared. Hoa Minzy contributed 100 million to the fund of Ly Hai – Minh Ha.
As a child of Quang Binh and Hue, singer My Le donated 500 million VND and called for a donation so that she could go to the rescue. After one day, she received 350 million VND from the people.
"We plan to buy and gather goods such as cooking oil, canned food, rice, sugar, monosodium glutamate, fish sauce, bottled water … in Ho Chi Minh City and for two trucks to take to Hue, Quang." Tri, Quang Binh provided relief to people in the shortest time "- My Le said.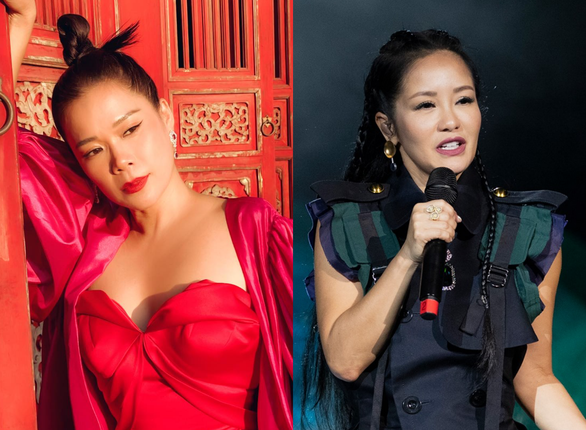 My Le contributed and raised 850 million VND, Hong Nhung organized a Central Music night – Photo: FB CHARACTERS
Singers Hong Nhung, Quang Dung, Pham Thu Ha and director Tran Vi My, conductor Tran Nhat Minh hold a music night "The lyrics of the mother" on the evening of October 29 in Ho Chi Minh City to donate to Central Vietnam. .
Hong Nhung believes that relief is needed even after the flood recedes. She said: "The floods withdraw, the fields are empty, the birds are swept away, the roads are damaged, it still takes a lot of money and time to restore. People need a lot of cooperation".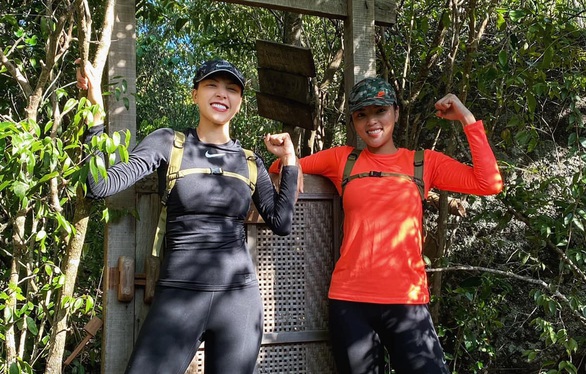 Ky Duyen – Minh Trieu together raised money to go to Quang Tri on October 17 – Photo: FB NHAN character
Miss America Duyen and model Minh Trieu jointly set up a fund. On October 15, Ky Duyen said she had contributed more than 380 million dong. On October 17, she and her team will be present in Quang Tri province.
The delegation will coordinate with local agencies to give priority to the districts and communes that are most difficult and receive the least assistance.
.