Thuy Tien and Cong Vinh husband and wife and mother and daughter Phi Nhung, Ho Van Cuong
* Thuy Tien, Cong Vinh support monitors for Bac Giang
Immediately after receiving information from friends that the Medical Center of Tan Yen district, Bac Giang province was missing two monitors, Thuy Tien and Cong Vinh quickly sponsored one.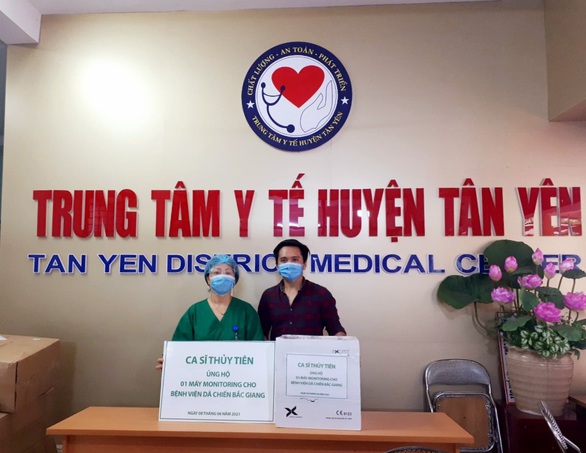 Representatives of Thuy Tien and Cong Vinh handed over a monitor – Photo: FB Tan Yen District Medical Center
"Continue to support more medical equipment for Bac Giang. Sending a little love to the frontline against the epidemic. Wishing everyone a quick victory over the pandemic" – Thuy Tien wrote.
The Tan Yen District Health Center informed that on the evening of June 8, the machine was installed and operated smoothly: "In the COVID-19 battle, no one is left behind. Sincere thanks to his wife. Singer Thuy Tien's husband, Cong Vinh sponsored a monitor for Tan Yen District Health Center.
This is a very meaningful action for medical staff on duty and for patients being treated …".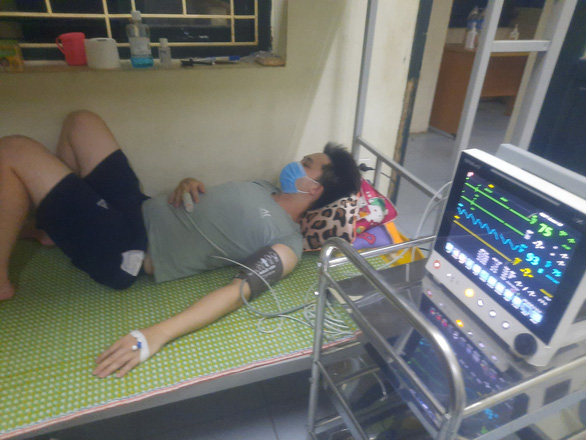 Right in the evening of 8-6, the machine was installed and operated smoothly – Photo: FB Tan Yen District Medical Center
* Ho Van Cuong denies being exploited by Phi Nhung
In recent days, the social network has spread the information that the 2016 Child Music Idol Champion Ho Van Cuong has an angry attitude because his adoptive mother exploits her labor and mistreated her.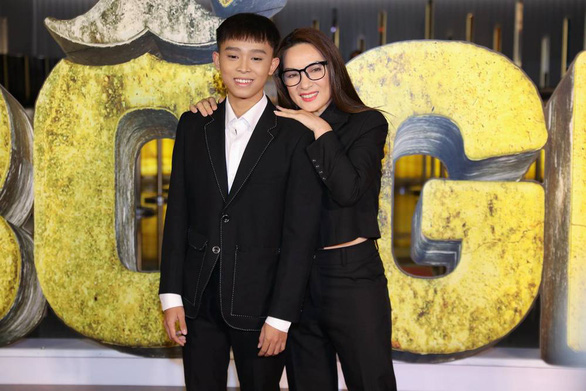 At Child Music Idol 2016, Phi Nhung knew Ho Van Cuong's difficult situation, so he adopted Cuong and brought him to Ho Chi Minh City to live with – Photo: Facebook Ho Van Cuong
Many netizens have attacked Phi Nhung's personal page. Some criticized the singer for taking advantage of the adoption to "make an excuse to ask for charity funding". Recently, Ho Van Cuong has officially spoken and answered the press about the above information.
Accordingly, Ho Van Cuong said that he is currently living with singer Phi Nhung, without any friction or frustration. In the past, Ho Van Cuong once said a word about his adoptive mother because he was under a lot of pressure and could not control his words. After that, Ho Van Cuong apologized to Phi Nhung.
About Phi Nhung, she said: "I don't need to correct, on the contrary, I do not allow anyone to instigate my children to do wrong and to do against my conscience. I do charity with money from singing and raising children as well. I don't have a charity fund like other people, so I do charity work with my money… Ho Van Cuong, even if you did something wrong with my mother, I still hold you in my arms like every day. Please".
* Nearly 40 artists participated in the MV United Vietnam cheering for the anti-epidemic force
With the message of encouraging the anti-epidemic force, calling on everyone to limit going out and comply with the regulations on prevention of COVID-19, MV United Vietnam attracted Dan Truong, Trong Tan, To Nga, Minh Quan… and nearly 40 other artists to volunteer.
MV 'United in Vietnam' – Source: DPC
"White shirt, white medical shirt / Warm, warm love / Soldier's shirt carries the desire to believe / Vow to sacrifice, protect our homeland / Join hands to prevent the other pandemic / Fight for the Fatherland of Vietnam / Gian It's not like it's difficult / It's the same, the pride of Vietnam", is a heroic lyrics in the song of musician Tuan Ho.
In the MV, viewers can't help but be moved when looking back at the moments when medical soldiers wearing protective suits sang the song right in front of the treatment area for COVID-19 patients at Ngo Gia Tu College in Tan Yen, Bac Giang.
"This epidemic is much more dangerous and complicated than before, it needs the consensus of the people and medical forces, doctors and soldiers across the country. I want to contribute a part of my voice to promote morale. Everyone, let's join hands to win the epidemic," said singer Trong Tan.
* Apple tree blooms: "Be angry"
Movie Apple tree blooms is making the audience both watching and angry because it is so tragic. During 28 episodes, the second brother Ngoc all day protected and then went to solve the countless problems caused by the children Nga, Chau, and Bau, which made Hanh – his wife – extremely upset.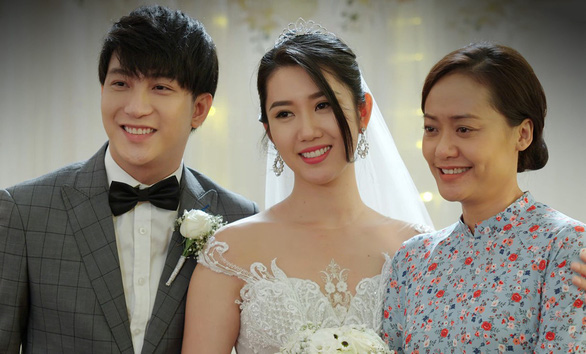 Hong Anh, Thuy Ngan, and B Tran in the movie "The apple tree blooms"
Following the story of their family, the audience was even more upset. At the climax as in episode 29, in Chau's wedding, many things happened: The treasure was stolen, and I was beaten for fraud. Not to mention, details their mother infiltrated the laughter and took the box of congratulatory money… which was just too absurd.
In the trailer for episode 30, tragedy follows tragedy when Ngoc discovers that she has liver cancer, and Nga is in danger of going to jail, having to pay compensation with the amount of 5 billion dong…
Many moviegoers lamented: "What movies always transmit negative energy to viewers", "Watching movies is tiring. Negative stories keep repeating until the end of the movie", "At first, I watched the movie because I liked it. family style, but the more you watch it, the more suffocated because the film has dark colors"…
.