Singer Thuy Tien in a charity time – Photo: FB CHARACTERS
After Ly Hai – Minh Ha, H'Hen Niê, Le Thuy … called for support for the people of Central Vietnam during the floods, the artists continued to call for the Central.
On the morning of October 13, singer Thuy Tien – who has been doing charity work for many years – shared: "I will go to the Central region. Last night I could not sleep, somehow I kept closing my eyes and seeing the flood image. The floods in the Central region are in the head, I will be very hard to go, I do not know if I can bear it or not … But if I do not do it, I cannot sleep in my heart.
In this wave, I observed that in addition to the flood, the Central region was preparing to have a storm, so maybe our people in the Central region will be in ruins. After thinking all night, I decided to quit my job and go out to help and share with people in Central Vietnam to reduce the difficulty.
After 2 calls, Thuy Tien announced that she had received 2 billion VND from friends and readers. She said that in the next few days, she would ask a younger brother to go to the station in Hue, Quang Binh, and Quang Tri. Then she will plan where to go and what to do. The singer urges readers to inform her if there are difficulties in her place.
For many years, Thuy Tien and Cong Vinh have been a couple dedicated to charity. In early 2020, both of them raised more than 9.5 billion VND and brought them directly to the West to help people fight against drought.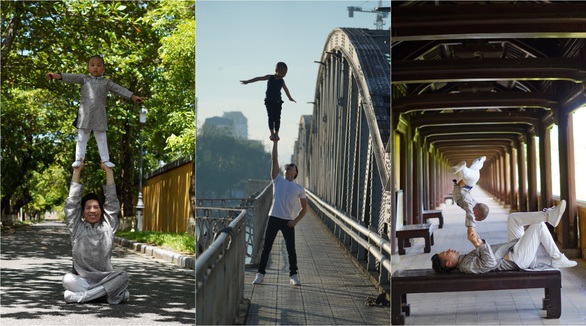 Giang Quoc Nghiep worked as a circus with his children in Hue, his wife's hometown – Photo: NVCC
Also on the morning of October 13, artist Giang Quoc Nghiep announced a series of photos of him and his 4-year-old son Hung Tam doing circuses at beautiful places in Hue. That is Ancient Great Hall, Trang Tien Bridge and poetic Huong River.
Quoc Nghiep is the husband of Ngoc Mai, a Hue-born singer. During her trip back to her hometown to perform the last set of photos, Ngoc Mai organized a small music night for Hue audience, the ticket sales were converted into a family scholarship fund. Family Quoc Nghiep – Ngoc Mai awarded 30 scholarships to students who are studying music.
Upon arriving in Ho Chi Minh City, Quoc Nghiep and Ngoc Mai learned that Hue was engulfed in floods. Ngoc Mai discussed with her husband to do volunteer music nights, with people everywhere supporting the Central region.
"The Central region has just struggled because of COVID-19, I thought everything would be back to normal, but now the storm comes, the difficulties are piling up. Although the possibilities are limited, we will do our best to Do something for the people here "- Ngoc Mai shared.
The artists are converging towards the Central region. On October 12, the couple Ly Hai – Minh Ha calls for donations, earned 562 million dong within four hours, on the morning of October 13 was 1.97 billion. Miss H'Hen Niê contributed 50 million VND to the fund of the runner-up Le Hang. Model Le Thuy also called for donations to her hometown of Quang Binh.
.