Artist Mac Can and sister Le Ngoc Yen are currently living together in Ho Chi Minh City – Photo: ĐPCC
* The audience denounced Son Tung M-TP and Thieu Bao Tram 'plagiarism'?
The two latest products of singer Son Tung M-TP and Thieu Bao Tram simultaneously have many doubts about "plagiarism" both about the MV and the song.
Many viewers pointed out the MV It's late, but why Son Tung M-TP has many scenes that remind the audience of the MV Bbibbi of female singer IU, especially hSon Tung's image appears in contexts such as rows of seats in stadiums, apartments, football fields or race tracks.
And yet, the chorus: "Hold me, hug me, hug me" is said to be quite similar to the structure of the song: "Drift away, drift away, drift through the dreams of each day" in the song. Youth composed and performed by Dao Ba Loc.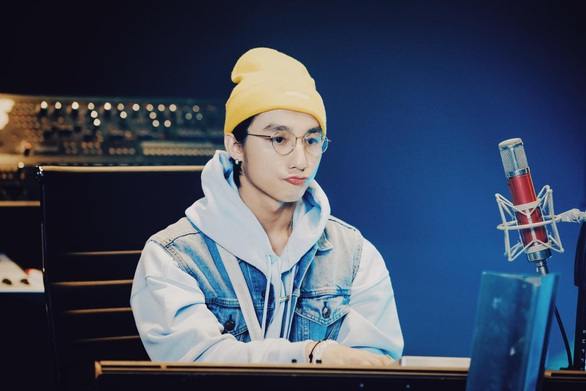 With controversy, Son Tung M-TP is still the first Vietnamese singer to have avatars for songs on Billboard – Photo: FBNV
Meanwhile, the MV Love rosie Thieu Bao Tram's chorus is also commented that the chorus "Rosie, rosie, rosie, rosie, every time you laugh" is quite similar to the melody at the opening of Loveable – The popular K-pop song was born 13 years ago, performed by Kim Jong Kook.
On social networks, many viewers also pointed out some points that coincide with the scene in this MV with the MV SHC of the Korean group Standing Egg, released in 2018.
MV 'Love rosie' – Source: Thieu Bao Tram
Although it is just a question pointed out by the audience, the above information is still receiving attention from the online community.
* Predict the ability of Khanh Van to win at Miss Universe 2020
Page Sash Factor Philippines predicts that Miss Khanh Van of Vietnam is likely to win the Miss Universe crown in the latest ranking. Two other promising faces are Colombia and Puerto Rico.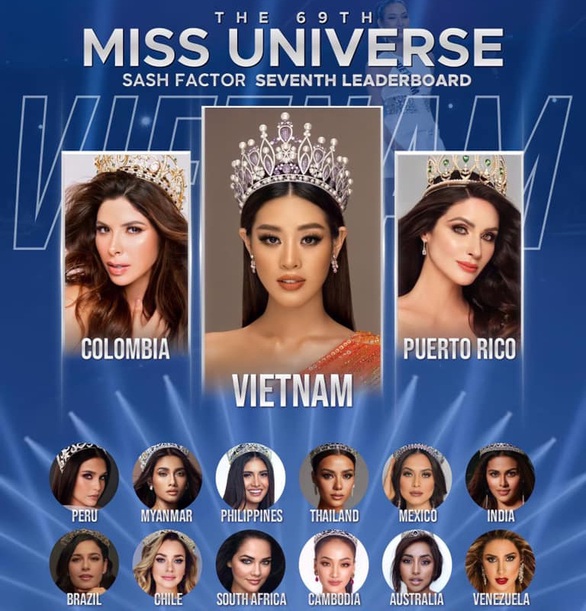 Prediction of the site Sash Factor – Photo: FBNV
On the official social networking site, Sash Factor introduced Khanh Van: "Did you watch a video of her behaving in a friendly and polite way to a disabled guest who wants to take pictures with? Van may not be the choice of love. likes of the international audience, but we see the beauty of her soul.
She is not afraid of difficulties to rescue and protect girls at risk of sexual abuse in many rural areas of Vietnam. That action comes from a loving heart. We believe Van can win this year. "
Khanh Van shares about the organization to rescue, nurture and support One Body Village sexually abused children – Source: CPC
Currently, Khanh Van is in Florida, USA to participate in the Miss Universe competition.
* Artist Mac Can and his sister depend on each other in the late afternoon
In episode 58 of the show Knock on the door to visit the houseMC Ngoc Lan and Quoc Thuan spent time talking and asking about the health situation of artist Mac Can.
Ms. Le Ngoc Yen – the youngest sister of the artist Mac Can – shared in the program that despite his old age, he was weak, but he was very passionate about the profession, every day he was strong and tried to type to compose stories or participate in acting. movie when someone invited.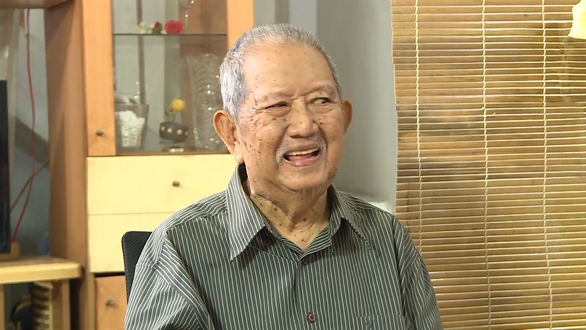 Artist Mac Can in the show – Photo: ĐPCC
The male artist's sister said that she had to cry with tears to convince her brother to return to the house in Hoc Mon, Ho Chi Minh City left by her parents to recover.
Artist Mac Can also confided about the concern of being able to write a book that 100 people read, 90 people liked, but "there are things I want to do but I cannot do in time, I pray that the above grace will allow me to live a little longer …".
"I am too satisfied with my current life, but a little bit sad for a while. I live in a city for a long time, I also get used to crowded places. Now, when I go back to a lonely place for a long time, I still miss my friends" – artist Mac Can share.
* Hoai Lam's homegrown MV reached the Top trending
In 2020, singer Hoai Lam impresses the audience with the song Flowers bloom without color by musician Nguyen Minh Cuong, currently has more than 160 million views.
MV 'There are times in life' – Source: Hoai Lam
Recently, Hoai Lam continued to release a new MV Life has seldom. Although this product is made with the spirit of simple "homegrown" in Dalat but still fast reached more than 1.8 million views and ranked 9th in Top trending YouTube.
Life has seldom Written by Gold MK, with a gentle ballad melody and tight skin is considered the main reason to attract the attention of the audience. CThe track is lyrical style combined with saxophone as the main instrument.
Although the image of this MV, if compared with the general ground of Vpop can be classified as a "catastrophe", but the voice bringing a lot of emotions to the listeners of Hoai Lam "saved" all.
* Luong Manh Hai and Minh Hang reunite
Director Vu Ngoc Dang has just uploaded a series of behind-the-scenes photos of actors Minh Hang and Luong Manh Hai while filming the project. Evil mother, angel father.
The duo's reunion quickly received a lot of attention from the audience. Both played well in the movie Happy home (Vietnamese version) and Walking and crying.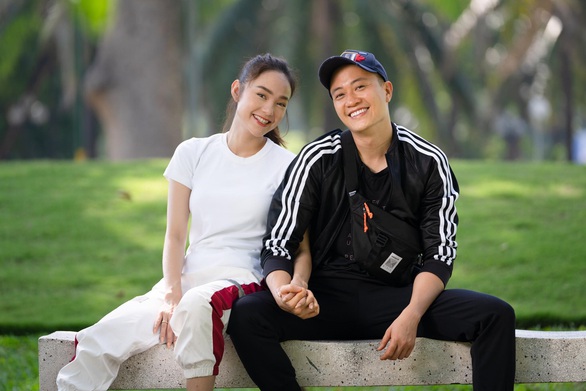 The film is scheduled to air from July 2021 – Photo: FBNV
Also in Evil mother, angel fatherLuong Manh Hai plays the role of an assistant principal at an international primary school. Actress Minh Hang takes on the female lead. The relationship of the two characters is between the teacher and the student's parents at the same time high school classmates.
Evil mother, angel father Remake of a Chinese TV series Tiger mother cat. In addition to Minh Hang and Luong Manh Hai, the film also has the participation of Tran Huy Anh, Kha Nhu, Jun Vu, Uyen An, La Quoc Hung, Thanh Thuy, Cong Ninh, Trung Dan, Ngan Chi, Huy Khang … .
* Comedian Thu Trang denied the news of being bedridden
On April 29, a YouTube channel posted a picture of comedian Thu Trang having a serious health problem and lying motionless on a hospital bed.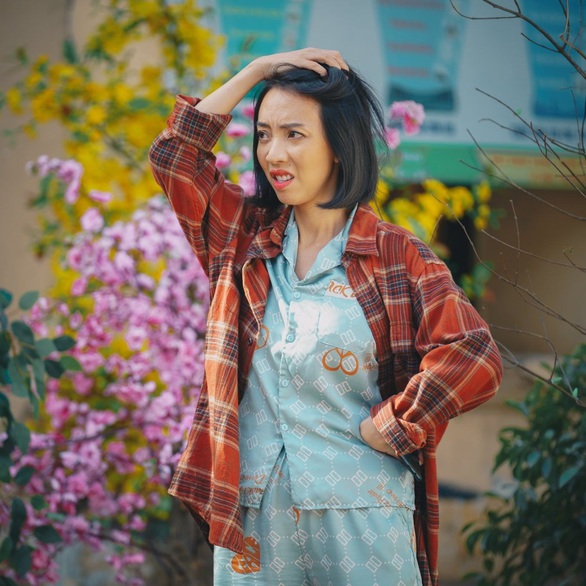 This false information makes audiences and families worried about Thu Trang's health – Photo: FBNV
On the afternoon of May 7, comedian Thu Trang announced through his personal page:
"To end this story, I would like to officially inform everyone that is the image of my hospital stay many years ago. Right now I am healthy and doing fine arts normally ".
On social networks, many YouTube channels despite posting false information about artists to attract the attention of the audience. Therefore, to limit this situation, the public needs to select the source, avoid being disturbed by false information.
.