On July 25, BS.CKII Pham Thanh Phong – Deputy Director in charge of specialties of Can Tho Central General Hospital – said that the doctors here and Can Tho Children's Hospital with support in the form of: Online by experts of Cho Ray Hospital has saved the life of a mother and child with a critical Covid-19 infection by performing ECMO (artificial cardiopulmonary) technique.
Pregnant woman with Covid-19 has passed the critical condition
Previously, Can Tho Central General Hospital received pregnant women with UTI (22 years old; living in Dong Thap province) who were transferred by the frontline with a diagnosis of SARS-CoV-2 infection, rapidly progressing respiratory failure, severe pneumonia, 34 weeks pregnant on mechanical ventilation. Both mother and child are in critical condition.
Immediately after admission, doctors consulted with many specialties and Cho Ray Hospital via online form. The patient was assigned an emergency cesarean section and strictly followed the regulations of the Ministry of Health on prevention of Covid-19 cross-infection.
As a result, the girl weighed 2.1kg with severe respiratory failure and was resuscitated by doctors and transferred to Children's Hospital in Can Tho city for treatment.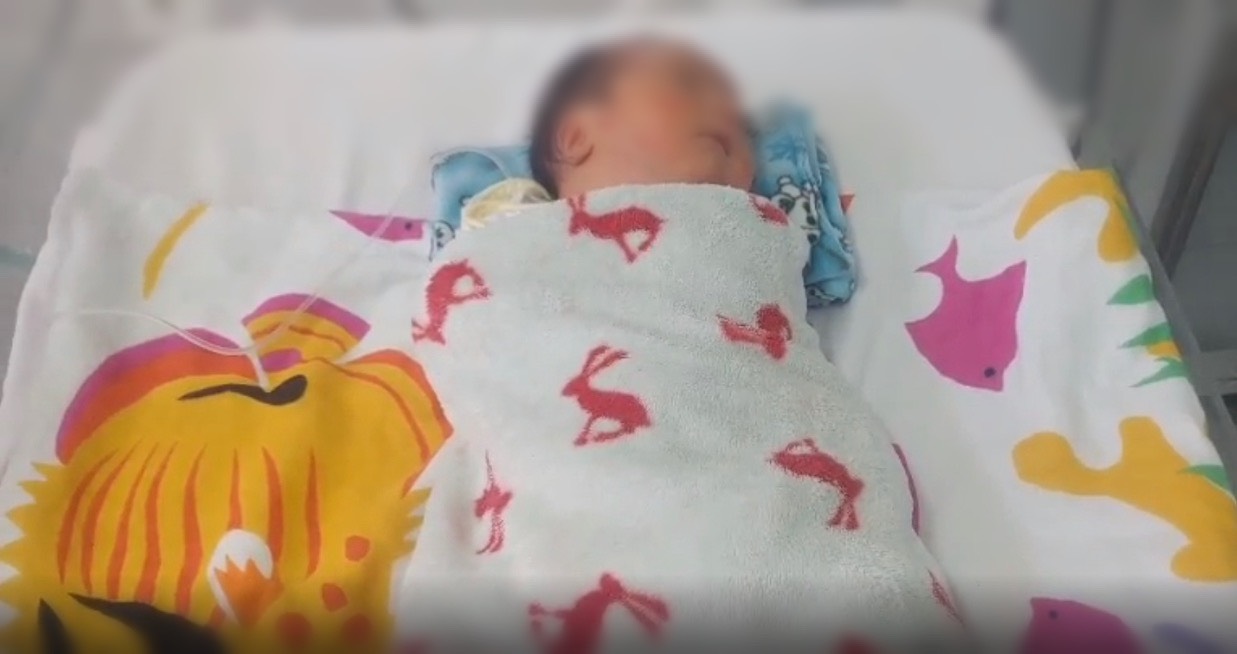 The daughter of a pregnant woman with Covid-19 escaped a critical situation
After surgery, the patient was transferred to the intensive care unit for Covid-19 treatment. Despite timely intervention, the patient's respiratory failure progressed very quickly, entered a state of critical respiratory failure, low blood pressure, and had to maintain vasopressors, and almost completely damaged both lungs.
Doctors assessed the patient's condition and online consultation at Cho Ray Hospital decided that ECMO technique must be performed to save the patient's life.
After 120 minutes of urgency, combining resuscitation measures to maintain the patient's life, the team successfully set up the ECMO system, helping the patient temporarily get out of the critical condition.
Patients were continuously monitored, evaluated and used a combination of intensive care measures with ECMO technique, pulmonary protective ventilation, dialysis to absorb cytokines, anticoagulation to prevent thrombosis, antibiotics to prevent infection. , nutrition and rehabilitation exercises.
After 10 days of intensive treatment, the patient's lung function and general condition gradually recovered, the patient was weaned from ECMO and ventilator, stopped breathing oxygen, became ill, Realtime RT-PCR molecular biology test confirmed the SARS virus- CoV-2 was negative twice. The baby has also stopped breathing, does not need respiratory support, sucks well.
The fact that the mother and child of the mother and child overcame the danger made the family and the medical staff in the prevention and control of the Covid-19 epidemic happy to tears.