The Ministry of Health said that in the afternoon of 2-3, the whole country did not record more new cases Covid-19. Up to now, the total number of cases in our country still has 2,472 patients, of which a total of 1,561 cases of Covid-19 due to domestic infections.
Map of Covid-19 translation. Source: Ministry of Health
Number of new cases in the country from January 27 to now is 868 cases. Hai Duong alone has 684 cases, Quang Ninh (61 cases), Gia Lai (27 cases), Hanoi (34 cases), Bac Ninh (5 cases), Bac Giang (2 cases), HCMC (36 cases), Hoa. Binh (2 cases), Ha Giang (1 shift), Dien Bien (3 cases), Binh Duong (6 cases), Hai Phong (4 cases), Hung Yen (3 cases).
In 10 provinces and cities, 17 days have passed without new cases reported in the community (Hoa Binh, Dien Bien, Ha Giang, Binh Duong, Hung Yen, Bac Giang, Gia Lai, Bac Ninh, Quang Ninh, HCMC).
Hanoi city has 14 days without new cases in the community. Hai Phong: 7 days without new cases in the community.
Total number of people in close contact and entry from epidemic zones under health monitoring (quarantine): 58,758.
During the day, 6 more patients were announced cured (BN1217-BN1218-BN1219-BN1220-B).N1394-BN1520), increasing the number of cured cases in the country to 1,898 cases. The number of deaths was 35.
Among patients being treated at health facilities, up to 82.5% have no clinical manifestations; The number of mild clinical manifestations accounted for 14.7% and currently, BN1536, currently being treated at Da Nang Lung Hospital, is the most severe patient. .
The patient has been consulted 6 times at national level, the Covid-19 Severe Patient Consultation Group regularly consulted on the phone and directly supported by Da Nang General Hospital, but the patient still had very serious progress. old age (79 years old), many background diseases such as hypertension, diabetes accompany many years. All modern equipment, rare drugs, specialized tests, nutrition…. At best, it is mobilized to treat patients.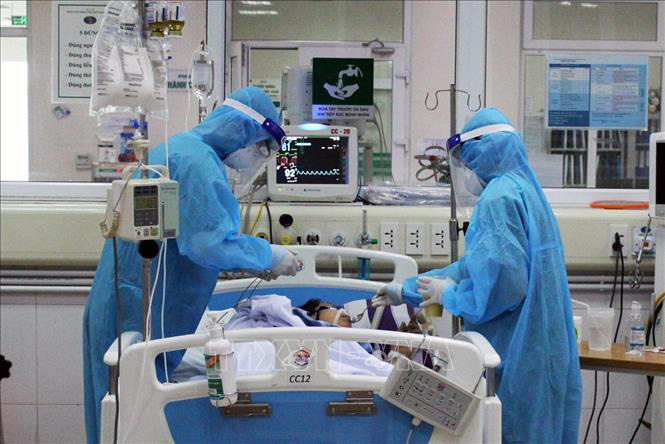 Male patient with Covid-19 in Hanoi is still in critical condition – Artwork
Another serious case is BN1823 (65 years old, from Me Linh, Hanoi) running ECMO (heart – artificial lungs) at the Central Hospital for Tropical Diseases on the 17th day, still in critical condition. This man is still mechanical breathing, not using vasomotor. The doctor continued to give the patient sedatives, muscle relaxants, and a lot of muscle tremors.
The patient tested for SARS-CoV-2 11 times, in the last 2 times (27-2 and 1-3), had a negative result for SARS-CoV-2. On general assessment, the doctor said the patient was still very severe but no worse progress was expected, and expected better progression was expected. Doctors are working hard to curb the deterioration of the patient's health, and keep the patient steady.
On the morning of March 2, giving a concluding speech at the regular Government meeting in February 2021, Prime Minister Nguyen Xuan Phuc asked to continue drastically preventing Covid-19 epidemic in the spirit of "vaccine + 5K", if any. When an outbreak appears, it can be traced at speed, and quickly circled out.
The Prime Minister asked the health sector to quickly vaccinate the people according to the opinion of the Politburo and resolutions of the Government. Continue to realize the dual goal for socio-economic development but to control the epidemic well.