Pictures of Thieu Bao Tram and Hien Ho in the MV poster – Photo: NVCC
* Thieu Bao Tram combined Hien Ho, Orange chose Hoang Dung to prepare to 'attack' Vpop
Recently, Thieu Bao Tram announced to cooperate with Hien Ho to create a MV with a rather strange name: Boys fade away.
The combination of a vocalist who is currently successfully singing ballads in the market and a singer who is interested in the controversy that netizens call "green tea", involving singer Son Tung M-TP and actor Hai Tu, making this MV have more reason for the audience to wait.
At the same time, singer Orange also announced that she would cooperate with Hoang Dung to return to the music race with products When you grow up.
Demo of the song 'When I'm Big', composed by Orange – Source: ORANGE
The song was composed by Orange after a period of time when she experienced some noise and events in her life, so it will bring a new musical color: quieter and deeper.
"Before, I sang very carefree and only sang songs about love. After going through a period of ups and downs, I realized that not everyone is friends, life also has sad times, sometimes happy times. When I get older, things aren't always fun and the way I want them to be.
When you grow up These are my true feelings, a mature Orange after the sad contemplation and sadness in the past 1 year, "shared Orange.
Two MVs When I'm older and Boys fade away will be released on April 20 and 22, respectively.
* Korean singers donate CDs to Vietnamese fans
Kpop female singer Yukika has just sent the Vietnamese audience 3 CDs of her latest album titled Timeabout with signature, as a gift to thank the fans. Album consists of 6 songs, the theme song is Insomnia and is being released online on Zing MP3.
Yukika greeted the Vietnamese audience – Video: ĐPCC
The contents of the songs in the album are likened to Yukika's metaphor of the musical universe. She travels from the past to the present and the future and through each stage, Yukika performs the song corresponding to that moment.
Yukika was born in Japan. She pursues newtro (a mix of modern and classical colors) and city pop. Some of her famous songs are Neon, Seoul lady. Inside, Seoul lady each ranked top 1 on Kpop Chart of 8 countries, including the US and UK.
* My Linh 'can't help but choke' when singing 'Boat and the sea'
Singer My Linh has just had a revelation on the sidelines of the performance Boat and sea, that she participated in singing at the event Se will Happy birthday to Luu Quang Vu.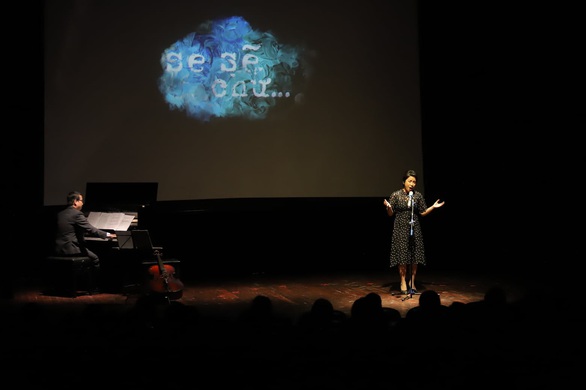 My Linh at Se event will …
Specifically, My Linh recounted that when she received an invitation "Can you sing a poem night for a night? And we do not have any money" by director Nguyen Hoang Diep, she was worried because she only belonged to one post is Boat and sea:
"I stood by the wings of the chicken on high shoes listening to poems, poems, watching documentaries for a while, I was crying.
As expected, there are no complete sentences choking. The poem was good, the music of Phan Huynh Dieu was also too good, thinking about Luu Quang Vu, Xuan Quynh and Quynh Tho, about how they fell in love and lived uncontrollable.
After I finished singing, I was a bit embarrassed because I did not fulfill my shoulder, intended to go home, luckily the children kept it to witness the best moment when the four verses of Luu Quang Vu rang out in more than twenty languages. Seeing poetry connecting the good and the sacred. Seeing a beautiful and lovely life, worth living too, "My Linh shared.
.