On April 5, information from the Tay Ninh Xuyen A General Hospital said that this unit has just received treatment for a 62-year-old patient, living in Tay Ninh, with lice that lay eggs and parasites on the eyelashes.
Accordingly, patients hospitalized with itching many areas around the eyelids on either side.
The woman's eyelids had a lot of lice eggs tightly attached
Through exploiting the medical history, the patient said that he had itchy many days ago, so he bought medicine himself for treatment. However, her itchy eyes did not improve, so she went to the hospital to see her.
Through examination, the doctor discovered that there were many lice and parasitic eggs on the patient eyelashes.
According to Dr. Nguyen Thi Quynh Nga, Head of Ophthalmology Department, Xuyen A General Hospital, after the examination, the patient was removed all eggs, lice from the eyelids, and cleaned the eyes. At the same time, the dermatologist at the hospital also makes a regimen to treat systemic lice for the patient.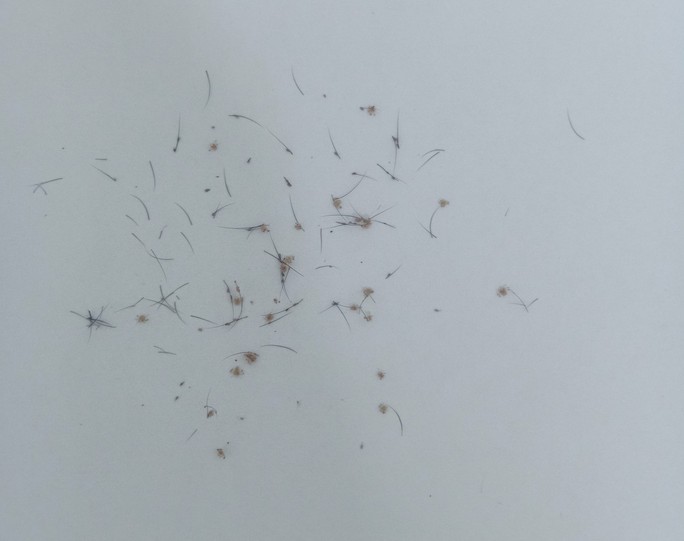 Eggs and lice are removed from the patient's eyelids
Russian doctor said recently, the hospital continuously accepts many patients with lice. These parasites are also known as lice, groin lice … They are transmitted through physical contact, such as kissing, sex or direct contact from sick to healthy people. In addition, this lice can also be spread through blankets, mats, mosquito nets, clothes, towels … when shared.
Russian doctors note that when lice are present, patients often feel itchy, red eye papules or dark red scabs on the lashes and lashes. If you look closely, eggs and adult lice will be found in one or both eyes. Lice live in many other places on the body, such as hair, eyebrows, pubic hair … They cause itchiness, usually occurring after one to two weeks of infection. Patients often itch a lot at night.
Russian doctors recommend that lice are contagious to people around, especially people living in the same house. Therefore, when there are symptoms of suspected lice infection, it is necessary to need specialized clinics to examine, detect, treat in time and be consulted on how to prevent transmission.
"Treatment of lice is not difficult, but if not treated properly, scratching and scratching can cause skin abrasions, sores can lead to superinfection caused by bacteria. To prevent parasites, it is necessary to regularly clean and bathe. daily wash, keep the body clean "- stressed Russian doctor.