The performance "Touching glory" in the program HTV Welcome spring 2021 – Photo: HTV
On the evening of December 31, at Nguyen Hue pedestrian street (HCMC), "Ho Chi Minh City Art Night" will take place to welcome the new year 2021. This is also a music night to celebrate the establishment of Thu Duc City, led by Ca Center. HCMC soft music performed.
The program consists of 3 groups of stages designed along the Nguyen Hue walking route, scheduled to start at 20:00 on December 31 at two sub stages and at 22:00 at the central stage.
Attending the night of the arts were the singers: Phuong Thanh, Ho Trung Dung, Ai Phuong, Quan AP, Hoang Salmon group, Lac Viet group, ABC dance group …
Festival and Dance year-end night light
Meanwhile, due to the influence of COVID-19 translation, the New Year 2021 (Virtual Countdown Lights) event was carried out by virtual reality technology instead of being held at Nguyen Hue pedestrian street like years ago.
Viewers can enjoy the program at home, ensuring safety and health for the community. Singers Hoang Thuy Linh, Binz, Min, TLinh, MCK, Lynk Lee, Thanh Bui, Uni5 … will be present at the festival, which is broadcast live on YouTube Billboard Vietnam from 9:30 p.m. and on HTV3 DreamsTV from 22:00 p.m. on 31st -twelfth.
At the same time, in Hanoi, the program Light Dance – Countdown 2021 will be the meeting point of indie bands (independent) such as Dot Trang, Children, Que … and rapper faces like Mc Lee , Trung Tran; singers Noo Phuoc Thinh, Duong Hoang Yen, Quang Dang, Pham Anh Khoa and the Tuong group, Chillies Band, Bui Anh Tuan, Bao Tram …
The event will be livestreamed on digital platforms such as apps VTVGO, Mocha, Keeng, 360; VTV3 fanpage from 7pm and from 10pm will be live on channel VTV1. In particular, the highlight of the program is a two-story bus ride around Hanoi with passengers carrying interesting stories.
That is Dr. Nguyen Thanh Phong – Head of D-Infection Department of Ho Chi Minh City Hospital for Tropical Diseases, who directly cares for and treats patients COVID-19 No. 91; or choreographer Quang Dang with the world-famous hand-washing dance … The program is organized by Vietnam Television in collaboration with Hanoi People's Committee, Military Industry – Telecommunication Corporation (Viettel).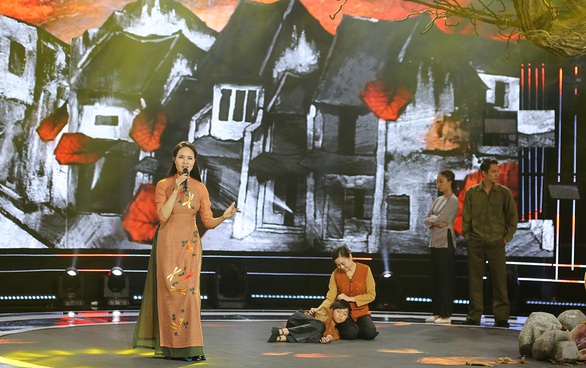 The program "Hello VTV New Year Concert 2021" aired on VTV1 on January 1, 2021 – Photo: VFC
Hello spring the same characters inspire
On the first day of the new year, January 1, 2021, on HTV9 at 20:45 a special art program broadcast "HTV Welcome Spring 2021".
The show is an opportunity for the audience to look back to 2020 and look forward to 2021 with the spirit and positive energy, sending many messages such as finding happiness from simple things, protecting nature and not delaying. life, always ready to cope with difficulties through exchanges with the guests who are artists and powerful inspirational characters in the community such as supermodel Vo Hoang Yen, fashionista Chau Bui, businessman Helly Tong , choreographer John Huy Tran, singer Minh Hang, choreographer Tran Dang Dang Khoa …
The performances in the program are recent favorites by singers Wowy, Joli Poli, Lyly, Orange, Apple, Nguyen Ha, Han Sara, Julie, Uni5 group, LipB group, Thu Phuong, Minh Hang, Hoang Bach and Ha Le perform.
Fashion collection "Touch" by designer Hoang Minh Ha, excerpt from the Gaia show (choreographer: John Huy Tran, performer: UDG group) …
With the theme "Where love begins", "Hello VTV New Year Concert 2021" broadcast at 20h10 on VTV1 on January 1, 2021 is a journey to bring the audience to the Vietnamese drama song.
And of course, beloved TV actors will become main characters. They share behind-the-scenes stories and have their own unique style performances.
Top singers such as Thanh Lam, My Linh, Tan Minh, Thu Phuong, Quang Dung, Ho Quynh Huong, Phuong Thanh, Tung Duong, Ha Anh Tuan, Phuong Linh … will bring songs from the dramas. favorite figure ever like Lullaby for you, Earth and people, Suitable roadsa … and Go home, baby, Quiet in the abyss, Zippo – mustard and me, Youth …
500 students – students chorus
500 students – students from all over the country participate in a special program to welcome the new year "Concert 2020".
On the brilliant stage, young people are not professional artists, but they are best suited to tell the audience young stories through many songs. The highlight of the program is the theme repertoire "Vietnam harmony" with the participation of 100 "singers" schools. The program aired at 9pm on VTV1, 22:00 on December 31 on VTV7.
H. LE
.