Mr. Le Xuan Trung – Deputy editor-in-chief of Tuoi Tre Newspaper presents gifts to thank guests – Photo: QUANG Định
Must have a mindset of accumulating money very early
8:00 am this morning, October 20, during the livestream talkshow "The secret to" keeping money for modern women "at Tuoi Tre newspaper, Miss Universe Vietnam 2019 Nguyen Tran Khanh Van with Editor and TV MC Ho Chi Minh City Ngo Nhu Quynh and Mr. Hoang Viet Cuong, Deputy General Director of Nam A Bank, had an interesting conversation about the financial management of modern women.
The guests also shared incorrect thoughts about financial management with their own experiences for the women on the occasion of Vietnamese Women's Day 20-10 this year.
Editor – MC Ngo Nhu Quynh recalls the story of a day ago from a small province to Saigon studying Pedagogical University. Due to her family's difficulties, the freshman had to calculate about spending and spending, thinking about accumulating.
"I set out a goal: after 1 year of university, I had to rent a room in the center to travel better. Buying a house at that time was too far away, but at least when I graduated, I had to buy a motorbike", Nhu Quynh said. shall.
As Quynh affirms, to always keep the accumulation principle of 50-50. If you earn 100 dong, you keep 50 dong for accumulation, and 50 dong for yourself, your parents, and your siblings. Until one day, she burst into joy when she had enough money to buy a house.
"If there is experience passed on to young girls, it is: having to have a cumulative thinking about finance early, do not live now or know what, now, students are worried about money." , Nhu Quynh said.
Editor – MC Ngo Nhu Quynh said: "must always keep the principle of accumulating 50-50" – Video: TVO
As for Miss Khanh Van, although she is a Saigonese, she is not unruly, but she has been frugal early.
Khanh Van said: "When I was a child, I liked to put money in piggy bank but that way did not work because what I want to buy is drag pigs out hook. Hook is not allowed to smash pigs. When I became a Miss Universe, I knew and more confidently managed my money and then set up an account at Nam A Bank. How much money I can pay, I always send it to my account. When I need it, I can withdraw it and be more active ".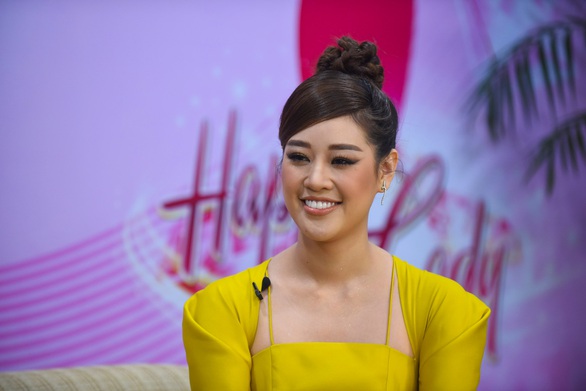 Miss Khanh Van said that after being crowned, she knew how to manage her money more confidently – Photo: QUANG DINH
From the sharing of Miss 9X Khanh Van, Deputy General Director of Nam A Bank – Mr. Hoang Viet Cuong – said: "In the past, relatives used to put money in piggy banks, but now with young people, piggy bank Now it's easy to deposit money at banks, you don't have to open a book, but you can open it online at home, so we have a lot of time. more to live more freely ".
Modern women must know how to manage finances
Editor – MC Nhu Quynh mentioned a controversial view on the internet: "People often say that women are better than each other in their husband. Of course, getting a talented husband is something every girl is proud of. But if you keep on wishing to marry a rich husband to enjoy your happiness, what if one day the husband dies and dies? just got married with a husband with economic conditions and must know how to manage finances so that in any case they can support themselves or survive by themselves because women have children.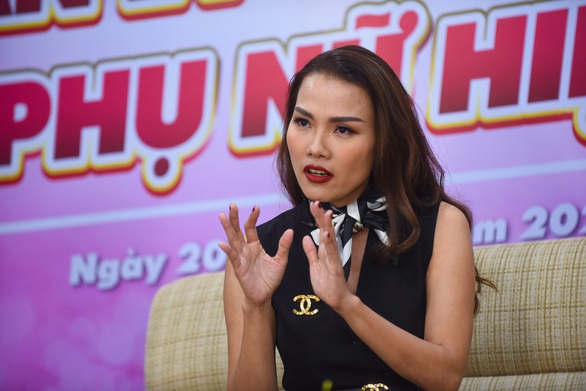 Editor – MC Ngo Nhu Quynh said that modern women must ensure their financial conditions at a fair or at least average level – Photo: QUANG DINH
Nhu Quynh asserted: "Whether born at the finish line is very rich parents or hitting the finish line at the youth level to marry a successful husband, first women we must ensure their financial conditions are at a level. Good or at least average This comes from: where the balance is, where to send it, where to invest, where is the shortage, where to borrow and how to use the loan for business or how to make interest, pay the loan but also upgrade your life ".
It is not a shortage of new loans, and no more loans
Talking about taking out a bank loan, Miss Khanh Van suddenly revealed: "I was scared when I told her to borrow from a bank before. Because I didn't understand well. After becoming a beauty queen, I even borrowed from the bank more so I saw the story. Bank loans are very normal ".
Miss Khanh Van suddenly revealed: used to be afraid of taking a bank loan, but after becoming a beauty queen she borrowed more from the bank – Video: TVO
Miss Khanh Van's very innocent sharing made the guests laugh. Mr. Hoang Viet Cuong – Deputy General Director of Nam A Bank – said: "Do not think that poverty is new. Now many successful people with strong financial potential still borrow a lot of money to invest and do business".
Before sharing from the representative of Nam A bank, the editor – MC Nhu Quynh agreed: "In the past, I thought it was just how much I spent. Yes, it is not that I can only borrow.
Nhu Quynh told the story 7 years ago, she and her friend both had 1.5 billion VND. Nhu Quynh used that money to buy an apartment while her friend borrowed from the bank to buy another land in District 2.
"After a few years I realized that only one decision made a big difference. It made us two different levels of financial thinking. After 5 years, the land my friend bought was ten or so. billion and my apartment so far, just keeping the price is happy ", Nhu Quynh said regretfully.
Nhu Quynh said that if I had thought more carefully at that time, had better financial thinking, borrowed more from a bank to buy land was "good time". "Of course, do not borrow beyond your ability. But when you have a good job and a good income, do not be afraid", Nhu Quynh affirmed.
Listening to Nhu Quynh's sharing, MC Dao Duy nodded in agreement: "When you borrow money, you are motivated to earn more money, set higher goals and strive. more self-friendly ".
Editor Nhu Quynh admitted: "Actually, I'm shy. In the past, I didn't dare to think about borrowing more to invest in business and profit, so many opportunities are ignored".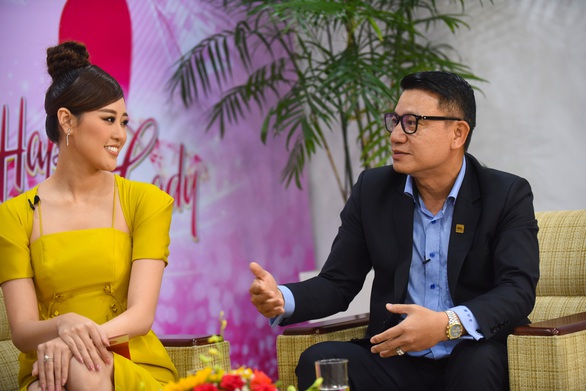 Deputy General Director of Nam A Bank – Mr. Hoang Viet Cuong – said that the credit card will soon disappear and the future trend is to use apps or QR codes – Photo: QUANG Định
Mr. Hoang Viet Cuong – Deputy General Director of Nam A Bank – said: "The secret may sound mysterious, but the truth is very simple: we send it in, and when we need to invest, we borrow. Currently, no one is a successful and talented woman who does not borrow from the bank ".
From the perspective of a finance person, Deputy General Director of Nam A Bank said: "In these days, a happy person is someone who can do the things he likes. To do so, it must have a little finance. Even if you do not have enough finance, the bank will also help a part so that you can achieve your goals in your journey to find your happiness ".
Mr. Cuong said, according to Nam A Bank's statistics, the percentage of customers who deposit and borrow money in general and young women in particular is increasing.
"Young people nowadays tend to use very smartly, that is to use credit cards", said Mr. Hoang Viet Cuong. "But in the near future, credit cards will disappear, using apps or QR codes is the future trend."
.