According to the report of Ha Nam Department of Health, by 14:00 on April 30, Ha Nam province had 7 positive cases for SARS-CoV-2including Covid-19 "super infectious" case – patient number 2899, who returned from Japan was concentrated in isolation in Da Nang, but later positive for SARS-CoV-2 upon returning home. in Dao Ly commune, Ly Nhan district.
Ha Nam provincial authorities put the remaining F1 cases in isolation in the afternoon of April 30
Also on April 30, the health sector of Ha Nam province tracked 359 F1 cases (Ly Nhan 337, Binh Luc 15, Thanh Liem 2, Phu Ly 5). The number of investigated F2 cases was 1,128, currently in home isolation. The total number of tested samples was 991, of which 7 samples were positive (declared), 180 samples were negative, 806 samples were waiting for the results.
According to the Center for Disease Control (CDC) in Ha Nam province, the case of suspected positive for SARS-CoV-2 was a female nurse of the Medical Center of Ly Nhan district, after re-testing, the result was negative.
Before that, Ms. HTH (SN 1983) was a medical officer working in the medicine dispensing department of the Medical Center of Ly Nhan district with the results of the 1st Covid-19 screening test on April 29. positive for SARS-Cov-2 virus.
The initial epidemiological investigation said that this medical officer was present at the district Health Center at the time that NVV patients (the father of NVD patients; living in Quan Nhan village, Dao Ly commune) came to the examination. sick in the afternoon of April 27.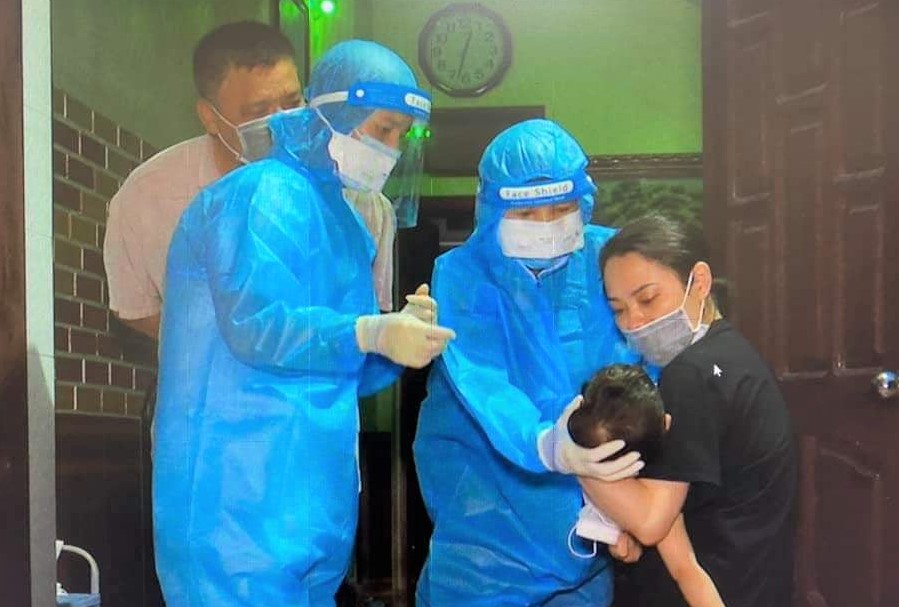 Medical staff sampling and testing in Dao Ly commune, Ly Nhan district
However, Ms. H. does not have direct contact with NVV patients.
CDC Ha Nam took the sample again to test Ms. H. and gave negative results. Currently, Ms. H. is still on quarantine to monitor her health.
At the meeting of the Steering Committee for the Prevention and Control of Covid-19 pm on April 30, Mr. Tran Xuan Duong, Vice Chairman of the People's Committee of Ha Nam province, said that it is necessary to continue promoting propaganda work, asking people to be serious. currently 5K, not crowds of people …
In particular, the health sector directs need to develop scenarios, have a plan to use the 2nd Bach Mai Hospital (Phu Ly City) as a field hospital. At the same time, continue to trace, take samples to test all suspected cases. Vice Chairman of Ha Nam province also requested that all of the remaining F1 cases be gathered in isolation in the evening of April 30.