The first Congress of the Vietnam Dialysis Association was held on October 24 morning in Hanoi. Deputy Minister of Health Do Xuan Tuyen, said in Vietnam, dialysis was performed for the first time in 1972 at Bach Mai Hospital (Hanoi). Over half a century, the dialysis facility system has been formed throughout the country, from the central and provincial levels to district and district levels with 500 doctors and over 5,000 nurses and dialysis technicians.
According to Mr. Tuyen, patients with end-stage chronic kidney disease, kidney failure, indicated for periodic dialysis (hemodialysis) are constantly increasing in the world as well as in Vietnam, along with an increase in diabetes. diabetes and high blood pressure, because kidney failure is one of the dangerous complications of these two diseases.
Deputy Minister of Health Nguyen Xuan Tuyen speaking at the Congress
Currently, Vietnam has about 30,000 dialysis patients, accounting for 0.031% of the population. It is expected that the number of patients in need of dialysis will increase in the coming years, requiring the dialysis industry to expand and develop further.
According to a report by the Vietnam Dialysis Association, kidney disease is a silent disease that often has no symptoms in the early stage. In Vietnam, an estimated 30,000 patients with kidney failure need dialysis. Nationwide, there are 5,126 dialysis machines with more than 400 dialysis units and about 2,000 people with kidney failure being treated by peritoneal dialysis. With existing equipment and facilities, currently only 30% of the need for dialysis treatment is needed.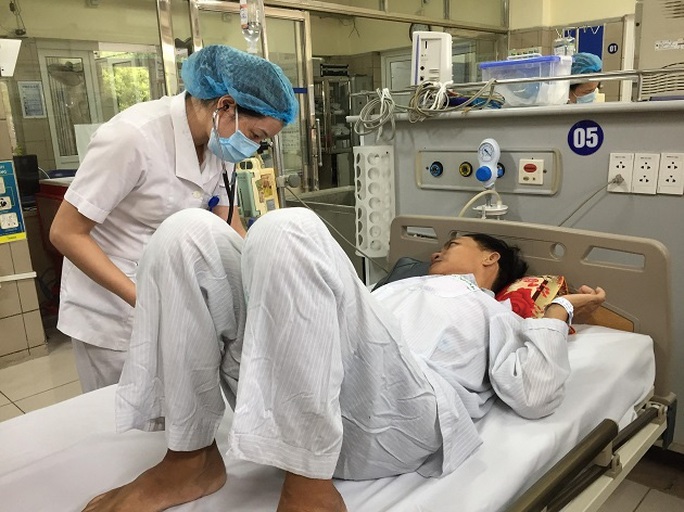 Hemodialysis patient at Bach Mai Hospital (Photo: T.Lam)
Currently, the dialysis model in Vietnam is mainly implemented in hospitals, there are no independent dialysis centers, there is no home dialysis model, and patients with artificial kidneys are not favorable in accessing medical facilities treatment; In many places, dialysis (hemodialysis) is only part of the Department of Rehabilitation or Urology. This makes warranty and maintenance processes for machines and equipment not fully implemented; Doctors, non-focused part-time nurses for dialysis specialists, can be a contributing factor in the treatment process. In fact, medical complications at Hoa Binh Hospital, infections at Thai Binh Hospital, Nghe An … have affected the quality of treatment, the health of the patients, even many deaths have occurred. .
According to estimates, the rate of kidney failure in Vietnam is about 6 to 7%. Each year, millions of cases require hemodialysis.
The first Congress of the Vietnam Dialysis Association has elected an Executive Committee consisting of 99 members who are specialized in dialysis doctors at medical units across the country. Dr. Nguyen Huu Dung, Deputy Director of Center for Nephrology and Urology and Dialysis (Bach Mai Hospital, Hanoi) is the President of the Association.
Vietnam Dialysis Association will participate in training activities, scientific research, training, scientific seminars, international cooperation; Participate in building a new dialysis model; providing professional support to local dialysis units … contributing to improving the quality of treatment for artificial kidney patients.