On the afternoon of December 6, Minister of Health Nguyen Thanh Long chaired an online meeting with leaders of provinces with cases Covid-19The number of deaths that have increased recently are Can Tho, Tay Ninh, Soc Trang, Ba Ria-Vung Tau and An Giang.
The report of Can Tho city said that the number of Covid-19 cases has been increasing recently, currently over 30,000 cases; TP is at epidemic level 3.
In An Giang, the province's number of Covid-19 cases so far is 24,753 cases, of which 5,284 are being treated. However, the cumulative number of deaths was 468 patients (accounting for 1.89%), 75% of patients who died had not been vaccinated against Covid-19.
The province has 13 treatment facilities with 4,570 beds. Severe and critical Covid-19 patients are treated at 4 provincial hospitals, namely An Giang Central General Hospital, Provincial General Hospital, Tan Chau Regional General Hospital and Children's Hospital.
Tay Ninh's report said that as of December 6, this province recorded 49,639 Covid-19 cases, being treated for 14,838 cases, of which 173 severe and critical patients are being treated on the 3rd floor;
In Soc Trang, on December 6, 21,835 cases of Covid-19 were recorded; cumulative 127 deaths, of which 76% have not been vaccinated against Covid-19.
Ba Ria-Vung Tau province said that there are currently 3,766 Covid-19 cases being treated at collection and treatment facilities in the area; 3,813 cases of F0 are being managed, monitored and isolated at home. The assessment of the epidemic level of the province shows that there are currently 7 units at level 4; there are 33 units at level 3.
Reports of these 5 localities all show that the rate of vaccination against Covid-19 1st dose is very high, all over 98%; nose 2 over 80%. These provinces have also completed nasal vaccination for children aged 12-17; The second injection is in progress.
The leaders of the above localities also informed that they were speeding up the progress of the 2nd injection and vaccination of cases subject to injection but delayed.
At the meeting, localities proposed to the Ministry of Health to provide more human resources from central hospitals to support treatment; provide additional vaccines for additional injections and antivirals for controlled home treatment of F0; ventilator support…
Minister Nguyen Thanh Long requested the Medical Examination and Treatment Administration to immediately review the mobilization of human resources from central-level hospitals on the assignment of upper-level hospitals to directly provide professional support in Covid-19 treatment and management. 19 in Ho Chi Minh City and 10 southern provinces.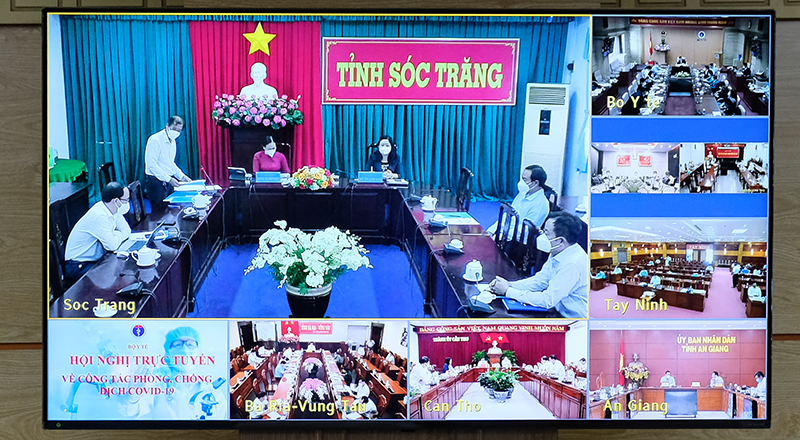 The Minister requested the hospitals on the assigned list to quickly bring more human resources into these provinces to ensure close coordination with localities in epidemic prevention. Bach Mai Hospital, on December 7 must send another medical team to An Giang; Viet Duc Hospital to support Ba Ria-Vung Tau; Hospital E went to support Tay Ninh, the Central Hospital of Endocrinology came to support Soc Trang province.
Particularly in Can Tho City, Minister Nguyen Thanh Long asked Can Tho Central General Hospital to continue supporting the city in treatment work.
The Minister directed central hospitals to send experienced resuscitators to the provinces to support treatment, and at the same time, focus on training and improving treatment capacity for local doctors.
At the meeting, Minister Nguyen Thanh Long emphasized that the country will continue to face an increase in Covid-19 cases because in many localities, people still do not strictly follow the recommendations of the health sector. on epidemic prevention, neglect, subjectivity… "As the number of cases increases, the number of severe patients will increase and the number of deaths will also increase. Therefore, efforts should be made to reduce the number of deaths." – The Minister of Health emphasized.
The Minister of Health also noted that localities because of the increasing number of infections, in the process of implementing Resolution 128, for places of epidemic levels 3 and 4, must strictly and thoroughly implement epidemic prevention and control measures. , especially in level 4 areas. "Only then can we control the number of cases"- said the Minister.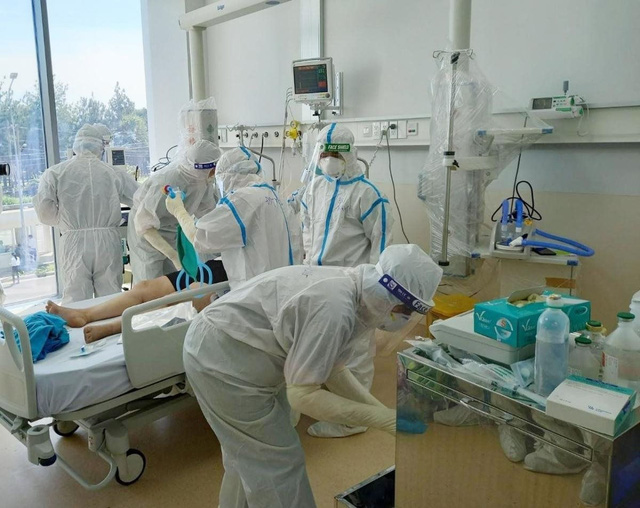 The Ministry of Health requested to review the oxygen supply for Covid-19 treatment facilities – Illustration
The Ministry of Health said it would continue to distribute vaccines to localities, but Mr. Long also reminded provinces and cities to carry out a campaign of "going every alley, knocking door-to-door", making a list of all those who are infected. Elderly people, people with underlying diseases who have not been vaccinated to immunize this group of people. "It is possible to organize mobile injection points, to give injections at home for high-risk cases to protect them from the risk of severe development if they contract Covid-19," the Health Minister said.
The Minister of Health also noted that localities that manage, monitor and care for F0 at home must be strict, scientific and always ensure "medical must be closest to the people" through the establishment of health stations, mobile medical team. Each commune and ward can have many medical stations and mobile medical teams to closely manage the list of high-risk cases in order to be ready for timely referral.
Localities must immediately review the oxygen supply to Covid-19 treatment facilities, must have oxygen tank systems, ventilators for resuscitation treatment of patients when needed.
Regarding treatment drugs, the Ministry of Health said that in the next few days, when completing the procedures for receiving aid drugs, the Ministry of Health will immediately distribute them to localities.