On October 18, in Hoa Binh, the Ministry of Health in collaboration with Hoa Binh Provincial People's Committee, Unilever Foundation Vietnam held a rally to respond to "World Day of Hand Wash 2020" with the theme "Wash hands with soap – For your health and the community ". The rally was held to increase public awareness of the importance of proper hand washing with soap, as well as a recommendation to maintain this hygienic routine at 10 key times to prevent disease. , including translation Covid-19.
Deputy Minister Do Xuan Tuyen recommends people wash their hands regularly to prevent diseases
At the rally, Deputy Minister of Health Do Xuan Tuyen emphasized the significance and importance of environmental sanitation and personal hygiene in proactively preventing and combating diseases and diseases transmitted through the road. digestion, respiration. According to the World Health Organization, unclean hands are one of the most common ways bacteria can spread from person to person.
"In 2020, the Covid-19 pandemic will happen complicatedly, affecting the health of people all over the world and in Vietnam. In this context, the role of active protection measures is increasingly emphasized, especially especially hand washing with soap and clean water or hand sanitizer with hand sanitizer containing at least 60% alcohol.Washing hands with soap helps to reduce nearly 50% cases of diarrhea, 25% of cases Respiratory tract infections in children under 5 years of age, washing hands with soap and using clean drinking water reduced the cases of stunting in this group by 15 %.Washing hands with soap also decreased risk of hand, foot, mouth disease, flu … "- Deputy Minister Tuyen emphasized.
With the benefits of hand washing with soap, the global hand washing partner organization proposed and launched the first "World Handwashing Day (October 15)" in 2008 to enhance Be aware of the importance of hand washing with soap.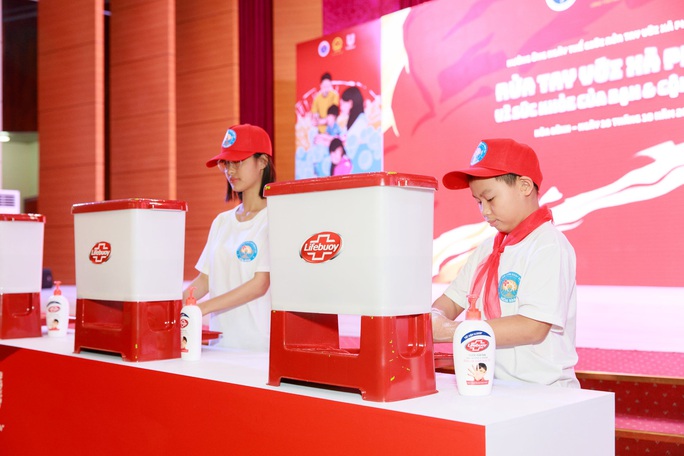 Students wash hands with soap and clean water at the rally. Photo: Lai Yen
To implement response activities, Deputy Minister Do Xuan Tuyen also suggested Party committees, authorities, ministries, departments, mass organizations, organizations, units, schools, medical facilities. It is necessary to develop and promulgate policies, regulations and instructions on the construction and preservation of works, hand washing spots with soap to ensure that everyone can access and easy to use, suitable for each person. different statues.
Deputy Minister Do Xuan Tuyen also emphasized that in recent years, Vietnam is a country that successfully controls Covid-19 and has been highly appreciated by the world, in which the regular practice of washing hands with soap and water. Cleanliness is one of the important measures to contribute to disease prevention and control.
The Department of Health Environmental Management, Ministry of Health recommends 6-step proper hand washing with soap and clean water or using alcohol-based hand sanitizer within 30 seconds to maximize the disinfectant effect. The 10 key moments to wash your hands with soap include:
1. After coughing / sneezing
2. Before eating, before and after preparing food
3. Returning home from work / from outside
4. After contacting / taking care of the sick person
5. After going to the toilet
6. After cleaning children
7. After shopping / holding money
8. After handling pets
9. Before going into the classroom
10. Whenever hands are dirty