Doan Minh, 26 years old, is working as an office worker – Photo: BTC
* The girl who asked for a new boyfriend to fall in love on television was criticized
The girl named Tran Ngoc Doan Minh (26 years old) in the program "Fast Pairing" is receiving a lot of criticism because of the opinion that "boyfriends have to invest money to fall in love".
In the show, although she always asserts herself as an independent person, independent of her lover, she contradicts herself when talking about the criteria for choosing a boyfriend.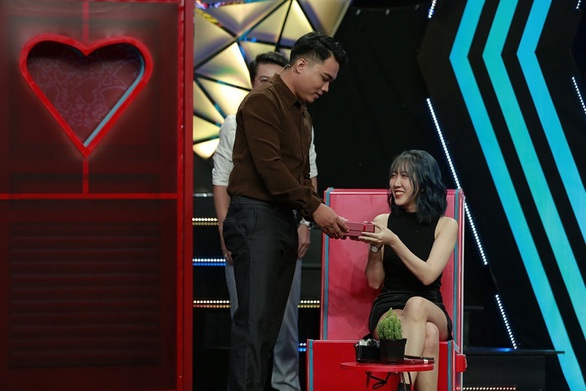 Car repair technician Truong Van Quy (27 years old) and Doan Minh at the show – Photo: BTC
"Handsomeness is the criterion and I want my male friends to spend money on me to buy things, invest in stocks, real estate. Boys give their money to invest, then I divide the money among boys", "Go to eat if friends If you forget your wallet, you can swipe your card, then you can swipe it again next time, but if you forget the second time, you'll stop paying"… are some of them.
On social networks, there are opinions showing sympathy for the girl because everyone has the right to dream. But there are also many comments criticizing her for being pragmatic, blinded by materialism.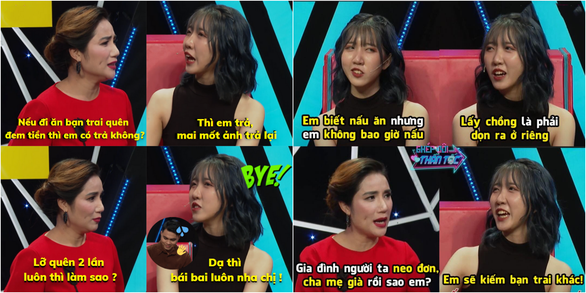 The image of Doan Minh's controversial statements was posted on social networks by the producer – Photo: BTC
Surfing a social network, you will see that the images that cut, smear, and drown Doan Minh are spreading at a dizzying speed. In particular, the outstanding comments are disparaging and disparaging the 26-year-old girl's appearance.
There is an opinion that although the contestants' statements on television are offensive, they are not worthy of being attacked as they are now.
Doan Minh in the show – Source: Speedy pairing
After two days of controversy, she recently apologized on her personal page: "I Sorry for making this unnecessary noise. And also send apologies to the male friend and Ms. I will pay attention to my words, my frankness later. However, everyone has their own criteria, so I'm just talking about my point of view and criteria."
* Actress Phuong Anh apologized to Black Vau at Who is a millionaire?
Actress Phuong Anh has just joined the program Who wants to be a millionaire? broadcast on the evening of June 22 with MC Dinh Tien Dung. In the first 6 questions, Phuong Anh easily passed, but in question 7 about Den Vau, she had to use the first help.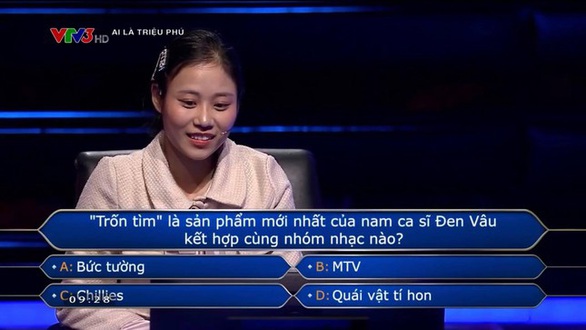 Actress Phuong Anh at the show "Who is a millionaire?" – Screenshots
The content of question number 7 is:Hide and seek is the latest product of male singer Black Vau in collaboration with which group?".
Phuong Anh said that even though she had heard the song, because she wanted to be 100% sure, she decided to use the first right of help, which is to automatically remove two wrong options. At the same time, Phuong Anh also apologized to Black Vau for his hesitation.
After Phuong Anh chose the correct answer as MTV group, MC Dinh Tien Dung humorously said: "This MV Den Vau invites MTV to appear, it will be easier for you to identify. But in the MV there is only Den Vau, a baby. girl, a man and a woman, 200 sheep and 10 birds".
MV 'Hide and seek' by Black and the MTV group – Source: Den Vau
* Apple tree blooms set a new record for drama
Recent episodes of family drama Apple tree blooms received a lot of mixed reviews about the quality.
However, on the evening of June 22, episode 35 of the drama set a new record for the number of concurrent viewers on the YouTube platform with more than 210,000 views. This number broke the record of previous episodes, and at the same time established a new achievement milestone for Vietnamese dramas.
Excerpt from episode 35 of the movie 'The apple tree blooms' – Source: Vie Channel – HTV2
Before that, the period Apple tree blooms The most explosive episode was from episode 31 broadcast on June 15, reaching more than 163,000 views at the same time, episode 32 continued to increase with more than 194,000 views. The most recent episode is 33 with more than 204,000 plays.
With the form of premiere on YouTube, since the beginning of the broadcast, episodes of Apple tree blooms all reached the top trending and reached millions of views after a few days.
However, despite the success of the number of viewers in the first half, the second half of the film is being complained by many viewers that the script is too heavy and tragic with absurd details and inadequate resolution.
.