On the morning of October 10, Doctor.CKII Pham Thanh Phong – Professional Deputy Director of Can Tho Central General Hospital – said that for the first time at this hospital and also for the first time in the South West, doctors has successfully performed artificial knee replacement surgery.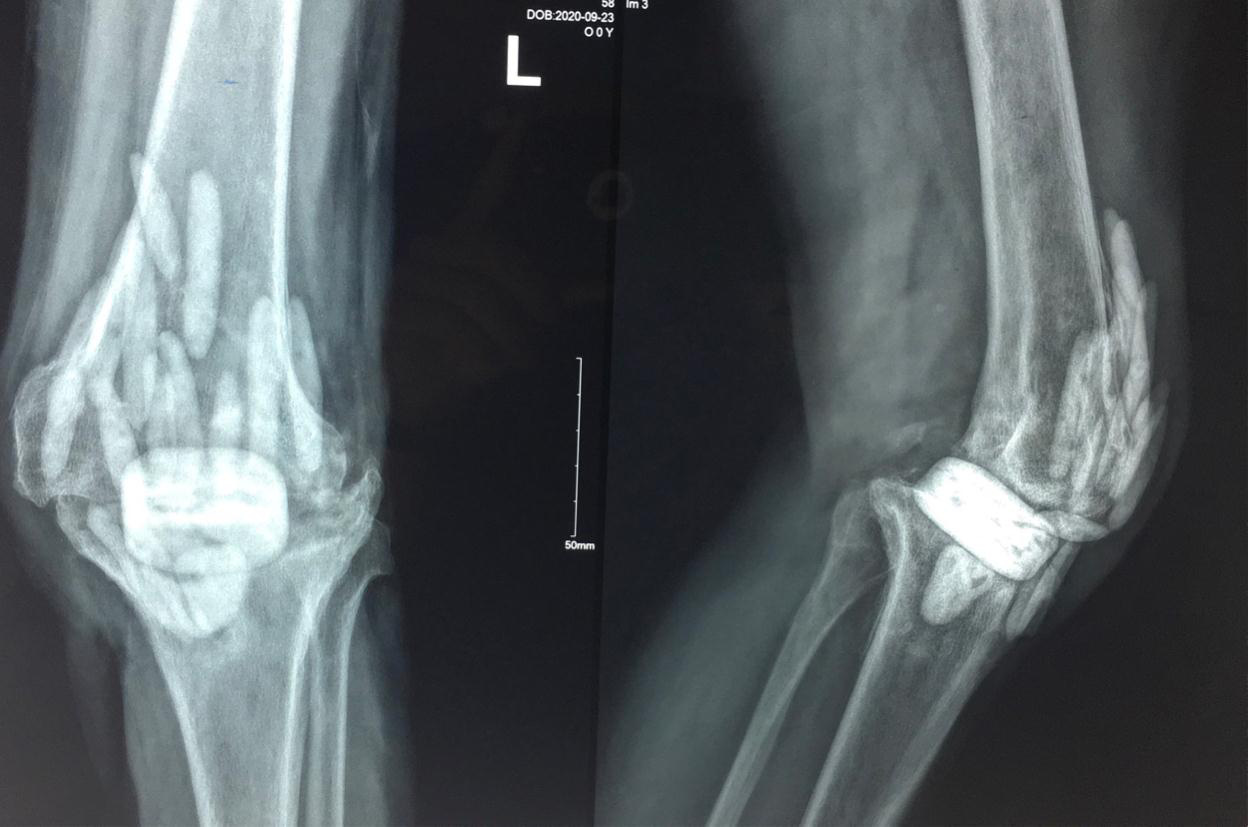 knee x-ray before and after replacement surgery
This is a difficult technique, posing many challenges for the surgeon, but the results can not be counted for the patient, helping the patient to restore the knee joint, the quality of life is improved.
Patient's name NVH (SN 1950; lives in Truong Xuan B, Thoi Lai district, Can Tho city). In 2015, the patient received an artificial left knee replacement surgery due to a degeneration. After the surgery, the patient was able to walk, but soon felt pain when walking. accompanied by a hot pillow and started to have holes of purulent discharge, the illness was so severe that the patient came to the hospital and hospitalized at Can Tho Central General Hospital.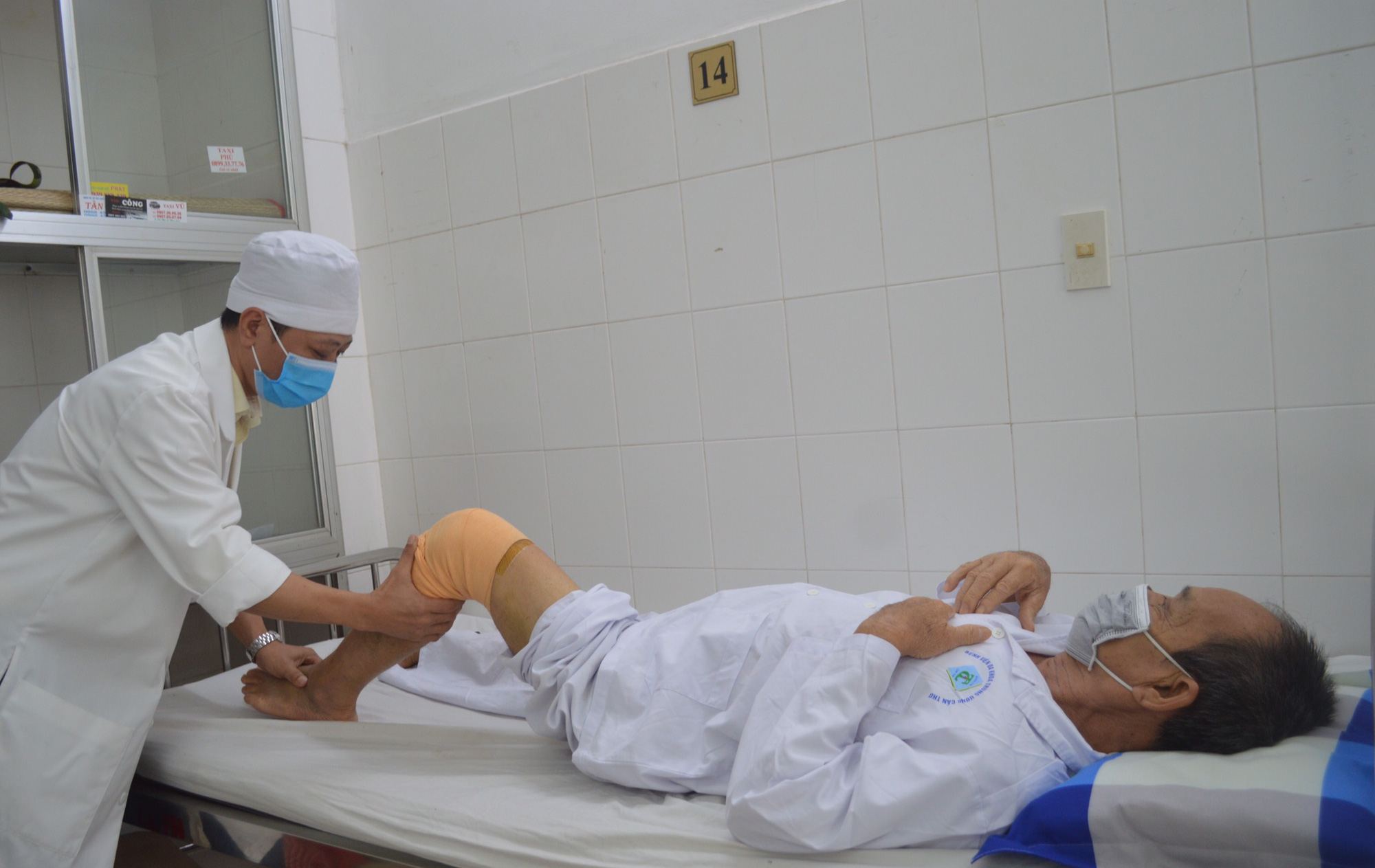 Doctors examine patients after surgery
This is a very difficult case, because the patient has had 1 joint replacement, has undergone 3 surgeries in the same place, the scar is more sticky, the risk of infection for the patient is more. Another difficult problem besides shrinking soft fibrosis around joints, the loss of bone due to many times filtered osteomyelitis tissue, osteoporosis spongy.
The team must calculate many measures during surgery such as software balance release, missing bone compensation balance, especially the new joint positioning in accordance with the anatomical structure of the knee to avoid axis deviation, especially the ability to fracture.
With the professional capacity and experience of the doctors, after nearly 3 hours of surgery, the left knee joint replacement was completed and unexpectedly successful.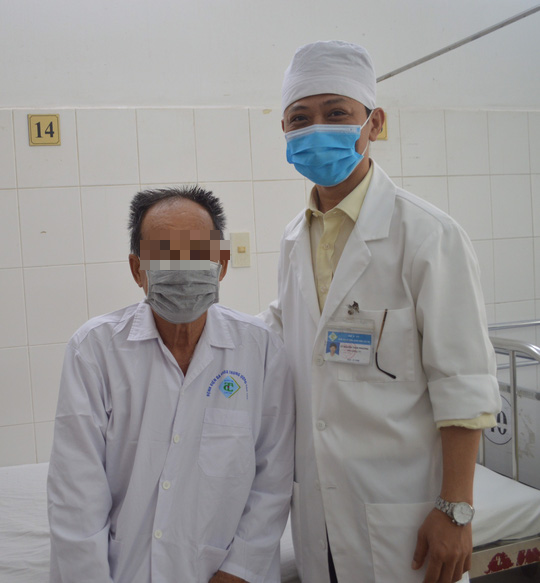 The patient is stable and ready to be discharged from the hospital
Currently, the patient is completely awake, from day 2 after the surgery has recovered the movement of knee # 90 degrees, painless, walking with the walker. The patient is stable and ready to be discharged from the hospital.
According to BS.CKII Huynh Thong Em, Director of Orthopedic Trauma Center of Can Tho Central General Hospital, currently in the world in general and in Vietnam in particular, the number of patients receiving knee replacement surgery increase rapidly every year. Progress has been made in research into the biomechanics of artificial joints, in surgical techniques and in the materials of artificial joints, and the life expectancy of artificial knee joints averages 10 to 20 years.
At Can Tho Central General Hospital, knee replacement surgery started in 2010, so it's time for orthopedic surgeons to start facing an artificial knee replacement. Knowing the technique of replacing the artificial knee joint will bring many benefits to the patient, helping the patient to improve their quality of life in order to contribute to good service to patients in the Southwestern region.