The leaders of the Ministry of Health affirmed that in 2021, all Vietnamese people will be vaccinated and this will be the biggest vaccination campaign ever – an effective shield against Covid-19.
Resolute anti-epidemic
In the first phase of vaccination against Covid-19, by the end of March 10, there were 955 health workers and staff at the front line to fight against epidemics in 4 localities (Hanoi, Hai Duong, Ho Chi Minh City, and Gia). Lai) received the first shots of vaccines. Initial records show that all injected people are safe, there have been no health abnormalities.
Dr. Vu Minh Dien – Deputy Director of Center for Disease Control and Prevention, Hospital (Hospital) for Tropical Diseases expressed his joy and honor, luck to be one of the medical staff who received Covid vaccination. -19 in this first batch.
In 2021, every Vietnamese will be vaccinated. Illustration.
According to Dr. Vu Minh Dien, this is the concern and encouragement of the Government and the Ministry of Health for the front-line medical force. And doctor Nguyen Thanh Phong – Head of D-Infection Department, Ho Chi Minh City Hospital for Tropical Diseases – who had treated patient 91 (British pilot with Covid-19) was one of the medical staff that was vaccinated. the first Covid-19 vaccine in Vietnam. Through the memorable days of accompanying patients with Covid-19 since the early days of Covid-19 epidemic infiltration and spread in Vietnam, he shared, a year has felt very pressured.
As a person doing the direct treatment for patients, he regularly monitors and updates new developments on the disease and finds that the Covid-19 epidemic is still complicated. Many deaths in the country and around the world indicate the complexity of this epidemic.
According to Dr. Phong, besides the current epidemic control measures, the vaccination of people is an effective solution to help repel the epidemic. Once the vaccine coverage is widespread, the people's risk of infection will also be reduced, and the pressure on the frontline anti-epidemic team will be relieved.
Doctor Nguyen Van Vinh Chau – Director of Ho Chi Minh City Hospital for Tropical Diseases said that it is impossible to confirm that the vaccine is 100% safe. Adverse reactions after injection are still possible. Therefore, BV prepares the process of vaccinating staff very carefully. "Becoming the first Vietnamese citizens to be vaccinated against Covid-19 is a blessing and an honor, and at the same time reminding employees of their duties and responsibilities as backline fighters. Covid-19 treatment of Ho Chi Minh City and southern provinces "- Dr. Chau shared.
Also at the epidemic hot spot is Hai Duong, Mr. Luu Cong Nghia (Kim Thanh district) – Leader of Covid-19 community group, said that he is always aware of the possibility of being susceptible to infection, because he is constantly in contact with many people. people, while Kim Thanh district is the 6th outbreak of the province. Now vaccinated, as a shield to help protect against the current Covid-19 epidemic.
Those from the frontline anti-epidemic forces who were vaccinated against Covid-19 in this first wave are happy to say that they will be more confident from now on their arduous, difficult but very rewarding anti-epidemic task. pride of the medical industry.
Every citizen is vaccinated
Prime Minister Nguyen Xuan Phuc asked the health sector to quickly vaccinate people in the spirit of "vaccine + 5K". The Government is working hard to get all people to be vaccinated and to continue with the dual goal of socio-economic development but good control of the epidemic.
Minister of Health Nguyen Thanh Long said that, following the direction of the Prime Minister, the Ministry of Health from a very early stage proactively negotiated and worked with international partners to be provided. vaccine Covid-19 and became one of the first countries in Southeast Asia to receive this vaccine. In addition, the Ministry has instructed domestic units to speed up research and production of vaccines to soon autonomy in supply, and actively negotiate and work with international partners to source vaccines to Vietnam. more abundant.
At the end of February 2021, 117,600 doses of AstraZeneca vaccine have arrived in Vietnam and have been vaccinated since March 8 to present. It is expected that the next batch of vaccines with a total of 29.87 million doses will arrive in Vietnam in April (1.48 million doses), May (2.76 million doses), June (5.04 million doses. ), July (7.32 million doses) and August (13.27 million doses). Thus, in the short term, Vietnam has 30 million doses of Covid-19 vaccine to inject people.
To ensure the need for mass injections, the Ministry of Health has been and continues to negotiate with vaccine manufacturers such as Pfizer, Moderna, Johnson & Johnson, Gamaleya (Sputnik V) to have access to all supplies. Application to expand the use of vaccine against Covid-19 in Vietnam.
According to the Minister of Health Nguyen Thanh Long, the Ministry of Health encourages all businesses that are eligible, approach and negotiate with other Covid-19 vaccine suppliers around the world to import vaccines. domestic use in the spirit of the Government's resolutions. According to 2021 estimates, to inject the full population, Vietnam needs 150 million doses of vaccine. There are certainly 60 million doses, including 30 million doses from the COVAX program and 30 million doses ordered from AstraZeneca, committed to supply to Vietnam. Currently, the Ministry of Health is working hard to negotiate with stakeholders to ensure that 90 million Vietnamese people are vaccinated. There will be the largest-scale immunization campaign ever. Currently, the ministry has been urgently preparing an injection scenario with the motto to mobilize all units of the health sector, outside the health sector, military units, the police and other forces to participate in the injection process. universal for all people.
In addition to imports from abroad, Vietnam has 3 Covid-19 vaccine candidates, of which the Nano Covax vaccine has completed the first phase of human testing with good results and has conducted the second phase of testing. 2. The remaining two vaccines, the Ministry of Health will urgently conduct phase 1 human testing. The research, development and testing of vaccines in the country must "follow all the steps, sure, but the fastest. may".
Deputy Prime Minister Vu Duc Dam affirmed that this is an opportunity for Vietnam's vaccine research capacity to step up to a new level, in order to prepare and respond to diseases that may occur in the future: "In the program Extensive vaccination already has a number of vaccines produced domestically very well and if the Covid-19 vaccine is successfully researched and developed, we will be able to proactively source vaccines for 100 million people. Initial information shows that the Covid-19 vaccines only produce antibodies for a certain period of time, which means that it must be repeated every year, not just once or once a year is done. "
Thus, with the efforts to import vaccines with domestic production, people have the right to hope that Vietnam will actively source vaccines to vaccinate every year for all people.
"In the context of the complicated Covid-19 epidemic, in many European and Asian countries, the number of cases is constantly increasing, people need to consciously prevent diseases for themselves, their families and communities. Although Vietnam has deployed Covid-19 vaccination, in coming time, it is possible to mass inject, but not so subjectively, neglecting epidemic prevention, because the vaccine is not a miraculous barrier to help vaccinate people. for no Covid-19 infection.
Every citizen, remember to take 5K according to the recommendation of the Ministry of Health to prevent epidemics including: Masks – disinfection – distance – no gathering – medical declaration. These are inexpensive but extremely effective measures in disease prevention. "- Former Director of Department of Preventive Medicine, senior advisor of Vietnam Public Health Emergency Response Center ( Ministry of Health) – Dr. Tran Dac Phu.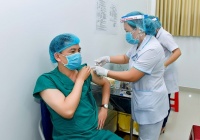 More than 10,000 people have been vaccinated against COVID-19
(VietQ.vn) – The Ministry of Health said that up to now, there have been 10,041 people vaccinated against AstraZeneca's COVID-19 vaccine. severe reactions after injection.
According to Urban Economy
.