Nightbirde, the resilient contestant of this year's America's Got Talent – Photo: NBC
Appearing in the morning episode of June 9 (Vietnam time), the girl from Ohio shared her name Jane, but when she sang, she took the stage name Nightbirde.
Nightbirde received enthusiastic cheers from the audience and judges when she said she would perform her self-composed song called It's OK! (It's okay!).
"This song is the story of the last five months of my life," she introduced when asked by judge Howie Mandel about the song's content.
Nightbirde's emotional performance at America's Got Talent 2021
Howie Mandel took the time to chat with the contestant and ask what she did for a living. When she heard that she had not worked in recent years because she had to treat cancer, Howie apologized for asking so without knowing.
In response, Nightbirde smiled and said "It's OK".
Next, judge Simon Cowell was stunned when asked about her current condition and was told that "most recently, I was diagnosed with lung, spine and liver cancer".
"It's important for people to know I can do more than just know that bad things happen to me," she continued firmly.
This short sharing quickly captured the hearts of the studio audience, bringing Nightbirde to many cheers.
"I moved to California for one summer. I changed my name, thinking that my mind would change too. I thought that all my troubles would be left behind …", Nightbirde said bitterly.
The melody of her song is gentle but deep, the singer's face also exudes a sense of freedom and freedom in the soul.
"It's okay, if you get lost. We all get lost sometimes, it's okay," Nightbirde emphasizes in the chorus.
Her performance quickly won over the judges. "Really impressive, your voice is beautiful," commented Heidi Klum.
Meanwhile, female judge Sofia Vergara also couldn't help but shed tears before the performance she called very sincere.
Simon Cowell also praised Nightbirde for a great performance in which she used a very casual way to tell people her story.
"You can't wait until life is less difficult to make yourself happy", Nightbirde's profound words made the audience continue to applaud.
It seemed that the four judges were convinced, but the difficult judge Simon Cowell had a "scream" for everyone when he said that there are many good singers on this show, "so I will not I don't agree with you, but I'll give you something else."
The "something else" that Simon said here was the special golden button that made Nightbirde go straight to the semi-finals, making the girl burst with happiness.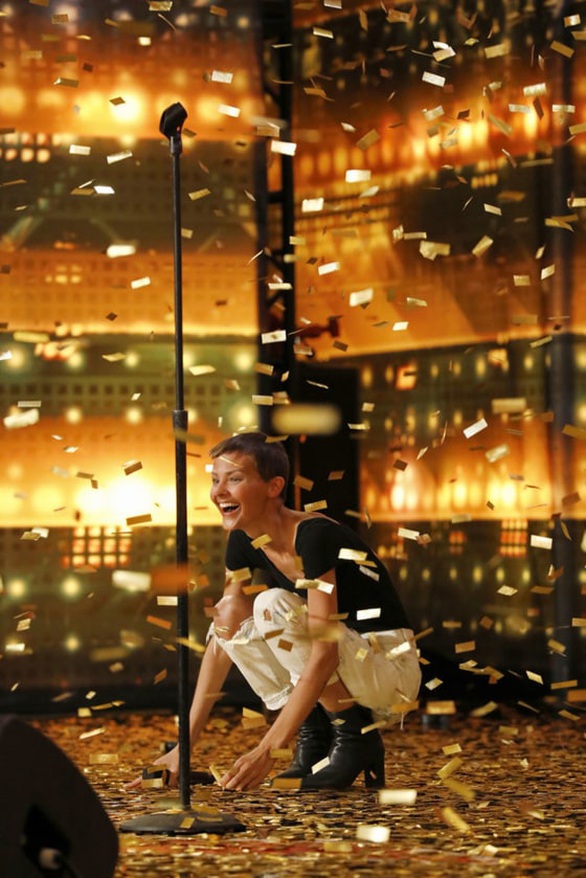 Nightbirde sat down on stage because she was happy when she received the yellow button – Photo: NBC
"I only have a 2% chance of survival, but 2% is not 0%. Two percent obviously yes and I wish people knew how amazing that is," Nightbirde said backstage.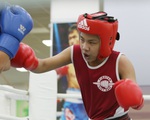 The boy with cancer yearns to conquer the top
.