Pham Quynh Anh and Miss Universe Thailand Amanda Obdam, artists with outstanding information on June 12 – Photo: Provided by Characters
* The audience protested against the artist advertising cosmetics of unknown origin
A few days ago, the Department of Health of Ho Chi Minh City issued a warning and said that it would coordinate with the Internal Political Security Department of the Ho Chi Minh City Police Department to supervise and handle artists who "advertise cosmetics improperly. in accordance with the law". This is a long-standing problem that has not been completely resolved.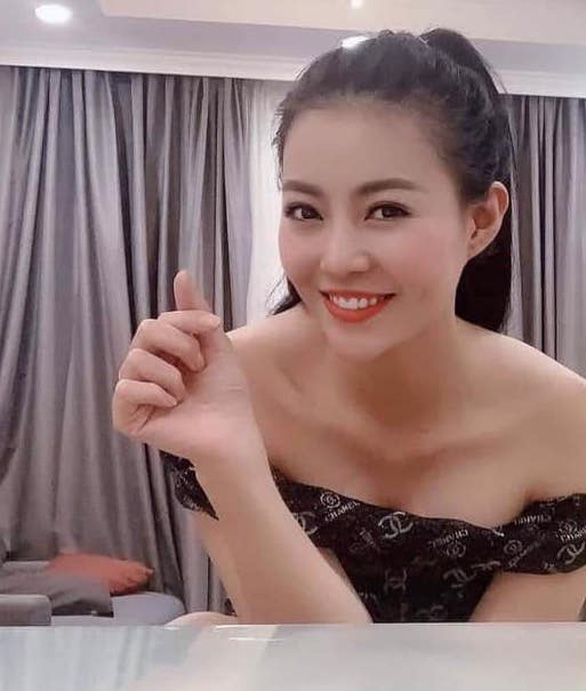 Actress Thanh Huong is controversial for advertising many cosmetics of unknown origin – Photo: Facebook character
Before this move of the Department of Health, the audience expressed their support. They continued to name some artists who used to advertise cosmetics of unknown origin and use.
In addition to advertising, many artists also build their own brands and sell their own cosmetic lines, but they are also controversial about how to advertise, how to use misleading words as medicine.
The audience hopes that in the near future, the quality of artists' advertisements will be adjusted to prevent poor quality products from reaching consumers.
* Pham Quynh Anh confirmed her 3rd pregnancy
On the evening of June 11, Pham Quynh Anh appeared in the music night New happiness in Da Lat. She happily shared with the audience that she is pregnant for the third time, is at the end of her pregnancy and will take a break from singing for a while to become a mother.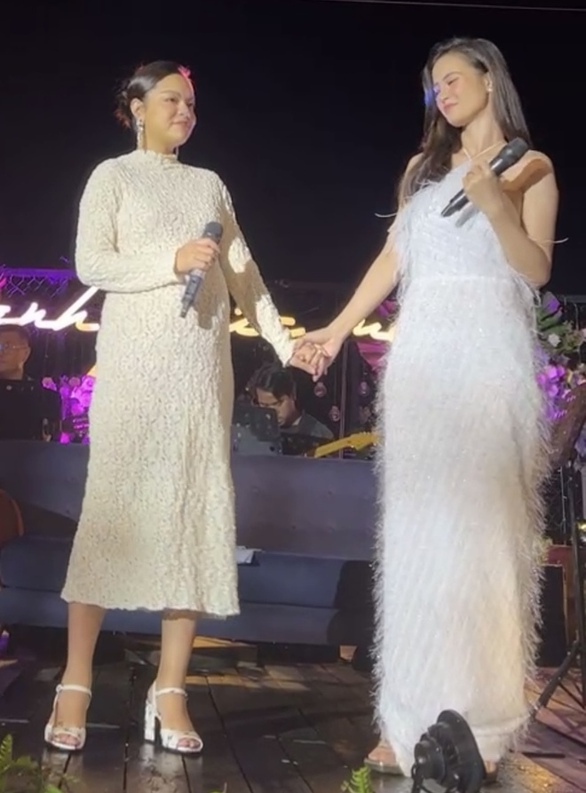 Pham Quynh Anh and Dong Nhi in a music night in Da Lat – Photo cut from clip
She said: "Quynh Anh has decided to take a break from singing for a while to perform her sacred duty again. This is a grace that God has given me. I myself am not good at planning in life. But suddenly one day there was good news, so I went with nature."
Pham Quynh Anh and manager Quang Huy divorced in 2018. After breaking up, the two still maintain their relationship and take care of their two daughters together. The two also often reunite on special occasions for their two children.
* Miss Universe Thailand made a vedette for a Vietnamese designer
Beauty Amanda Obdam – Miss Universe Thailand 2020 – took the vedette position in designer Thanh Huynh's show on June 11th. She received warm cheers from the Vietnamese audience. Amanda wore a multicolored crystal beaded ton-sur-ton boots with turtlenecks.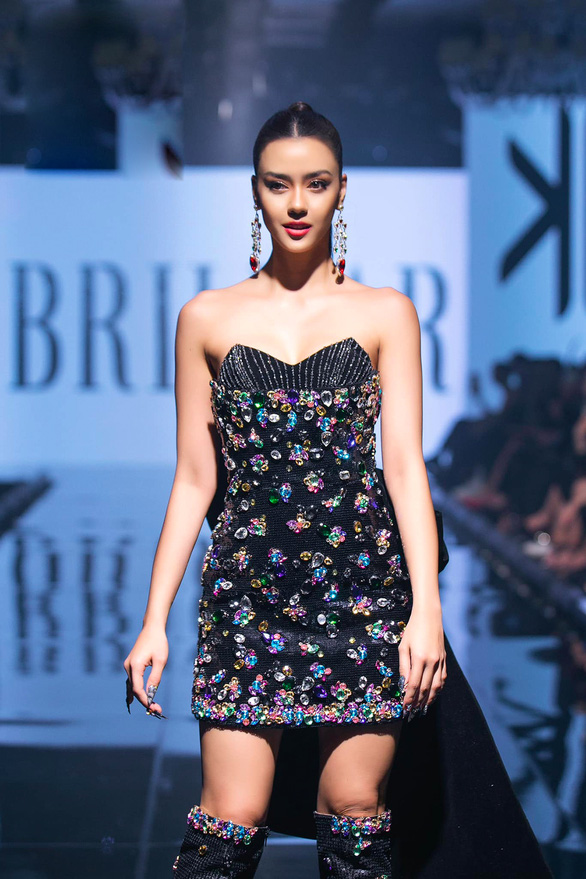 Miss Universe Thailand Amanda Obdam made a vedette – Photo: provided by the organizers
Miss Thailand was praised for her outstanding beauty. She used to be in the top 10 of Miss Universe 2020. Visiting Vietnam this time, she spent time experiencing life in Ho Chi Minh City and participating in a number of entertainment activities.
On her personal page, Amanda Obdam also shared the joy of being welcomed in Vietnam. She wears beautiful clothes and takes some photos on the streets of Ho Chi Minh City. "I love Vietnam" – Miss wrote.
* Le Thao Nhi, Ngoc Chau… entered the top 8 brave beauties
The brave beauty is the first sub-test held at Miss Universe Vietnam 2022 to emphasize presentation skills for Miss contestants.
Top 8 brave beauties have just been announced, including: Ngoc Chau, Le Thao Nhi, Nguyen Thi Phuong Thao, Le Thi Kieu Nhung, Nguyen Thi Thuy Tien, Ngo Bao Ngoc, Nguyen Thi Le Nam, Bui Quynh Hoa.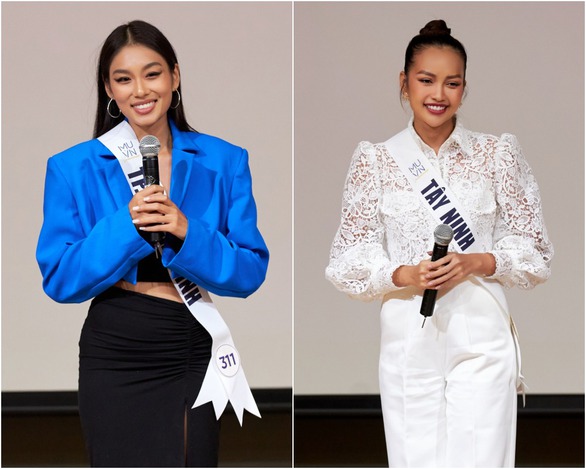 Le Thao Nhi and Ngoc Chau are 2 out of 8 contestants who did well in the Beauty of bravery section – Photo: Provided by the Organizing Committee
In the first time organizing the brave beauty, the top 41 were divided into four groups, giving presentations on topics including environment, heritage, tourism, and community. For each topic, the judges choose the two best presenters and have them answer the same question from the judges in a confrontational format. The results will be announced in the final on June 25 in Ho Chi Minh City.
At the Miss Universe pageant, presentation is an important skill to help the beauties touch the crown. They used this skill when introducing themselves and answering behavioral questions in the final night, as well as in the previous closed interview round.
.