Bassoon artist Nguyen Duy Long, singer Thanh Duy (from left to right) – Photo: DPC
* Online concert to raise funds for COVID-19 prevention
In order to spread the love of music to the community, Schubert in a Mug organizes an online music night called SiaM vol 8: IL Barroco with support from the Goethe-Institut Hanoi and the Inspirito School of Music.
This music night takes place at 8pm on June 14, streamed online on Schubert in a Mug's fanpage, and also on the Zoom application.
The concert program will bring the audience back to the musical roots of Italy in the early 17th century through famous works of Italian composers such as: Domenico Scarlatti, Antonio Vivaldi, Domenico Gabrielli, Giuseppe Tartini…
Through this music night, the Living Fund is part of the "Be Strong Vietnam" campaign calling for the community's support until the end of 24h on June 21, to urgently provide essential supplies for medical facilities. in hot spots that are having difficulty in treating COVID-19.
* The Factory announces "Excellent Artist Award"
The Factory Contemporary Art Center has just announced the organization will organize Artist Excellence Award The first is scheduled to take place in August 2021.
The Outstanding Artist Award recognizes the unique experimental and persistent artistic practice of Vietnamese artists living in Vietnam and Vietnamese living abroad.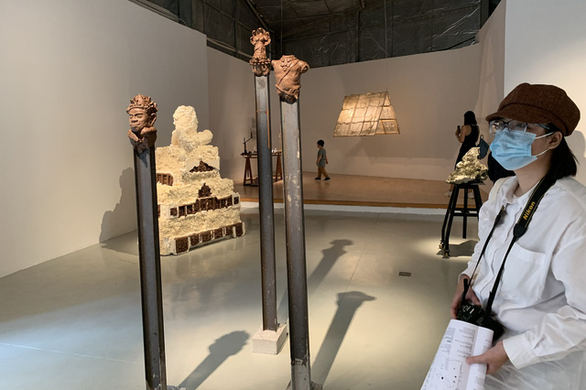 An exhibition corner took place at The Factory – Photo: PHUONG NAM
The artists nominated for this award are those who have been active, creative, and have contributed to society and the community…
According to The Factory, the judging panel are prestigious curators at home and abroad such as: Roger Nelson (Singapore National Museum of Art), Arlette Quynh Anh Tran (Post Vidai), Zoe Butt (The Factory), Tom Tandio (Art Jakarta) and artist Tran Luong.
Outstanding Artist Award will be held every 2 years.
* Thanh Duy remix "My love for selling mat" impresses
Episode 4 of the show The Heroes 2021 (Idol object idol) aired on the evening of June 13 with dramatic and explosive performances of the coach team Ha Le – Nimbia.
These are performances by Lona, Cara, Thanh Duy and Orange. In particular, it is worth noting that singer Thanh Duy's contest with the song remix performance My love sells mats causing the coaches to stand up and dance along with Thanh Duy.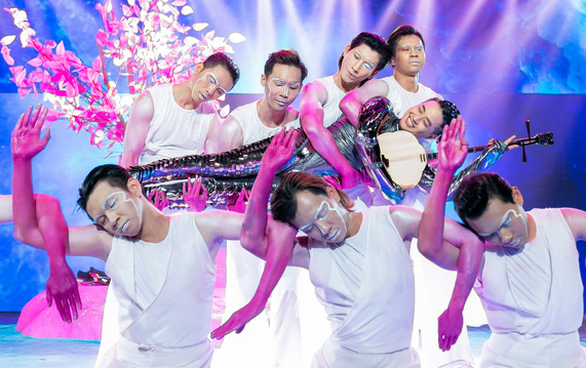 Thanh Duy boldly remixes the famous song "Love you sell mat" – Photo: DPC
Thanh Duy said the song My love sells mats Newly composed by Thanh Duy, inspired by the famous song of the same name. This is also his debut work.
Still with the story of a guy selling mats who secretly love and miss a beautiful girl but she got married to another country, music producer NVM has combined the neo-classical melodies with Thanh Duy's voice and style to bring to life. impressive performance.
Ha Le, Nimbia all praised Thanh Duy. "Thanh Duy has chosen a topic with depth. I appreciate it very much, this is an extremely smart move," added Nimbia.
Performance by Thanh Duy's 'Love for sale' – Source: VIVA Network
*"The taste of friendship": Thy – Huy's love "flipped like rice paper"
The last few episodes, The taste of friendship focusing on the relationship between Ms. Thy and Huy (Long's brother). Knowing that Ms. Thy likes to eat plums, Huy's restaurant has plums for her to enjoy. When Thy is sad, Huy comes to encourage her.
Or as in episode 39, the two had a "escape" to their hometown and in a romantic setting, Huy officially confessed his love to Thy. Looking at Thy and Huy's fresh faces, the audience also hopes their love will bear fruit.
Trailer of episode 40 of 'The taste of friendship' – Source: TVAd TV
However, in the trailer for episode 40 aired on June 14 on VTV3, when Huy was excited about expanding the restaurant, with the reason: "Everyone must be different, must have a strong shoulder for women to rely on".
Right after that, he was shocked when he heard Thy say: "Stop it. From now on, don't contact, don't care, don't do anything anymore. She refused the offer because she didn't want to be a lover mine".
Seeing this excerpt, many people are curious as to why Thy is so cruel. Many people feel sorry for Huy and hate Thy. Some people complain: "Oh my god. Why? Why hurt people? When sad, people protect and care, now flip like rice paper".
.