The Sweet Band performed at VOH Music One Theater – Photo: KIM PHO
90 minutes with a lot of songs played, no dance illustrations, no choreography, the rest is just music and sweet stories brought to the audience at "Concert No.2 – Concert with Sweet", just took place at the stage of VOH Music One (HCMC) on the evening of May 14.
Simple but beautiful and sweet to the heart…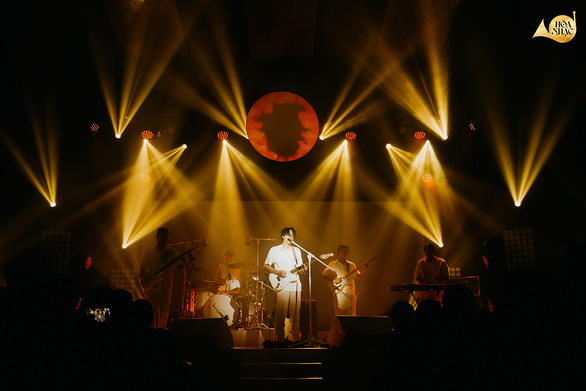 Concert No2 – Concert with Ngot took place at Music One theater in a cozy space – Photo: BTC
Sweet is the reunion of boys in an alley in Hanoi, born in 1995, being told by their parents to "study harder" and then secretly go to practice music with friends in the afternoon. Music just kept appearing, innocent and growing like a breath. Sweet has 4 members including bass guitar, lead guitar, drums and a main vocalist and composer (Truong Thang).
From boys in the same school who loved to play music together, then huddled together to form groups, so the band was born, sang together and performed. Play the small stage and then the big stage. Performed in Hanoi and then toured through Vietnam. Acting domestically, then performing in Paris… Composing and recording on disc. And then the prizes appeared. Ngot's journey is truly the dream of any Vietnamese group, whether indie or professional. Generation 9X, 2K listen to sweet music a lot. It seems that music also has a generational shape.
There is a saying that goes like this: "Every generation always imagines itself to be wiser than the previous generation and wiser than the next". Generation 9X, 2K sometimes become "victims" of this type of thinking. "We in the eyes of the previous generation were always stupid, stupid children who always did things differently from what was instructed. Maybe that's why when I listen to Sweet music, I find it very similar to my feelings about the way I feel. look at life" – Manh An, a member of Candy (Sweet's fan club), shared.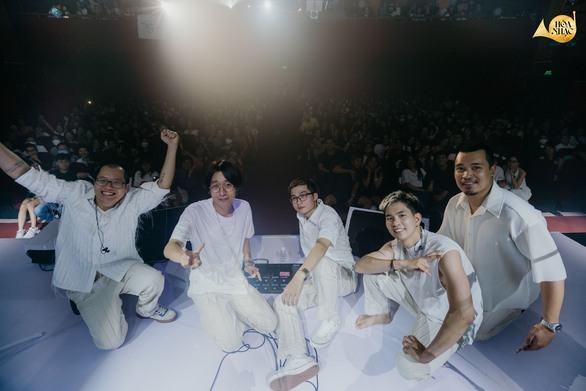 Sweet took a photo with his fans after the show – Photo: BTC
Young people 9X, 2K can meet themselves in the music of Sweet. It is the joy of youth, fresh and youthful with Be cool, Green. It could be a love story, say whatever you like Wild Cat, I'm Late, The Last Time. It can be a journey to find new reasons and definitions that align with your vision Salmon, Bartender, Enemy, Treasure.
It is also possible when there are inner battles and then sometimes self Lullaby, Trudong, sometimes I want to run away Let me go with. Or sometimes it's funny, joking with Drama Queen. And recently, when the 9X generation has grown up, knowing how to be peaceful with simple things, they are at peace in the music. Melt ice of Sweet.
Sweet's music "touches" the 9X, 2K generation like that, perhaps because it is "honest" music that is not embellished by formality, nor "groomed" by beautiful conventional emotions. Because that's what the 9X generation is taught too much and is almost "overwhelming".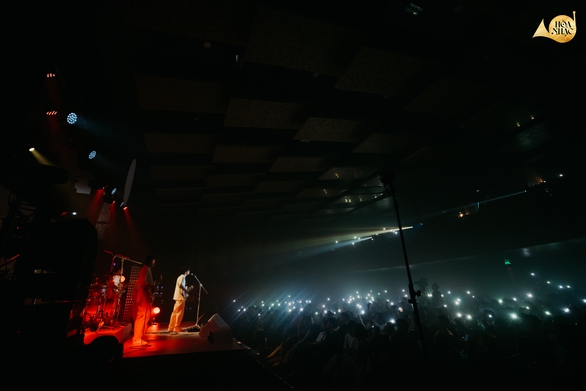 Music space full of resonance – Photo: BTC
Simple Sweet Music. The words are as innocent as a story-telling. That music does not follow trends and tastes. Trong Thang – the main composer for the group – once affirmed: "I do not write music for the audience, do not write music at the request of others, but write about my feelings. The young generation has many pressures and conflicts. contradictions and questions that need to be answered. All of the songs that Ngot performed are my way of finding my own answers in life, society and even love."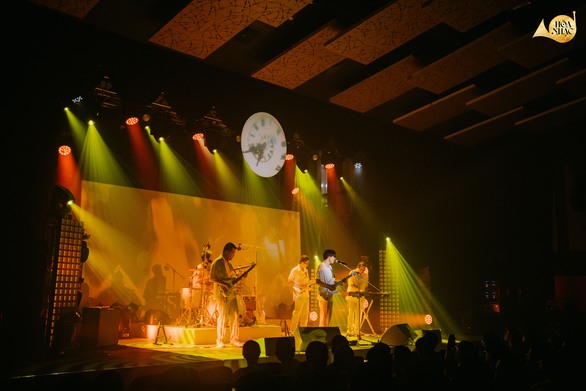 The stage is designed to be eye-catching and eye-catching – Photo: BTC
Perhaps that's why Sweet's music revolves around issues of culture, environment, life and his own worldview and has certain similarities with his generation's thinking. After seemingly innocent things, innocence is a strong philosophy that wants to affirm the "me" of his generation. It's a generation that hates stereotypes and loves what comes from within.
With music, Sweet has created a picture full of personality of his generation, more depth than people think. Listeners of Sweet's music seem to ignore all the strict rules and evaluations in music. With Sweet and her music lover, all that remains is music, story and generational point of view: "Touching" is Love!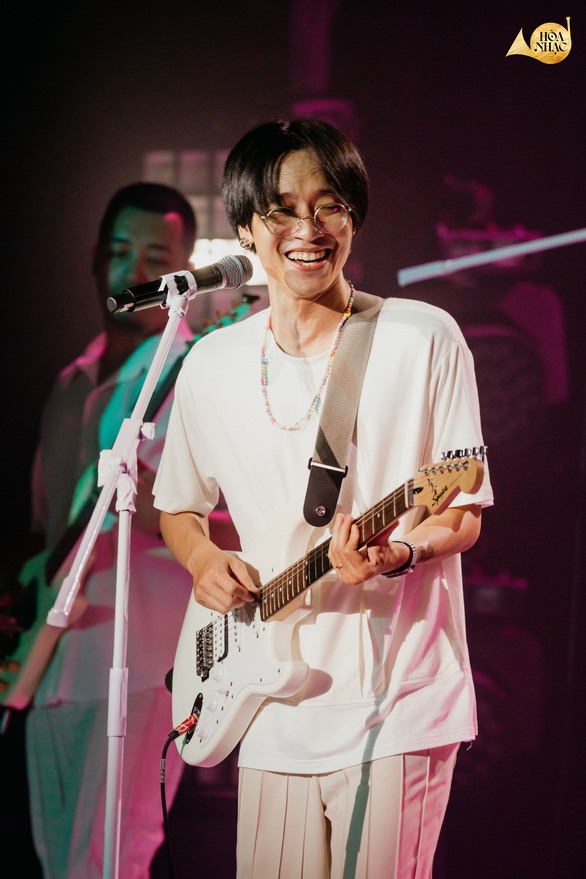 Trong Thang – Musician and lead singer of Sweet Adventure with music – Photo: BTC
Besides Sweet's unique music, "Concert No.2 – Concert with Sweet" is also carefully invested in terms of images with modern 3D mapping technology, and a "unique" visual art concept. ", creating sublimation in art.
.