New Hyundai SantaFe 2021 Not yet open for sale in the Vietnamese market, the images of this SUV are receiving great attention from Vietnamese consumers. Recently, the automobile news reporter caught a dedicated variant of the Korean SUV model rolling on the street.
This new model is imported directly from Korea. Before that, there was one SUV Hyundai SantaFe 2021 The white color has already appeared in Vietnam. In terms of exterior, Hyundai SantaFe 2021 dedicated version has no difference compared to the commercial version.
Hyundai SantaFe 2021 bank version suddenly appeared on the street.
The outside still stands out with typical details such as T-shaped stylized front position lights. Square headlights connected to the grille or taillights with integrated horizontal LED strip.
The difference of this money transport version lies in the two glass doors on the D-pillar and the rear glass doors using the "cardboard" paint color with the body. In addition, this new car also simplifies the chrome trim on the grille and side panels.
In addition, the Korean automaker also renovated the storage compartment and the third row of seats into a safe space. The car's cabin has enough room for 5 people, including the driver, bank staff and security guards.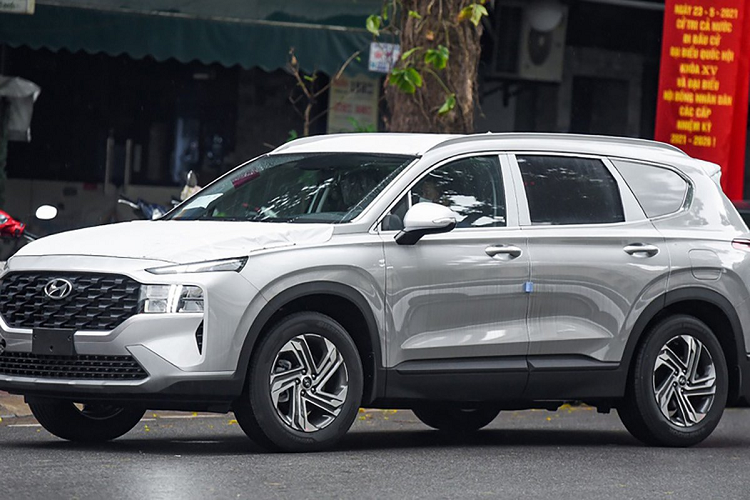 The appearance of the car has many differences compared to its predecessor.
At the moment, Vietnamese consumers are waiting for the official launch of the Hyundai SantaFe facelift. TC Motor has posted information regarding Korean SUVs on the Registry Bureau website. Hyundai SantaFe 2021 has 2 new 2.5L petrol engine options and 2.2L turbocharged diesel engine similar to the car sold in Indonesia.
Hyundai SantaFe in Vietnam is currently a 2019 upgrade. Currently, these versions are being discounted by dealers to release inventory. Along with that, dealers have received a 2021 model deposit with an appointment to deliver the car this June. The selling price of the current versions (from 995 million to 1,245 billion dong).
Sales of Hyundai SantaFe in the first quarter of 2021 reached 1,990 cars, higher than competitors such as Kia Sorento (1,750 cars), Honda CR-V (1,169 cars), Mazda CX-8 (1,023 cars), … In Vietnam , Hyundai SantaFe is a model that seldom uses incentives to attract customers.
.