Interested artists of the day: Rapper Suboi, runner-up Kim Duyen, sand painter Tri Duc
* Suboi appeared in Times Square for the 2nd time
Female rapper Suboi has just posted on her personal page a picture of her appearing in Times Square, New York (USA). This is her second time appearing in Times Square, she said. However, this is the first time Suboi has promoted her image as an artist in the music industry.
Before that, in 2016, Suboi appeared in this square in a fashion promotion campaign.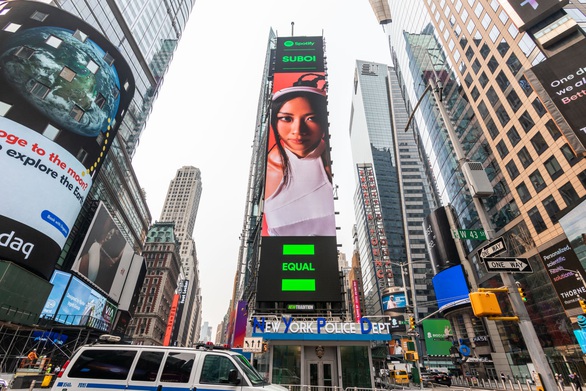 The image of Suboi appeared in Times Square – Photo: Facebook Suboi
Suboi wrote: "What an interesting square. In the world, only 1 in 5 artists on the chart are women while their influence is a huge part of the music industry (according to Suboi). research by USC Annenberg, USA).
To draw attention to the creativity of female artists, the EQUAL Global Music Program connects globally to gradually eliminate this disparity."
This is part of the EQUAL campaign launched by Spotify to celebrate the talents and musical styles of female artists around the globe.
Previously, Bich Phuong and Hoang Thuy Linh appeared at Times Square also in this Spotify campaign.
* Runner-up Kim Duyen will compete in "Miss Universe 2021"

Recently, on her personal page, runner-up Nguyen Huynh Kim Duyen informed that she will represent Vietnam to compete in the contest. Miss Universe 202first.
Expected final round Miss Universe 2021 will be held in the Israeli city of Eilat in December 2021.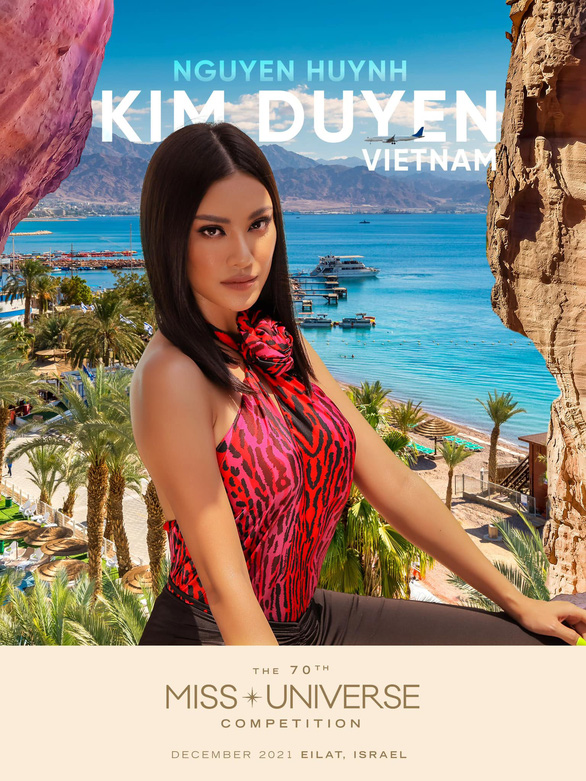 Runner-up Kim Duyen will participate in the 70th Miss Universe contest – Photo: Facebook Nguyen Huynh Kim Duyen
After this competition night, Miss Andrea Meza (Mexican) was crowned Miss Universe 2020 in May this year will hand over the crown to a successor.
Thus, Miss Andrea Meza is one of the Miss Universe with the shortest term in the history of this contest.
Runner-up Nguyen Huynh Kim Duyen was born in 1995, from Can Tho. She is 1.73 m tall, measuring three rounds 83-62-89 cm.
Kim Duyen won 1st runner-up in the contest Miss Universe Vietnam 2019. Currently, she is practicing and equipping skills to prepare for this prestigious international beauty contest.
* Painter Tri Duc paints sand paintings to pay tribute to frontline forces

Sand painter Tri Duc has just released a 3-minute clip called Thank you – Silent warriors.
The clip of sand painting was made on the background of a song composed by author Pham Viet Hoang, by singers Ho Ngoc Ha, Noo Phuoc Thinh, Dong Nhi, Ngo Kien Huy, Bui Anh Tuan, Bao Anh and 70 sports artists present.
On each tune, Tri Duc's hand moves the sand to draw an image of a corner of Saigon street, each person silently shows up, doctors, nurses, testing and vaccination teams, spraying forces, etc. Loudspeakers sounded to propagate, maintain order and even benefactors with charity kitchens.
All those people joined together to form a protective barrier for a baby with a bright smile raising his hand to show his belief in victory.
Drawing clip 'Thank you – Silent warriors' – Source: Facebook TriDuc Dang
Before the city implements social distancing, painter Tri Duc "sets up the capital" in his own workshop in Nha Be diligently creating puppet characters to prepare for the puppet play. Seeds of love It is expected to be released in October this year.
Reading the news, looking at the people who are straining on the front lines for everyone's peace, Tri Duc was touched and admired by them, then he decided to make a clip to send his sincere and gratitude to them.
Because there is not enough equipment in the workshop, all are handmade by Tri Duc and made by himself. Record yourself, turn on the background music yourself, then draw yourself. After that, the jar built itself on the phone.
.