State budget revenue reached 64.5% of the estimate in the first 9 months of 2020. Artwork.
According to information released from the Ministry of Finance, the total state budget revenue in nine months reached 975.3 trillion VND, equaling 64.5% of the estimate, a decrease of 11.5% over the same period in 2019 (the central budget estimated at 60.4% of the estimate, local budget was estimated at 69.8% of the estimate).
The Ministry of Finance said that it has directed the implementation of state budget revenue solutions to achieve the highest level of tasks in 2020; strengthen revenue management in the area, combat revenue loss, fight smuggling, trade fraud, and transfer pricing, reduce the rate of tax arrears; focus on reviewing and grasping the tax debt situation of the sub-departments; classify groups of debt that can be collected and non-recoverable.
Total state budget expenditure in nine months reached 1,113.7 trillion dong, as 63.7% of the estimate, up 8.1% over the same period in 2019; has met the tasks of spending on socio-economic development, national defense, security, state management and payment of due debts, and promptly handled unexpected tasks arising from epidemic prevention. , overcoming consequences of natural disasters.
As of September 24, the state budget spent about 17.49 trillion dong on epidemic prevention and support for people in difficulty due to the Covid-19 pandemic.
In the last months of the year, the Ministry of Finance said it would direct the Tax Department in collecting tax debts; focusing on the cases where the units have large tax debts, the units owe the land use levy, land rent; projects that have not yet paid into the State budget as prescribed, are not allowed to extend or deliberately defer tax debts; take measures to coerce tax debts according to regulations; publicize information in accordance with the Law on Tax Administration.
In addition, the Ministry of Finance continues to evaluate the implementation of state budget revenue in 2020 according to economic growth scenarios at the request of leaders at all levels; synthesize reports on state budget expenditure control in the fourth quarter of 2020 according to regulations; coordinating with related units to accelerate the capital plan assignment and investment capital disbursement progress, striving to achieve the highest rate of construction investment disbursement.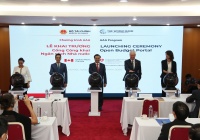 Public State Budget Portal – transparency in the allocation, management and use of public resources
(VietQ.vn) – The State Budget Public Portal is built on the basis of reference to advanced models in the world and Vietnam's requirements for budget transparency and disclosure, enhancing accountability in the allocation, management and use of public resources.
Thanh Tung
.