Within the framework of the COP27 Conference in Egypt, Minister of Natural Resources and Environment Tran Hong Ha attended the Roundtable on attracting finance to support Vietnam in implementing its commitments on climate change, organized by the Union the Glasgow Financial Alliance for its "zero" net emissions target (GFANZ).
Also attending were Mr. Alok Shama- COP26 President; Mr. Rick Duke – US Presidential Special Envoy on Climate Change; Mr. Mark Carney, Chairman of the GFANZ Alliance; Mr. Frans Timmermans- Vice President of the European Commission; representatives of multilateral development banks and financial institutions, members of the Vietnamese delegation at COP27.
According to Mr. Mark Carney, President of the GFANZ Alliance, Vietnam's commitments on climate change, especially the commitment to net zero emissions, are an ambitious commitment to fossil energy transformation. The roundtable is an opportunity for financial institutions to discuss opportunities as well as remove obstacles in implementing green and sustainable finance in Vietnam.
Speaking at the conference, Minister Tran Hong Ha said: Vietnam is committed to energy transition and adaptation to climate change and hopes GFANZ will support to further accelerate this process. To contribute to the goal of keeping the global temperature rise to no more than 1.5 degrees Celsius and net emissions to "zero" by 2050, Vietnam needs to master the technology of producing hydrogen gas, green ammonia, and transportation methods. and energy storage; solutions to ensure a sustainable power grid.
Vietnam has a long coastline with a long coastline, a lot of potential for offshore wind power and other renewable energy sources. However, not to mention the investment cost of wind power, the transition may cause difficulties in job security for workers. Developed countries also need to clarify their financial commitment of USD 100 billion for climate change response, not only focusing on energy transition but also for many other climate change response goals.
According to Vietnam's transformation roadmap, it should be divided into steps to make effective use of financial resources and gradually expand the scope in the next stages. Considering the scale and opportunities, Vietnam is expected to focus on wind and hydrogen power, prioritizing domestic demand and possibly exporting.
According to Frans Timmermans, Vice President of the European Commission, the transition ensures fairness and consideration for those affected. Vietnam needs to create an attractive environment for foreign-invested enterprises to participate in supporting the transition.
At the Conference, representatives of the leading multilateral development banks and commercial banks in the world discussed with the Vietnamese delegation the main areas that can be cooperated in the future, and at the same time discussed with the Vietnamese delegation. made strong commitments to accompany Vietnam in energy transformation and climate change adaptation. Conference participants also agreed on how to develop an investment roadmap and activities to improve the investment environment.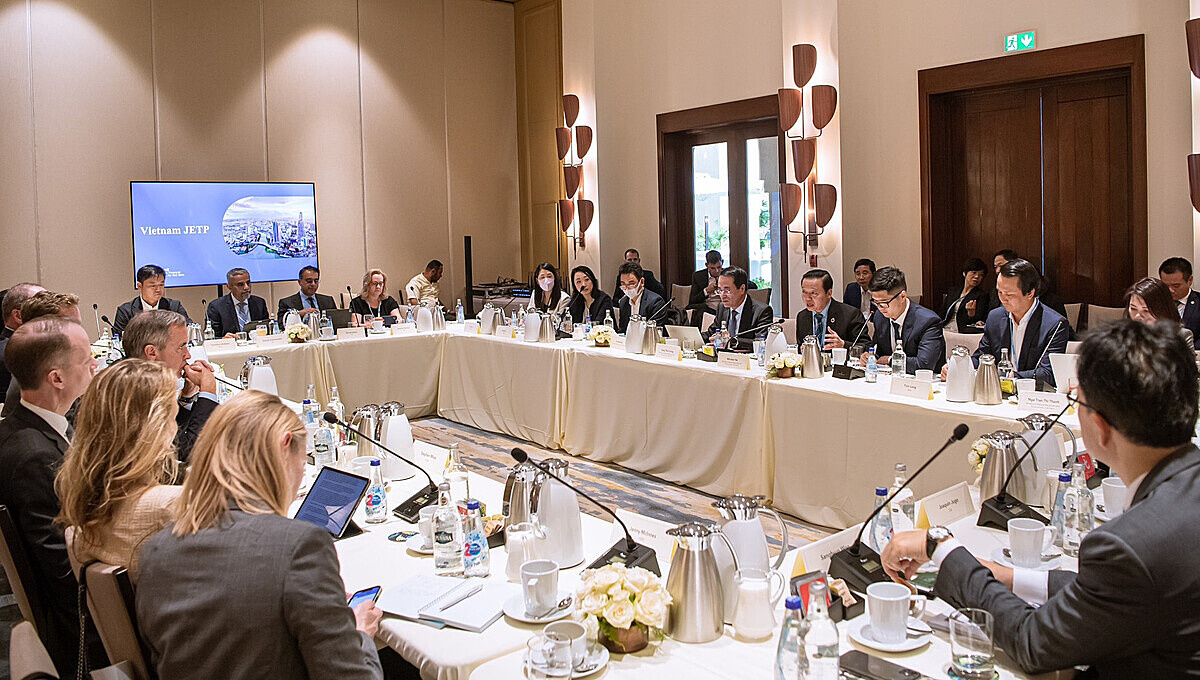 The Roundtable on attracting finance to support Vietnam in implementing its commitments on climate change took place within the framework of COP 27, in Egypt. Internet photos
Delegates also mentioned the support of governments, private sector and financial institutions to JETP; long-term plans to attract investment, necessary conditions to finance and build specific projects.
Michele Wee, General Director of Standard Chartered Bank Vietnam, said that Vietnam aims to reduce greenhouse gas emissions, green economic sectors, promote sustainable consumption and improve resilience in the economy. transition. Effectively mobilizing resources from the public and private sectors to support green growth is essential. The capital required for this transformation is enormous. This is an area where financial institutions like Standard Chartered can advise the government on policies, following global standards, thereby attracting sustainable capital to serve the climate change response strategy. climate of Vietnam and accelerate the transition to create positive social and economic impacts for the people.
Earlier within the framework of COP27, the Minister also had a bilateral meeting with Standard Chartered Bank.
The Glasgow Financial Alliance for Zero Net Emissions (GFANZ) is a global consortium of leading corporations and banks committed to supporting carbon neutrality, climate change, and climate change. climate change in countries around the world.
Le Kim Lien
.