Doctor Nguyen Tien Thanh, Deputy Head of the Department of Laser and Skin Care, Central Dermatology Hospital, said that doctors here have received and treated a 47-year-old patient after 7 years of cheeks and has gone. treatments are available at spas, salons The patient came to the hospital for examination with severe injuries, white scars and pyrotechnic eyes due to improper treatment of cheeks.
According to Dr. Thanh, in this case, this patient initially only appeared a few melasma on 2 cheeks, but then voluntarily applied drugs and treated at some cosmetic facilities, making the condition worse. Over time, the damage to the cheeks spreads, causing her cheeks to be scarred, white and patchy. "The time to visit the patient was extremely stressful, stressful because the skin of the cheek area was damaged. The patient said she spent about 500 million VND to treat melasma in cosmetic facilities" – Dr. Thanh Chia shall.
The patient's patchy face after treating melasma at the facility is not guaranteed – Photo: Doctor provided
Dr. Thanh said that on average each month, the Department of Laser and Skin Care receives hundreds of turns of patients with melasma to treat with many different ages, including young unmarried patients and many in the case of a baby. Many patients have failed cheeks treatment at spa establishments, beauty salons … then come to the hospital to restore their skin.
Explaining the reason why patients with cheeks spread and appear more white scar lesions, dermatologists said that it is very likely that during the treatment process at some cosmetic establishments, the implementation staff. used energy and laser technology that is not suitable for the patient's skin. "In fact, we have had a lot of serious complications because the treatment failed first, then the treatment will be more difficult in the future. There are cases where patients have to be treated with many treatments, many combinations. With technology, the skin can recover "- said Dr. Thanh.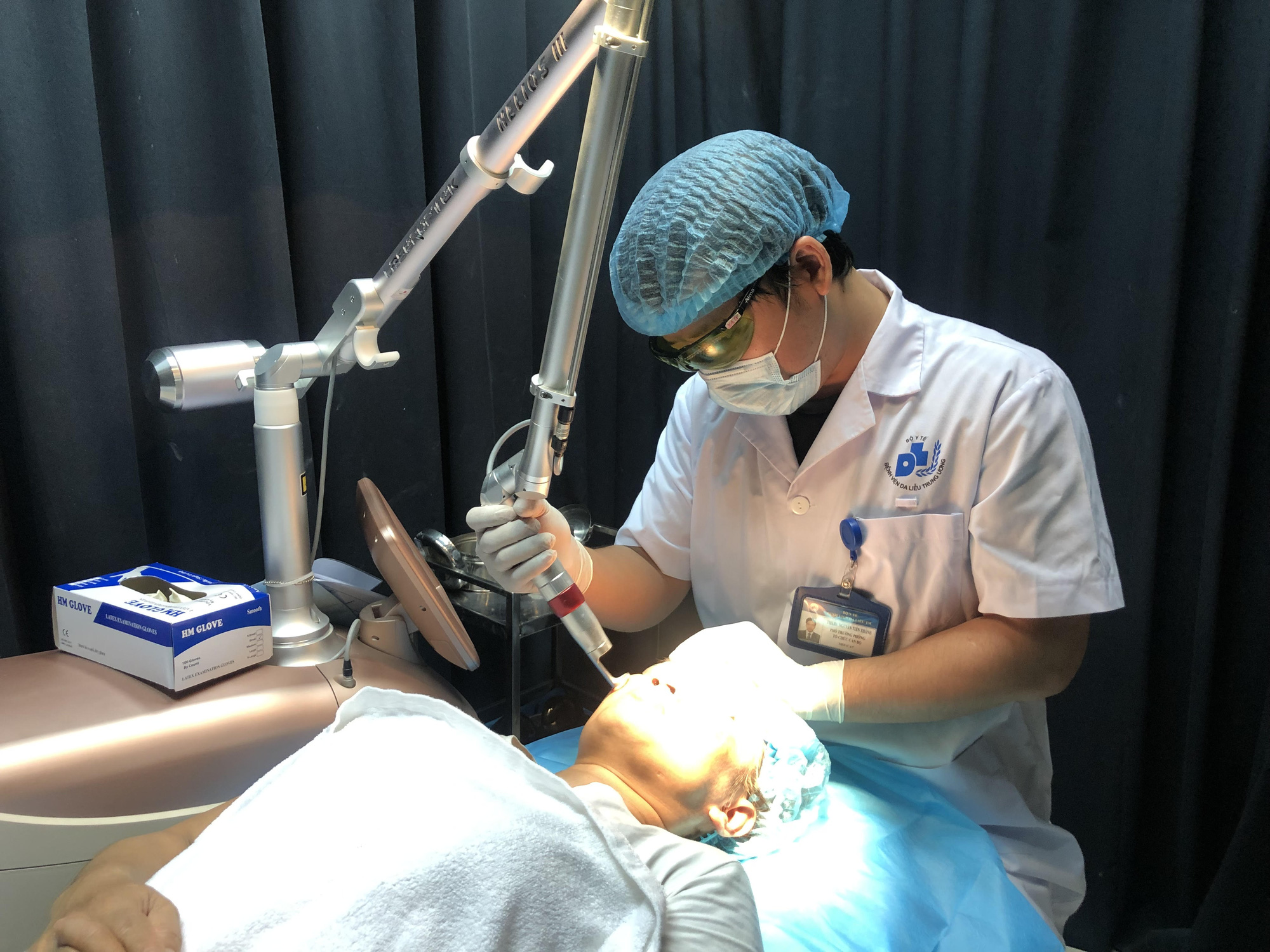 Skin care for complications after treating melasma
Doctor Thanh recommends that the treatment of melasma should be persistent, the treatment period lasts many months, so some patients need to try and persevere in the treatment process.
For skin care to prevent skin aging – including darkening, pigmentation, Dr. Thanh advises to avoid sun, use sunscreen with appropriate SPF; A diet rich in vegetables and fruits. Drink enough water, avoid mental stress; Avoid misuse of cosmetics, choose one that has origin, reputable brand; When using cosmetics, there must be a good method of removing makeup; For oily skin: use products that remove excess sebum; For dry skin: use moisturizer regularly, limit the use of hot water …