Recently, the Government has issued Decree 98 regulating the sanctioning of administrative violations in trade, production, and trade in fake goods, banned goods and protect the interests of consumers. The Decree takes effect from October 15.
Specifically, according to Article 15 of Decree 98, acts of trading smuggled goods will face a fine based on the value of smuggled goods as follows:
In particular, the Decree also specifies a fine of twice the above table (equivalent to the maximum amount of VND 100 million) for the cases in which violators directly import illegally goods valued at less than VND 100 million or from 100 million VND or more without being prosecuted for criminal liability.
Smuggled goods on the list of banned import or temporarily suspended from import; smuggled goods are food, food additives, food processing aids, food preservatives, preventive medicine and drugs, medicinal ingredients, cosmetics, medical equipment, chemicals, processing insecticides, germicides …
Notably, the aforementioned fine level applies to individuals, while for violating organizations, the fine amount will be double that of the individual, equivalent to 200 million VND.
Therefore, for the act of trading portable goods such as cosmetics, drugs … without invoices, documents, no customs procedures … (or smuggled goods), worth over 100 million VND, the fine for violating organizations is up to 200 million VND.
Reporter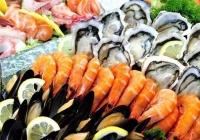 Eat exotic seafood, carefully process the painting on the body
(VietQ.vn) – Seafood is a nutritious, healthy dish that is loved by many people. If not carefully and carefully explored, this dish can cause food poisoning of users, which can be fatal.
.