Ngoc Thao wears protective gear throughout the flight – Photo: NVCC
After a period of rushing practice and preparing to "battle" in the contest Miss Grand International 2020On the evening of February 26, runner-up Ngoc Thao left for Thailand. CHe said he was ready to enter the international beauty arena.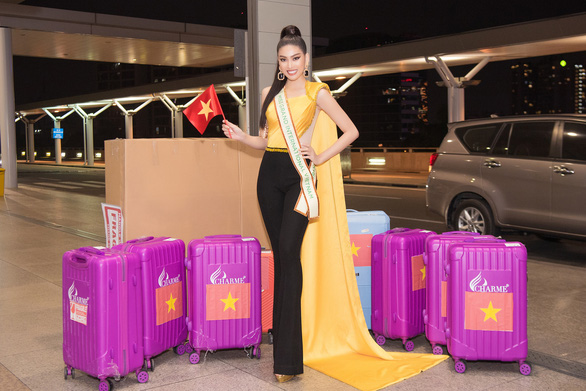 Ngoc Thao carries a Vietnamese flag showing pride when participating in Miss Grand International 2020 – Photo: NVCC
Because the COVID-19 epidemic is still complicated, to ensure safety for herself, Ngoc Thao wears protective gear throughout the flight as well as strictly adheres to regulations to limit the possibility of infection.
The protective suit is a special gift that runner-up Phuong Anh gives as encouragement and encourages Ngoc Thao before departure.
Due to the quarantine and competition time in Thailand about a month, Ngoc Thao brought 10 pieces of luggage up to nearly 150kg, including contest costumes and food.
Ngoc Thao said that she herself was nervous and worried but felt more excited when participating in this contest.
Coming to Thailand, after 14 days of isolation, Ngoc Thao will enter the itinerary of the competition with more than 60 representatives from other countries and territories.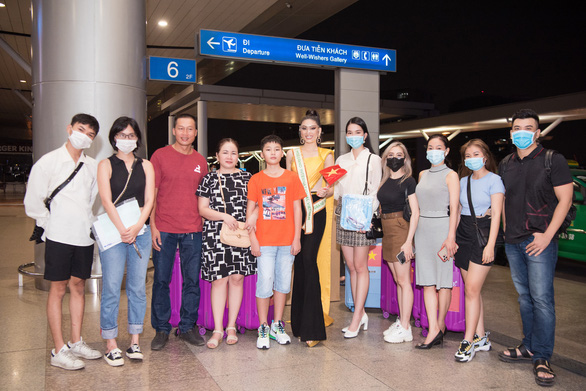 Relatives and friends come to the airport to see Ngoc Thao off for the exam – Photo: NVCC
Final's night Miss Grand International 2020 will take place on March 27, in Bangkok.
Possessing a beautiful face and many years of experience in the model village, Ngoc Thao is expected to win high achievements in this contest.
.