On the afternoon of October 17, Dr. Nguyen Dinh Minh, Head of Plastic and Plastic Surgery Department, Central Hospital E, doctors have just performed surgery to remove excess skin and belly fat for obese women with weight. weighs 105 kg.
The patient was a female PHA (32 years old), when he was a young man weighing 49 and 1m tall, 60. However, after giving birth 2 children (11 and 10 years old children) weight skyrocketed. The first birth of the patient increased 32 kg, the second birth of the patient weighed 85 kg, then continued to gain weight to 115 kg.
Patients who have referred to weight loss many ways but have all failed due to hypoglycemia. Ms. A. also consulted surgical methods of gastric bypass or belt insertion but did not agree to surgery. In addition, when gaining weight in a patient with diabetes, the excess skin fat in the lower abdomen or armpit area prevents the patient from moving and is infected.
Surgery to cut more than 3 kg of fatty skin in the abdomen, liposuction for patients weighing more than 100 kg – Photo: Quoc Minh
Ms. A. shared that with her oversized body, in everyday life she had a lot of inferiority complex. Many times she sadly refused to attend events with her husband because of guilt and lack of confidence.
Dr Minh said that the patient had been instructed by a nutritionist to lose weight and Ms. A. had lost 10 kg within 5 months. However, with a weight of 105 pounds, the patient still has difficulty moving and daily activities, so he wants to have surgery to remove excess skin and absorb fat as much as possible to make walking easier.
According to Dr. Minh, with the patient's legitimate wishes, doctors are determined to offer the most appropriate and safest treatment plan, with the desire to help patients return to normal life soon. Results of pre-operative examination showed that patients with grade 3 obesity (highest elevation) BMI 41 (weight 105 kg-1m60 high), a lot of skin in the lower abdomen and armpit sides affected hand movement. and leg movements. The patient is very difficult to sit when sitting due to the thick abdominal wall fat and excess skin. Patients must treat their diabetes with insulin 26 UI every day.
The surgery takes about 5 hours. Doctors said that the difficulty of the operation is that the patient is too fat, with a lot of fat, along with diabetes being treated with insulin … Therefore, resuscitation after surgery will be very difficult, the risk may be slow healing due to high blood sugar. Luckily the patient made a good recovery.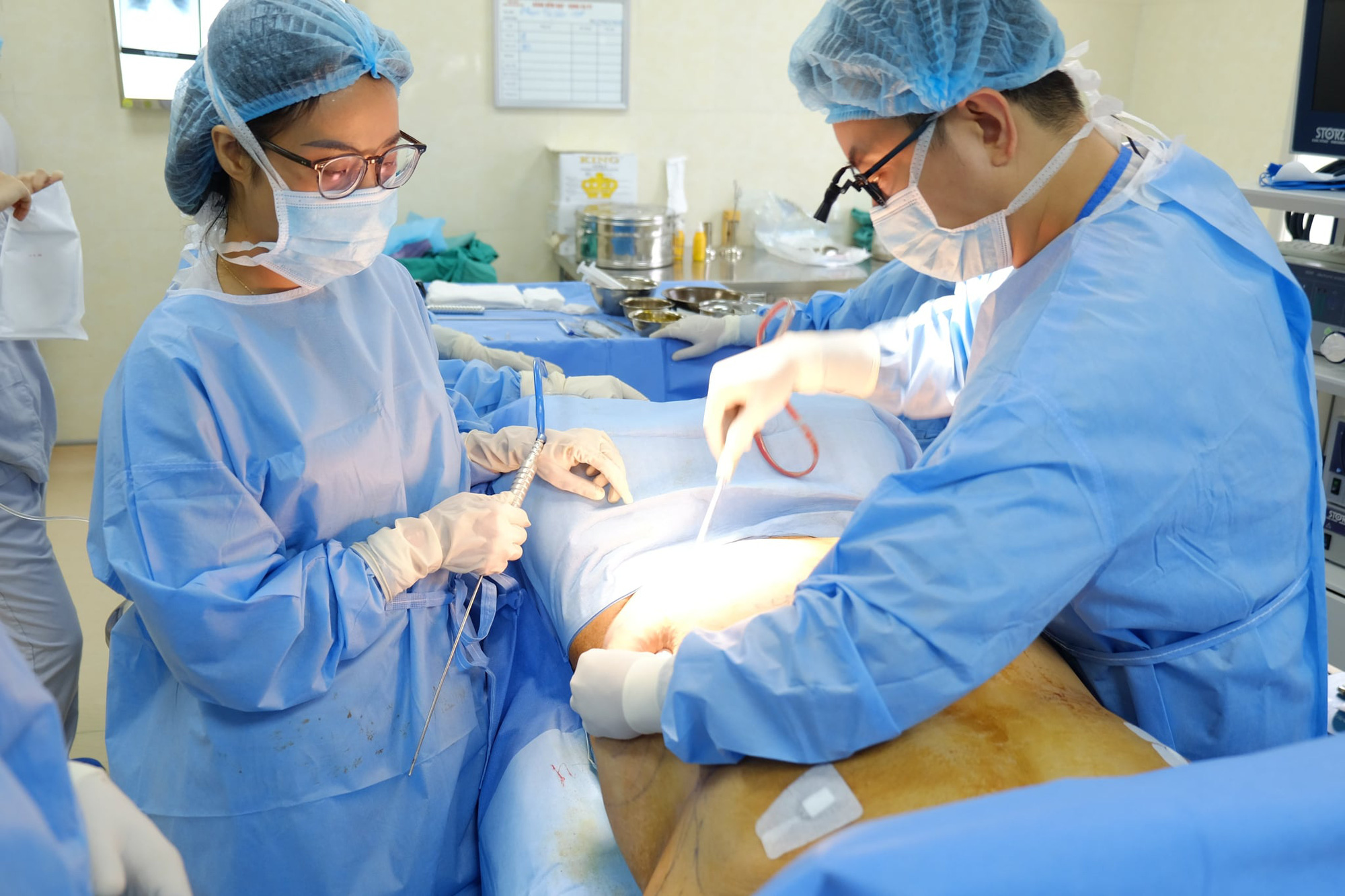 The patient recovered well after surgery
Up to now, the first successful surgery, the patient removed about 3.2 kg of fatty skin in the abdomen, which is the cause of the patient's difficulties during living. Doctors also suck up about 2 liters of fat to reduce the amount of fat in the abdominal wall and in areas that cause rubbing such as armpits.
Currently, the patient is stable, the vital blood pressure is normal, blood sugar is maintained at 6-7 mmol / l. Expected, the patient may be expected to be discharged in the next few days.
Dr. Minh also warned that despite having surgery, this patient still has the ability to gain weight again if there is no active diet and exercise after surgery. "Patients with obesity have a lot of associated disease risks, the best way is to do weight loss in a scientific way so that the energy into the body is no more than the energy consumed. implement a diet rich in green vegetables, exercise regimen with energy consuming exercises such as walking, swimming, gym … "- recommended doctor Minh.