That information was given at the meeting of the Central Steering Committee for Disaster Prevention to discuss plans to respond to floods in central region on October 18, 2020 in Hanoi.
Severe floods in the Central region caused heavy damage
According to the National Center for Hydrometeorological Forecasting, the flood on the Hieu River in Dong Ha reached a peak of 5.35m at 3 o'clock on October 18, on alert 3 was 1.35m. Flood on Thach Han river in Thach Han was at the peak of 7.4m, above alert 3 was 1.4m, higher than the historical flood peak in 1999 (7.3m). Currently, floods on Ngan Sau river (Ha Tinh), rivers in Quang Binh are rising, rivers in Quang Tri to Quang Nam are falling.
Large flood on Hieu River caused widespread flooding in Thanh An commune, Cam Lo district and Dong Giang ward, Dong Ha city, Quang Tri province. Photo: PCTT
It is forecast that, in the next 6-12 hours, floods on Ngan Sau river, rivers in Quang Binh will continue to rise; the rivers from Quang Tri to Quang Nam gradually descend. Warning from October 18 to October 20, especially high risk of flooding on rivers in Ha Tinh, Quang Binh.
The risk of flash floods and landslides in the mountainous areas of the provinces from Nghe An to Quang Nam is very high. At the same time, deep and large area flooding continues to take place in low-lying areas, urban areas from Ha Tinh to Quang Nam.
It is forecasted that from now to October 21 in Central Vietnam there will be heavy to very heavy rain, especially Ha Tinh, Quang Binh, and Quang Tri are likely to have particularly heavy rain. After October 21, in the provinces of Central Central, South Central, there is a possibility of prolonged heavy rain.
According to the quick report of the Standing Office of the Steering Committee, as of 18:00 on October 18, rain and flood in the central region left 84 dead and 38 missing. 52,933 houses were flooded, of which, Quang Tri: 41,878 houses, Quang Binh: 11,055; 24,734 houses were damaged and collapsed.
The floods caused great damage to agriculture: 924 ha of rice, 106,616 ha of crops, 461,627 cattle and poultry died and were swept away.
In the evacuation work, the provinces from Quang Binh to Thua Thien Hue evacuated 11,575 out of a total of 35,787 people in urgent need of evacuation.
Also according to the report, on October 17, 2020, continued to rain and flood on a large scale, the rescue forces halted the work of leveling and clearing the way to Rao Trang 3 hydropower plant. On October 18, the rescue team focus on speeding up the leveling progress, clearing the way to Rao Trang 3 hydropower plant, looking for the number of missing workers.
Prime Minister directed to focus on rescue and overcoming consequences of landslides
In the evening of October 18, 2020, Prime Minister Nguyen Xuan Phuc sent a telegram to the concerned ministries and branches together with the People's Committees of Quang Tri and Thua Thien Hue provinces in the serious flood situation in the Central region. to focus on rescuing and overcoming the consequences of landslides in Rao Trang 3 hydropower area in Thua Thien Hue province and at 337 economic-defense delegation of Military Region 4 in Quang Tri province.
The telegram stated that, for nearly a month, particularly heavy rains lasting many days on a large scale caused deep flooding, landslides, tube floods, flash floods, especially in Thua Thien Hue and Quang Tri provinces, causing many people. died, dozens of people were still missing and could not be contacted, of which: landslide incident in Sub-zone 67 of Bo River Forest Protection Management Station made 13 officers, officers and soldiers sacrificed; 15 workers are still missing in the Rao Trang 3 hydropower area; especially at 1:25 a.m. on October 18, landslides occurred at the 337th Economic – Defense Delegation of Huong Hoa district, Quang Tri province, causing 22 officers and soldiers to be buried.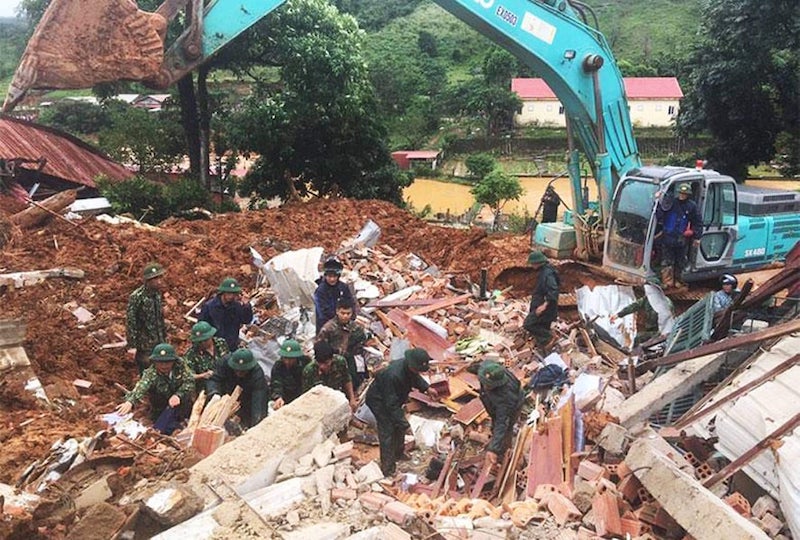 Rescue and rescue force searching for missing soldiers. Photo: People's Newspaper
Facing these great griefs and losses, Prime Minister Nguyen Xuan Phuc sent his deepest regards and condolences to the relatives of cadres and soldiers who died while on search and rescue missions, who died in a natural disaster, and shared concerns about a family whose family was still missing. Over the past few days, the Prime Minister has given many directions on the search and rescue work and the response and overcoming of consequences of natural disasters, and appointed Deputy Prime Minister Trinh Dinh Dung and leaders of ministries and agencies. involving the provinces of Thua Thien Hue and Quang Tri to directly direct.
In the coming days, the rain and flood will continue to happen complicatedly, the risk of landslides and flash floods in the central provinces and the Central Highlands will be high. In order to limit damage and protect people's lives and property, the Prime Minister requested:
The Ministry of National Defense, the National Committee for Incident and Disaster Response and Search and Rescue shall direct Military Zone 4 and related units to urgently gather all resources and means to rescue and rescue survivors. contact is lost at Rao Trang 3 hydropower plant and the officers and soldiers buried at the 337th Economic-Defense Team ensure the fastest, most urgent and safe for the rescue team.
Prime Minister Nguyen Xuan Phuc assigned the Ministry of Transport, the Ministry of Public Security and the People's Committee of Thua Thien Hue province and Quang Tri province to mobilize all means and resources to coordinate with the Ministry of Defense and Military Region 4 to quickly cross the route. traffic in the above areas in order to promptly bring vehicles and machines to serve the search and rescue work.
People's Committees of Thua Thien Hue and Quang Tri provinces as well as related localities are assigned to organize well visit, encourage and support people in flooded areas, especially families damaged by floods and rains. families of cadres and soldiers were killed, some families were unfortunately killed or disappeared. At the same time, urgently implement the best regimes and policies for policy families and victims' families while performing the search, rescue and prevention tasks; supporting the treatment of injured people; assisting in organizing a thoughtful burial according to local customs for those who died accidentally.
Prime Minister Nguyen Xuan Phuc asked Chairpersons of the People's Committees of provinces and cities, Ministers, Heads of agencies and units based in the area to direct the inspection and immediate review of residential areas, offices of the agency, workplaces and units of units, resolutely relocate and evacuate people, vehicles and property from dangerous areas, especially those at risk of landslides and floods. flash floods and deep floods to ensure safety for the lives and property of the people and the State. Provide relief of food, drinking water and basic necessities for the people, especially for households who have lost their homes, and those in deep-lying areas have long separated; absolutely not to let people suffer from hunger, lack of drinking water or shelter. To promptly implement the work of overcoming consequences after floods and rains, focusing on helping people repair and clean their houses; cleaning the environment; to disinfect and disinfect, prevent disease outbreaks after floods.
The Prime Minister assigned the Central Steering Committee for natural disaster prevention and control to closely monitor the rain and flood developments; to take initiative in directing and urging ministries, branches and localities to carry out the work of responding and overcoming consequences according to their competence. At the same time, synthesize the local needs of emergency relief and disaster recovery assistance, coordinate with the Ministry of Finance, the Ministry of Planning and Investment and the Ministry of Labor, War Invalids and Social Affairs to propose and report Prime Minister.
Le Kim Lien
.