Nomadland is the meeting of two outstanding women in cinema – director Chloé Zhao (right) and Frances McDormand – actress twice Oscar-winning female lead – Photo: IMDb
While, Minari – Outstanding work by a Korean-born director – won the Best Foreign Language Film Award.
A part of Asia is resurging in Hollywood as Asian talents are increasingly being used, shining and creating works that compete with Western films. After the victory "ambush" at the Golden Globe, the whole Minari – with director Lee Isaac Chung and a Korean-born cast, and Nomadland Chloé Zhao's are expected to make a difference at the next Oscars on April 26.
Tell stories only I can tell
Calling them "part of Asia" because these are talents with Asia as the root but they have lived, studied, worked and reached the top thanks to the freedom to waving in the great sea of ​​Hollywood.
Both Nomadland and Minari are works produced by America, filmed in America and influenced by America. But these wonderful movies wouldn't be possible without Asian children who immigrated to America, living in this country, bringing their artistic perspectives and senses to cinema. They tell stories that only they can tell.
Story in Minari – The film is considered a semi-autobiography – has many similarities with the life of director and screenwriter Lee Isaac Chung – who was a Korean-American boy born in America, growing up on a small farm. Lee's childhood memories are imprinted on his parents' struggling journey to chase the "American dream". He tells the story for a community, a culture of migration.
Nomadland is the top candidate for the Best Movie category – drama genre and was not surprising when winning the award. This victory is considered to make history, along with Chloé Zhao's best director – movie victory.
Make history, because Zhao is the second woman to win a director award in the 78-year history of the Golden Globe Awards. The first one was film legend Barbra Streisand in 1984 with the movie Yentl. Nomadland is the first film by a female director to win the Golden Globe's most prestigious award during those 78 years.
Asian filmmaker and blockbuster cinema
Also Chloé Zhao (real name Zhao Ting, 38 years old) is a filmmaker chosen by Marvel to send gold to the role of director. Eternals – The movie "blockbuster" of ethnic diversity of the superhero universe. Eternals gathers powerful Marvel characters such as Thena (Angelina Jolie), Gilgamesh (Ma Dong Seok), Sersi (Gemma Chan) …
This opportunity came to Zhao not only because of the previous projects but also because of the female director's drastic initiative. Zhao himself approached Marvel and exchanged his vision Eternals Because she is a fan of the Marvel movie universe and wants to contribute to building it even more powerful.
In terms of vision, Zhao brings an ambition Eternals more epic Avengers: Endgame and hopefully the movie is "a marriage of East and West". The Eternals is scheduled to launch in late 2021 but is not sure yet because of the COVID-19.
US media forecast, with Eternals, Chloé Zhao's name will sublimate and fly higher. In addition, film-loving audiences always want her to persevere with art films, telling more Asian stories of Asians.
And Lee Isaac Chung (42 years old) – the director of personality Minari – There's also the next big project. He will rewrite and direct the live version of Your Name – Famous Japanese anime.
Your Name is one of Japan's best-selling anime of all time in the international market, grossing about 246 million USD, has excellent quality and won many awards. Therefore, this is a great opportunity for director Lee Isaac Chung in the commercial film field, "blockbuster".
Live your life's dream & the language of your heart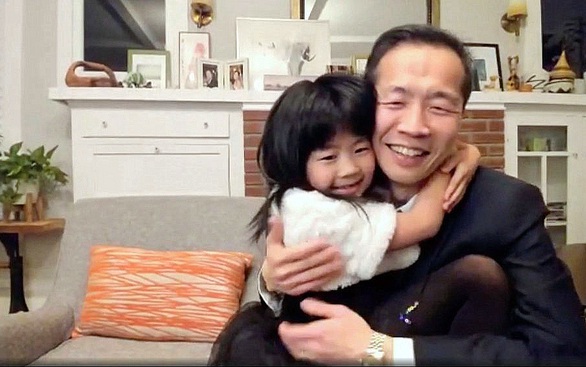 Lee Isaac Chung and his daughter rejoiced when Minari won the Golden Globe – Photo: NBC
With no make-up, braids and simple middle part, Chloé Zhao said to receive the Golden Globe Award through the screen: "I'm sure there are a lot of women before me who deserve this recognition. love my job. I love it very much. If more and more people like me can live their dreams, do what they dream of, I will be very happy. "
When given the award Minari announced, Lee Isaac Chung had a cute moment when his 7-year-old daughter hugged him emotionally. She boasted to her father: "I prayed". During the speech, Lee thanked his wife, his wife, and thanked his young daughter. "Girls are the reason I made this movie," he said. Minari is a movie about a family, a family trying to learn its own language. That language is deeper than the English-American language or any language. It is the language of the heart ".
.