Quynh Cool and Cong Duong will write a beautiful love story in Let's say love? – Photo: ĐPCC
Quynh Cool is a familiar name on social networks. She is a member of Kem Xoi TV group, participated in illustrating in singer clips, worked as a photo model before coming to acting.
Possessing a bright face, a slightly cold expression, white skin, beautiful appearance … she is often cast as a son with a rich personality.
That is the beautiful student Nhi, who likes the material Balanha Hostel, is Ngoc – a personality student with a romantic love for teacher Duy Trong Don't make me forget. Also in Sunflower against sun, Quynh Cool returned as the beautiful, rebellious and helpless lady Minh Ngoc.
All three of these films continued from 2020, lasting until 2021, and are loved by the audience, so the name Quynh Cool becomes familiar to audiences who love Vietnamese dramas.
And now, Quynh Cool is looking forward to hearing from the audience for the role of Hoang My in Please say love by: "This role exhausted me", she shared with Youth Online.
* Saying that this character must be very special, how is Hoang My different from the girls Quynh Cool undertook before?
– Can speak Please say love is a film that proves my ability after a long career in acting. The role of Hoang My requires me to use a lot of brainpower and my acting ability because the character's psychology is quite heavy.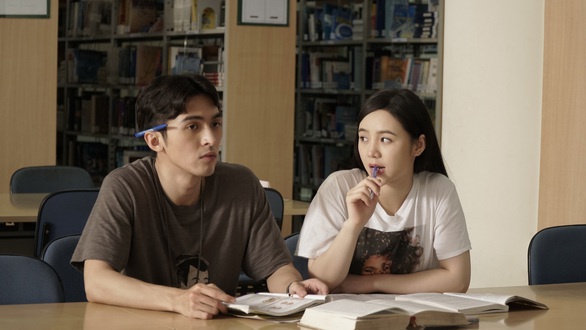 Quynh Cool and Cong Duong in the movie Say Love – Photo: ĐPCC
My pitiful. She was born into a well-off family, was constrained in life when her parents always had to study well, to be good, to do things according to their parents' wishes. Children have no right to make decisions about their lives.
* My personality is complicated, difficult to act, Quynh Cool said that she had to put all her energy into the character, when did Quynh Cool feel beyond her?
– This movie I participated when Sunflowers against the sun still filming the final episodes. At a time I had to play two roles so I was very focused.
For Northern film crews, a film over 30 episodes we usually shoot in five to six months, sometimes all seven. I only sleep 5 hours a day. I think after this role, I rested for a while to balance my emotions, but there was a scene where I just cried and cried for five days so I was quite tired.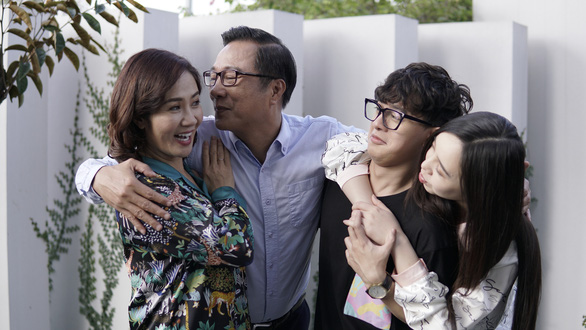 Hoang My's (Quynh Cool) family looks happy on the outside, but inside it contains many uncertainties
Looking at My I like seeing my figure. She is only 18, 19 years old, and I am 26 years old, graduated from Hanoi University of Theater and Cinema a few years ago. Through many roles from the public, supporting roles, main roles … I gradually matured like My in the movie. I find myself sympathizing with My rather than being pressured.
* My in the movie is suffocated, how about Quynh Cool in real life?
– I think every family is the same. Parents are always worried and want good things for their children. Only the behavior of each person is different.
I feel lucky when my parents are psychologically, not forcing their children. As a child, I dream of becoming an actor and my parents are always supporting.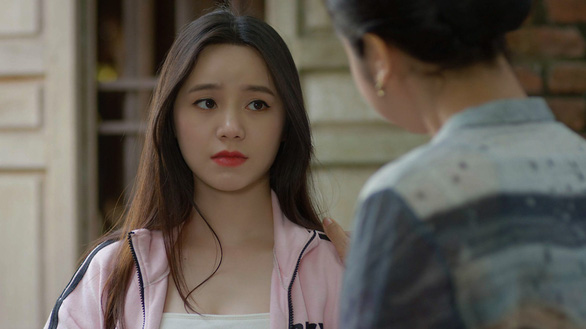 Quynh Cool as Lady Ngoc in Huong Duong against the sun – Photo: ĐPCC
The thing that I am like My is that when I was a kid, I was also stubborn. My parents told me to go to school, I wanted to go out … The mentality of being young, the more managed things want to get out.
When I participated in this movie, I went on a field trip, researched, asked people around me and found cases like My family happening a lot in real life.
So I hope that parents who watch movies to understand that to truly love their children is to always listen to their children, not always cursing, yelling, and forcing them.
Loving the wrong way only leads to the opposite reaction.
In addition to the story of Hoang My and his parents, Please say love There is also the family story of Phan – an orphan who takes care of his father to take care of his sick mother but always sees a positive and positive life, the story of Tu – a girl whose parents are in a complicated situation when her parents are imprisoned and have to live independence…
They are young people who bravely overcome difficulties to rise in life …
The film is 30 episodes long, made by director Bui Quoc Viet, writer Huyen Le, with the participation of actors Trong Trinh (Mr. Tin), Nguyet Hang (Ms. Hoai), Cong Duong (Phan), Bao Han ( Tu), Ha Viet Dung (Binh), Quang Anh (Hoang Minh) … broadcast at 9:40 pm every Thursday and Friday on VTV3.
.