The program "Pioneer to Breakthrough" was first held in Ho Chi Minh City for two days, June 2 and 3, 2022, by the Embassy of Sweden, the Swedish Trade and Investment Council (Business Sweden). ), the People's Committee of Ho Chi Minh City and the Vietnam Federation of Trade and Industry (VCCI) co-organized to promote the Sweden – Vietnam partnership in the field of sustainable development.
Swedish Ambassador to Vietnam – Ms. Ann Mawe spoke at the event.
Central themes of the program include sustainable energy, sustainable production, sustainable consumption and use of raw materials as well as the importance of a circular economy.
At the series of events, Swedish corporations present in Vietnam such as ABB, Ericsson, H&M, IKEA, Atlas Copco, Tetra Pak shared their experiences and typical solutions to bring benefits to Vietnam and their concerns. Vietnam-Sweden partnership, with participation from Vietnamese public and private sector partners.
Bilateral relations between Vietnam and Sweden develop strongly
According to the VCCI leader, the implementation of the EVFTA Agreement has opened up many cooperation opportunities between Vietnam and Sweden. Vietnam has risen to 24th place out of 30 major import partners of Sweden, ahead of Korea, India, Hong Kong, Thailand and other ASEAN countries.
In the period of 2020 – 2021, especially during the peak of the epidemic in Vietnam, bilateral trade turnover between Vietnam and Sweden continues to maintain a continuous growth momentum. In 2021, two-way trade turnover between Vietnam and Sweden will reach over $1.52 billion (up 3% over the same period in 2020). In which, the export value from Vietnam to Sweden reached nearly 1.2 billion USD, up 6% over the same period in 2020, and the import from this market was over 320 million USD.
Particularly in the first three months of 2022, two-way trade turnover between Vietnam and Sweden reached over 397 million USD. In which, Vietnam exported to Sweden over 302 million USD and imported 95 million USD from this market. Some of the key products that Vietnam is exporting to Sweden include: phones and accessories, computers, electronic products and components, footwear, textiles, bags, agricultural products and seafood. … In contrast, some products imported by Vietnam from Sweden include: machinery, equipment, tools, spare parts, pharmaceuticals, paper, wood and wood products, chemicals…
The VCCI leader said that the trade relationship between Vietnam and Sweden is complementary, not directly competitive, especially with tropical agricultural products and processed agricultural products that the EU market in general. and Sweden in particular have high demand. However, the scale of Vietnam's exports to the Nordic region in general and the Swedish market in particular still accounts for a relatively small proportion, about over 2.5 billion USD. It can be seen that the trade cooperation between Vietnam and Sweden is not commensurate with the potential and expectations of the two sides.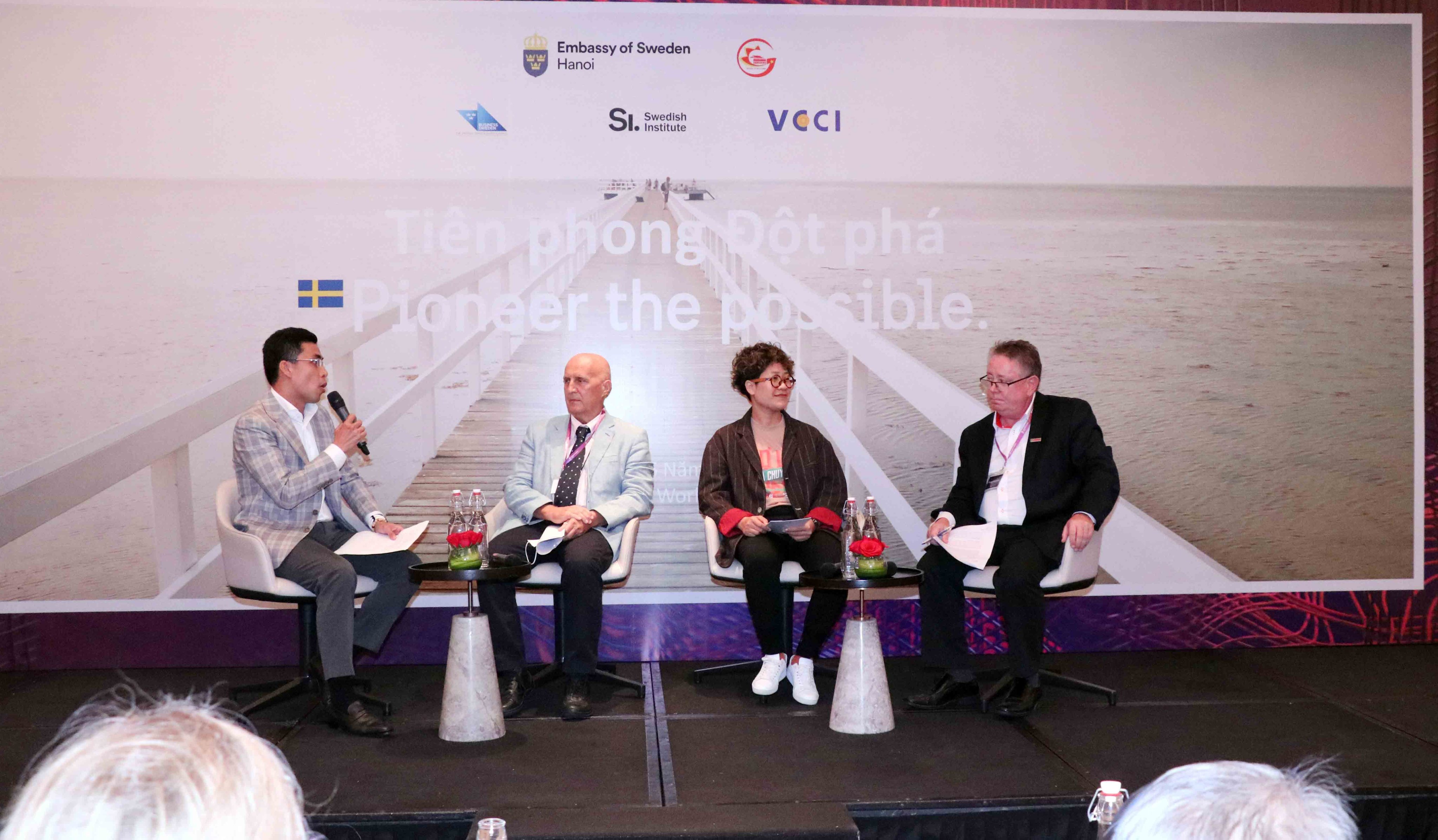 Delegates discussed at the event.
Regarding investment relations, in fact, Swedish capital flows have been present in Vietnam for a long time, but mainly in the industrial sector, typically ABB Group established in Vietnam since 1993, has factories and focusing on 4 main areas: electronic products, robotics, automation technology in industries and power grid. In addition, Sweden is the first Western country to provide development aid to Vietnam and actively helps Vietnam to open relationships with international financial and monetary organizations such as the IMF, WB…
As of February 2022, Sweden ranked 31st out of 140 countries and territories investing in Vietnam with 95 projects, total registered capital of over 468 million USD. Currently, world-famous Swedish companies such as Ericsson, Electrolux, Ikea… are investing and doing business successfully in Vietnam. Most Swedish businesses operating in Vietnam want to expand production and business in the near future.
For its part, Vietnam has also begun to develop investment abroad. As of February 2022, Sweden is the 53rd investment market out of 78 countries and territories in Vietnam with 3 projects with a total registered capital of over 1 million USD.
Although Sweden is not Vietnam's largest commercial or investor, the size of the relationship is not only measured by numbers but also by investment quality. Sweden is investing in the high-tech field with great added value, leading and driving the economic development of Vietnam, the VCCI representative emphasized.
Together with Sweden find a breakthrough path to the future!
Swedish Ambassador to Vietnam Ann Måwe shared: As a country at the forefront of innovation and sustainable development, Sweden has practical experience – and Swedish businesses own technology solutions – to pioneer and promote green transition. Sweden is on track to become the first country in the world that doesn't depend on fossil fuels.
"With the series of events at this "Pioneer to Breakthrough" program, we want to promote and create conditions for the two countries Sweden and Vietnam to co-create to work towards a society of sustainable and resilient development. and future prosperity, based on the traditional partnership of friendship and cooperation over the past half-decade"- Ambassador Måwe emphasized.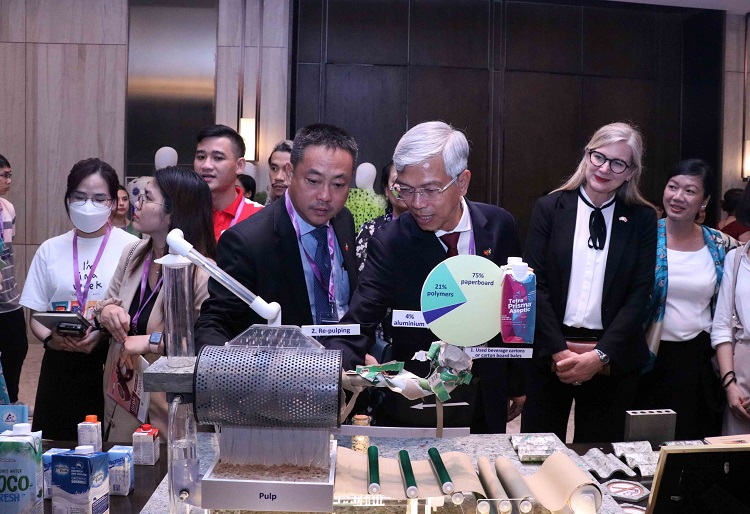 Delegates visit the exhibition "Breakthrough Pioneers" with model "recycling" and green, sustainable products.
Mr. David Lidén – Commercial Counselor and Chief Representative of Business Sweden in Vietnam said: Technology and green transition are important keys in combating the challenges of climate change.
"Innovation has always played an important role in the competitiveness of each country – and brought about the quality of life for its people. In the Breakthrough Pioneer program, we are looking for Vietnamese pioneers to join us as partners and co-creators," shared David Lidén.
With a population of just under 10 million, Sweden is an innovation hub. The Swedish capital Stockholm has produced the second highest number of unicorns (billion dollar tech companies) in the world per capita. According to the OECD, there are 20 innovative start-ups for every 1000 employees in Sweden.
According to the representative of VCCI, for Vietnam, Sweden is an important and prestigious voice in Europe as well as in the international arena. Sweden's development achievements still attract the admiration of the region and the world.
Sweden has the great advantage of possessing hundreds of years of development experience with many well-known corporations. On the other hand, towards the goal of innovation and sustainable development, Sweden has the desire to become the first country in the world not to use fossil energy, and at the same time to meet 100% of electricity demand. from renewable energy sources by 2040. That is what Vietnam wants to take advantage of, learn from and cooperate with Sweden, especially to keep pace with the Industrial Revolution 4.0 that is spreading day by day, hour by hour. into every aspect of life.
Besides orienting the bilateral economic cooperation relationship in line with the trend of trade liberalization, in line with the close economic integration foundation of Europe and the dynamic development of the Asian region – In the Pacific Ocean in general, and in the ASEAN region in particular, Vietnam always wishes to join international friends, including Sweden, in promoting innovation towards sustainable development.
At the 26th United Nations Climate Change Summit (COP26), Prime Minister Pham Minh Chinh announced Vietnam's strong commitments to net zero emissions by 2050. To achieve this goal, Vietnam is striving to reduce its total greenhouse gas emissions by about 9% by 2030 compared with the normal development scenario (equivalent to 83.9 million tons of CO2). This contribution can be increased to 27% if there is cooperation with foreign partners and businesses on the basis of mutual benefits.
Vice Chairman of Ho Chi Minh City People's Committee Vo Van Hoan said that it is important for Vietnam and Sweden to share a vision and implement activities to promote sustainable development in the context that the world is witnessing a crisis. witness the massive transformations and prevalence of non-traditional threats that are threatening economic growth and the quality of life of people around the world.
"Ho Chi Minh City is under increasing pressure from the impacts of climate change, especially sea level rise. Environmental pollution due to production and daily life is putting pressure on the incomplete infrastructure system of the City. In addition to maximizing its resources, the city is ready to cooperate with Swedish partners as well as the international community in the aspects of green finance, green technology and capacity building – Mr. determined.
At the conference, many solutions on innovation and sustainable development in the fields of energy, production and consumption, circular economy will be introduced. In addition, many large Swedish enterprises will also exhibit their innovative products and solutions. Delegates said that the Conference is a good opportunity for the business communities of the two countries to exchange issues of concern to both sides to seek new cooperation opportunities and promote innovation and development. strong way.
Le Kim Lien
.