Having each other has the whole world is a collection of songs written by Phuong Uyen specifically for Thanh Ha – Photo: NVCC
Albums Together there is the whole world just released to the audience on the evening of 9-6. With this collaboration, the couple Phuong Uyen – Thanh Ha brought to the audience 11 songs, including: Together we have the whole world, Don't ask tomorrow, If only we didn't love each other, Call my name forever, How long will it hurt, Life is not as we usually dream…
The songs on the album were composed by musician Phuong Uyen specifically for Thanh Ha. In it, the couple will duet two songs: Together there is the whole world and Life with you is so lucky.
Sharing about the new music product, Thanh Ha said: "It is an honor because I love Uyen's music. Recently, my and Uyen's songs together have been warmly received and supported by the music world. That makes us more excited than ever to introduce to the audience this new album, a product we have cherished for many months."
As for Phuong Uyen, she said that these new compositions are all spontaneous inspirations. In addition, the musician also revealed that in the past time, he has found an emotional sublimation, thereby confidently returning to work.
Marking the combined journey, Phuong Uyen – Thanh Ha chose 3 out of 11 songs to make the MV. The main context is set in the poetic space of Da Lat. Released on the same day as the album is the title song MV There is the whole world.
MV There's the whole world together – Source: Thanh Ha
Throughout the MV using only one scene, the two artists sit side by side on the mountains of Da Lat, sing along, and release their souls in a poetic space.
Using a unique context can help the audience focus more on the emotions and lyrics of the song, and at the same time express the meaning of the title. Together there is the whole world. They opened the dialogue in the song with moments of affection:
"I met you without thinking
That one day, our love will deepen
I'm with you without knowing that
I will heal the pain in you"
With simple songs on the familiar guitar sound, combined with the peaceful scenery of Da Lat, Phuong Uyen and Thanh Ha chose the most minimalist approach for this product. Because for them, love doesn't need to be fussy. Rustic and simple sometimes bring out the vibes in love.
But not only the dialogue, the two artists pushed the stages of love to a place when they duet:Just have each other for a day / OccasionI have more joy / There are smiles"It can be said that this is also the main message of the song: Love does not need promises, just cherish the happiness of the present.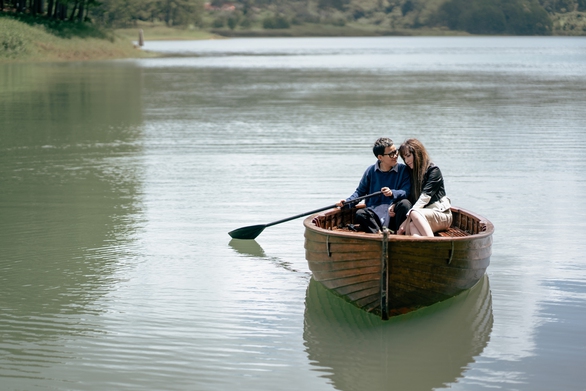 Phuong Uyen – Thanh Ha is romantic in the album With each other has the whole world – Photo: NVCC
After the album Together there is the whole worldPhuong Uyen and Thanh Ha will perform in the music night of the same name on the evening of June 10.
.