Phuong Uyen sings the new song "Normal Dream" – Photo: Telemusic
At the warm music nights from Ho Chi Minh City or on the windy plateau in Da Lat and the whole night in Hanoi on May 13, the audience met Phuong Uyen again on stage playing guitar and singing.
Sports shoes, chemise shirt, short hair and characteristic white glasses, Phuong Uyen is not confused with any other artist in the Vietnamese music industry, not only her appearance but also the time when she raised her voice quite special. mine.
Music is still emotional in the end and I still confidently sing to touch the emotions of the audience no matter how old they are. Whenever I step out on stage, I still "burn" with passion in my flesh and blood.
Musician – singer Phuong Uyen
Let go of the phone to sing is la la
On the internet, Phuong Uyen also released MVs to mark her return as eager as forgetting her age. In the new song Just a normal dream On YouTube in early May, she sang: "Just a normal dream: a peaceful life, no tears. No separation, no one dies. The paradise we live in has no one to judge… ".
The song is not only impressive with the impromptu 6/8 beat gospel color (and it's hard for anyone to express it by the author himself) but also has a lot of meaning with the lyrics conveyed through the lyrics like this: "Happiness makes life easy. People talk together and forget smartphones."
Why the gospel genre? "Because only it is suitable for such impromptu thoughts" – Phuong Uyen said. So what's the inspiration for writing songs? The talented "cat sister" once laughed: "Then our friends, family, lovers… now sit next to each other, eat together, but everyone holds the phone and swipes, what can't be done? fully look into each other's eyes, listen to each other's words, feel each other's sad and happy moods like before."
The song leaves a reflection for the audience – whether it's at the age of 8X, 9X or even Gen Z now, what would it be like if our life… lacked a phone? And "in this day and age, does anyone think they are unknowingly spending more time surfing the internet than spending time with their family?" – Thanh Tam, song recording producer Just a normal dreamput a question mark with interest in the song of senior Phuong Uyen.
"Normal Dream" by Uyen
Returning to the Vietnamese music market today, for Phuong Uyen, it is probably "Time to go back to erase mistakes, time to return to love people" as the lyrics she wrote in the title explained. . "A senior songwriter like me has the advantage that it's easy to compose, but this is also a big challenge because I always want to put higher demands on myself. Writing lyrics carefully, each word and stage. The tune is also hesitant to find the most suitable "- she confided.
So, how do artists overcome their own limitations and ladders? Phuong Uyen said: "In a world that is constantly moving and changing, sometimes finding the simplest and most basic things is the most precious thing. As I sang that I hope life "smoothly passes by." I think it's important to regain one's own feelings and emotions, and at the same time find a source of creativity and inspiration for me in life as well as in life. career".
After many periods of diligently pursuing an artistic path, Phuong Uyen still proved to be energetic with the latest published series of works such as Don't Ask Tomorrow, How long will this hurt be, I hope to find it again or Angel songs In me, Life has a lucky brother performed by singer Thanh Ha. The talented female musician does not hide her joy and excitement with music and every occasion sings as if to share with the audience the message of "peaceful dream, love, blue sky and light life".
* How do artists who have been active over the decades meet the needs of today's music market?
– Phuong Uyen: I can still mix and make music with Gen Z singers. Singers of the same time as Phuong Thanh often chat and update me about today's music market with a lot of changes compared to "the time of our grandparents" (laughs).
We think that each musical period has a different generation of audiences, so every generation of artists has their own fan base. At the same time, we know how to flexibly choose to present new works that are suitable for young listeners so that they do not feel too strange.
I and my colleagues at the same time had to learn a lot about the market, to see what young people heard today, but still need to be alert to keep their own identity and forte. That means the artist must take the initiative, then depending on each person's ability to "find a common voice".
Come back strong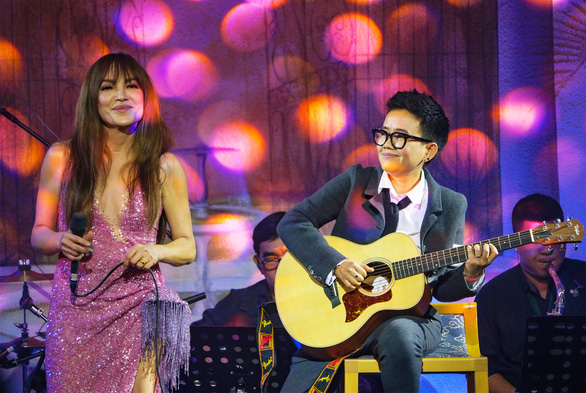 Phuong Uyen has a good duet with Thanh Ha – Photo: MLT
Having been active in music for more than 30 years, playing a variety of musical instruments, composing more than 60 songs (including many very successful popular songs such as Saigon fairy in 2000, Saigon forever in our hearts, Dear Mom, My brother, Really forgot…), Phuong Uyen is a versatile artist in the Vietnamese music industry with many different roles.
After periods of solo performance since the group Three Con Meo stopped working in 2001 (two of its members, Cam Tu and Ngoc Diep, settled in foreign countries), then retired to the backstage as a program producer, producing productions. When she released albums, taught music to singers, or sometimes stopped all artistic activities for her health, Phuong Uyen suddenly returned strongly from April 2022 next to her "tri-sound co-star" Thanh Ha.
"In June, 2022, I will release the duet album Thanh Ha – Phuong Uyen to introduce my latest series of compositions in Vietnam and the US, each person will sing 5 songs separately and duet the song "Yes each other". the whole world – is also the theme of this album", Phuong Uyen said excitedly.
.