K-ICM performed in a cultural program and provided psychological and health counseling to prevent COVID-19 – Photo: Facebook Nguyen Bao Khanh
* Nguyen Vu helps Viet Quang fulfill his unfinished wish
In the last days of his life, singer Viet Quang cherished a desire to finish the MV Painted mind to send to the audience, but he didn't have enough time to finish.
Recently, singer Nguyen Vu and some friends helped Viet Quang realize this wish. Previously, Viet Quang had finished recording, but had not yet made the MV, he passed away on August 12.
'Hoa Tam' is the last song of singer Viet Quang – Source: Nguyen Vu Official
Nguyen Vu helped his friend complete that last piece with the best images in Viet Quang's life and career.
"Painted mind is the title of the last song that singer Viet Quang recorded, but before he could film the MV to release to the audience, he became seriously ill and passed away.
Nguyen Vu and the team made the clip Painted mind This is to commemorate a face, a beautiful voice that was once loved by everyone and is also a parting gift that Viet Quang wishes to send to his audience "- Nguyen Vu shared.
* Cam Van invited her daughter to make Trinh's music video at home
During the days of social distancing at home, Cam Van asked her daughter, singer CeCe Truong, to come up with ideas and help her make the MV for the song. Silent sigh – a composition by the late musician Trinh Cong Son.
'Silently sighing' through Cam Van's singing – Source: Cam Van Khac Trieu Official
This homegrown MV received many compliments from Cam Van's friends and colleagues on social networks, although the content is quite simple.
The opening scene is Cam Van singing in front of a curtain designed to reflect light, alone as if she was having a monologue with herself in the dark.
Along with that, the lyrics are autobiographical, imbued with the philosophy of life, accidentally becoming suitable for Cam Van's feelings and thoughts when witnessing the cruelty of the COVID-19 pandemic. who are facing all this time: "Silence of the night, I have listened/ Silence of the day, I have listened/ Silence of life, I have listened/ My silence…".
"The two words "silence" have never sounded so heavy. Thank you to musician Trinh Cong Son and his lyrics, always touching the heart" – Cam Van shared.

* To act Meet my mom in my dream At the field hospital, K-ICM was reacted by the audience
On the evening of August 9, producer K-ICM participated in the performance of a cultural program and psychological and health counseling to prevent COVID-19 taking place in 3 isolation areas in Thu Duc city.
Clip of K-ICM playing the song Meet my mom in my dream here is being shared on many social networking groups. However, there were mixed reactions from the audience for this performance.
K-ICM's performance 'Meet your dream mother' – Source: YouTube Loc Chi
If some viewers praised the emotional and painful song, there were also many opinions that K-ICM should choose another song because Meet my mom in my dream is a song with Vietnamese lyrics, with content written about the feelings and emotions of a child who has lost his mother, looking forward to seeing his mother again in a dream.
Therefore, many audiences think that the music is not suitable to perform at the field hospital, where the patients are in dire need of spiritual medicine to give strength and energy to fight against the epidemic.
In addition to respecting the artist's enthusiasm when performing in such a difficult situation, many advices say that K-ICM should be more careful in choosing the right song.
* Saxophonist An Tran participates in online music festival Yippee-Ki-Yay
An Tran – the daughter of saxophonist Tran Manh Tuan – has just announced that she is the only representative of Vietnam to participate in the Yippee-Ki-Yay online music festival organized by Yay+.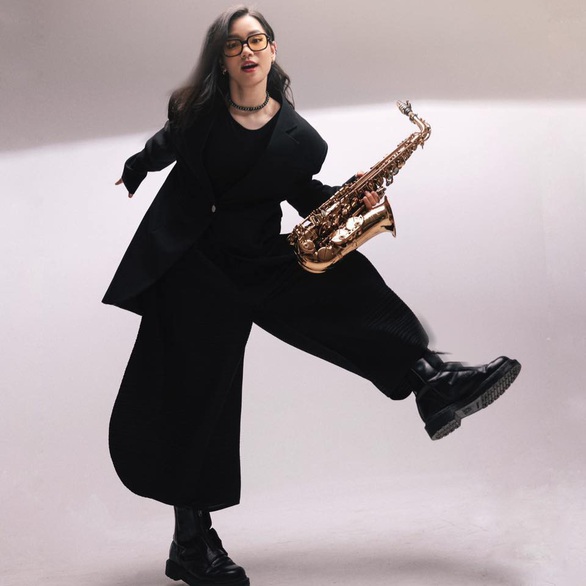 An Tran's full name is Tran Dam An Phuc, born in 2004 – Photo: Facebook An Tran
As the first year of the event, Yippee-Ki-Yay brings together more than 40 talented artists from 9 countries. The program organizers introduce that this will be the world's first multi-genre, multi-language online music festival.
The program is expected to last for 3 days from August 13 to 15 and will be widely shown on social networks.
An Tran was born in 2004, currently studying at Idyllwild Arts Academy, USA. In addition to jazz, An Tran is also passionate about R&B, hiphop, and rap music and is currently experimenting as a music producer.
* VTV Awards 2021: Cong Duong, Thuy Diem suddenly entered the top 5 impressive actors
On the morning of August 14, the organizers of VTV Awards announced the top 5 of 11 award categories. Cong Duong and Thuy Diem – two new faces appearing in the film produced by VFC – entered the list of top 5 impressive actors.
Cong Duong used to stand out with the movie Balana Hostel and now, his acting is increasingly confirmed through the role of Phan – the guy who lost his father and mother is sick but always tries to live well in the movie. Let's say love.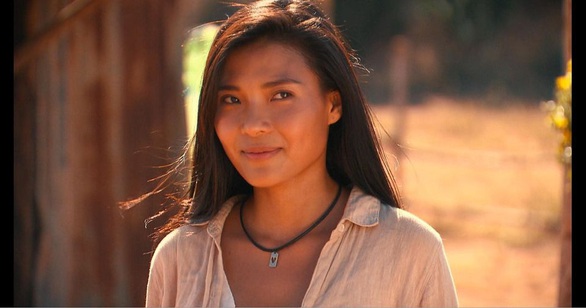 Thuy Diem's ​​Miss Me is romantic, seductive but also strong in "Red Sand"
In addition to Cong Duong, the top 5 impressive actors include familiar actors Viet Anh, Hong Dang, Thanh Son, and Manh Truong. The remaining 4 impressive actress faces are Hong Diem, Thu Ha, Luong Thu Trang, and Le Tu Oanh.
The list of top 5 impressive artists is the race of artists Xuan Bac, Do Quang Dang, singer Erik, Miss H'Hen Niê, rapper Den Vau. The VTV Awards ceremony is expected to be broadcast live on VTV1 at 8:10 pm on September 5.
.