Artists participating in the program – Photo: BTC
In the context that Ho Chi Minh City is becoming a hot spot for the COVID-19 epidemic, the program was organized to call for support for the COVID-19 Vaccine Fund. Participating artists include Ta Minh Tam, Thu Minh, Tung Duong, Pham Thu Ha, Oplus group…
The organizers said that with the energetic symphonic music, the concert shows confidence and optimism in a bright future, as the spirit of the COVID-19 Vaccine Fund brings to all. Vietnamese people at this time.
In addition to musical performances, online recording from many countries demonstrates the spirit of connection and sharing through music. "For a healthy Vietnam, conquering the pandemic" is the spirit of the program.
Music brings us closer together. Traditionally Vietnamese people always support each other with strong solidarity. The strength of the community will help us face and weather the storm. I'll raise my voice with an Italian classic O sole mio (My Sun) as a gift to the program, with the most positive message of hope for a bright tomorrow.
Singer Tung Duong
The program was organized to call for support for the COVID-19 Vaccine Fund – Photo: BTC
"The epidemic creates distances in life, but music will always create spiritual values ​​to pull people together. Share to get closer together is a concert night so that Vietnamese people everywhere can turn to their homeland to join hands in this time.
The COVID-19 pandemic has turned people's lives upside down, but this is also an opportunity for us to slow down, take care of each other, and learn new things through a streaming platform.
Around the world, many symphony orchestras have held livestream performances. A large number of audiences have access to academic art for the first time and are aroused with positive energy," the organizers said.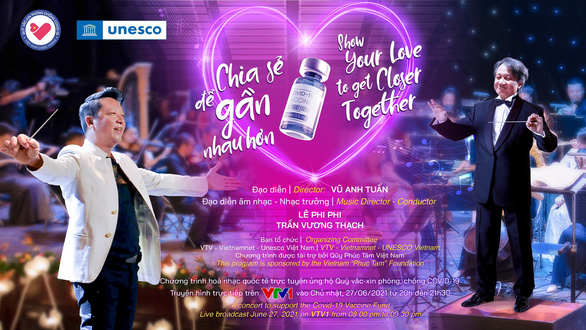 The concert was conducted by conductor Le Phi Phi from Europe and conductor Tran Vuong Thach. Last May, conductor Le Phi Phi announced that he was cured of COVID-19 and ready to return to artistic activities – Photo: BTC
People's Artist Ta Minh Tam shared with Youth Online feeling when participating in this meaningful concert: "Enjoying art at a time of social distancing is perhaps a spiritual necessity of music-loving audiences, but has to be put on hold due to the pandemic. rife.
Therefore, this art program hopes to bring the audience a considerable joy. Especially, the purpose is to contribute to promoting the program calling for support for the country's COVID-19 vaccine fund.
We artists are happy to have professional activities again and are proud to contribute art, like soldiers on the anti-epidemic front with the whole country."
As for singer Tung Duong, he added: "Participating artists like me feel it's their responsibility to join hands in donating to the Vaccine Fund." The male singer expressed his wish that tens of millions of people throughout Vietnam will soon be fully vaccinated.
Share with Youth OnlineSinger Pham Thu Ha also affirmed: "More than ever, in difficult times like these, artists must promote their strengths and responsibilities to accompany and unite with their compatriots".

Songs that will be performed in the program include William tell overture, Come back to Surrento, Conquest of Paradise, O sole mio, We are the world, Hello Vietnam, When you believe, You raise me up, Return to motherland , The song of the soldier in white shirt, Dear Vietnamese blood…
To donate and support the Government's COVID-19 vaccine fund, domestic and foreign individuals, organizations and businesses can participate through the following methods:
– Transfer money through bank accounts according to the information on the website;
– Compose a message: COVID NK sent to 1408, where N is any number between 1 and 2,000, K represents the unit (VND);
– Donate online via website: https://www.quyvacxincovid19.gov.vn.
.