Top 35 contestants entered the semi-finals and final – Photo: HOI PHUONG
35 contestants had an impressive "offensive" performance, demonstrating their professional catwalk skills during the announcement. These are outstanding candidates who were rigorously selected by the jury through many rounds from hundreds of initial registered candidates.
The candidates not only met the criteria of appearance but also had good education, performance ability, good communication skills to create sympathy.
Sitting in the hot seat of the competition Miss Tourism Vietnam Global 2021 People's Artist Le Khanh, Miss Phuong Khanh, Diem Huong, Lai Huong Thao, designer Pham Nhat Huy, MC Phan Anh…
People's Artist Le Khanh shared the candidate selection criteria: "Candidates must have beauty in appearance, intellectual beauty, especially cultural beauty". Possibility of Foreign language is also one of the important criteria.
And Miss Earth Phuong Khanh focuses on the candidate's ability to behave.
"Intellectual beauty is one of the top criteria in any beauty contest. Our jury will try to exchange ideas, help contestants gain confidence, and inspire them to shine in their own way. me" – MC Phan Anh said.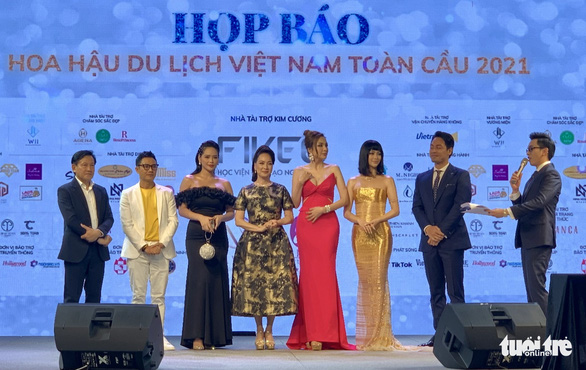 Jury of Miss Tourism Vietnam Global 2021 – Photo: HOAI PHUONG
Mr. Pham Duy Khanh – head of the organizing committee Miss Tourism Vietnam Global 2021 – emphasizing that he put his trust in the jury to find a contestant who is talented, beautiful, smart and responsible in developing the country's tourism, as well as promoting Vietnam's tourism to the world. gender.
On this occasion, the organizers announced the crowns and awards for the top 3 best contestants.
Accordingly, the highest position in the contest Miss Tourism Vietnam Global 2021 will receive a crown worth 3 billion VND and a jewelry set of about 300 million VND (earrings, rings), cash and gifts with a total value of 4 billion VND.
1st and 2nd runner-up received the crown worth 500 million VND. At the same time, the 1st runner-up received an additional 150 million VND jewelry set and the 2nd runner-up received a 100 million VND jewelry set and gifts.
In particular, the top 3 finalists also have the opportunity to represent Vietnam to participate in international beauty contests in 2022.
Contest semi-finals Miss Tourism Vietnam Global 2021 will take place on April 24 in Ho Chi Minh City. The finale is expected to take place on May 21 in Binh Thuan, broadcast live on VTV9.
.